Following are remarks presented by Kailesh Karavadra, 2022 chair of the California Chamber of Commerce Board of Directors, at the 96th Annual Host Breakfast in Sacramento on June 2. Karavadra is a partner at Ernst & Young LLP, San Jose.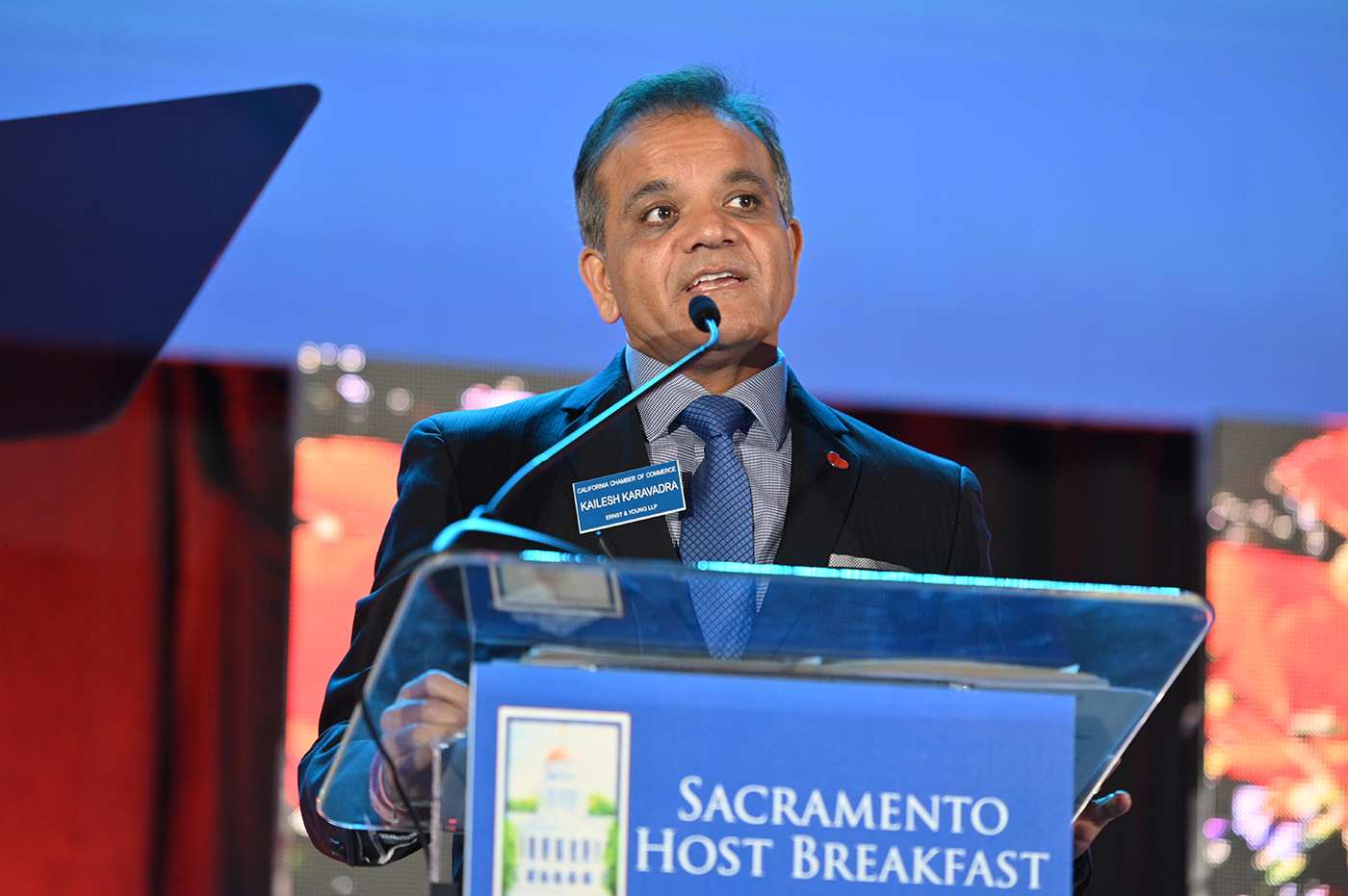 Albert Einstein said, "The world as we see it, is only the world as we see it. Others may see it differently."
I would like to share a story with you today and through that, show you a glimpse of what the world looks like, from the eyes of someone who started out as a 6-year-old refugee. It is about how we see positivity versus negativity and we certainly know there is a lot of visible tragedy, pain and suffering all around us in the world today.
First, with your permission, I wanted to start by breaking my own record for saying a dad joke in front of this size of an audience. Now for those of you that know me, I tell a dad joke to my kids to connect with them; mostly they roll their eyes, glad that I'm not a stand-up comedian and have a full-time job.
But as I make these remarks today, it dawned on me the challenges we're facing in the economy, and the ups and downs, and I leaned into my own experience in running a business which went up and down every single day. In fact, we went up and down every hour, every minute, every second! I used to sell yo-yos.
Have I thanked you for being the best audience ever?
From Refugee to Learner
I was born in Uganda, Africa. As a young boy I witnessed the horrors from a dictator who, somewhat overnight, evicted all the Asian people out of the country and most had to leave with nothing but the clothes they were wearing. We were nomadic refugees for several years, going from East Africa to India and eventually to refugee settlements in England.
Now imagine this young boy who spoke no English, racism was visible, a chip on the shoulder for the pain and loss, parents who worked double shifts to make ends meet, and a boy who did not feel like he belonged — certainly did not want to go to school.
Now one day, along comes this white 55-year-old balding teacher with a ginger beard. Every day he would speak in Hindi to this boy who is dragging his feet to school and say, "Come on Kailesh, you can do it, hurry up to class, lots of learning today."
Mr. King was his name and he helped me see the world from a very different angle.
I learned a quote from my mentor many years later: "People don't care what you know until they know you care."
Mr. King had no common ties with me, he did not look like me, he was not related to me. BUT he showed he cared and he ignited a fire and thirst for learning, and for being able to forgive and having empathy that still has not been quenched 50 years later.
Why do I share this story with you? When I reflect on my early childhood, it can be so easy to remember the horrors of being a refugee, of losing all your possessions, eating one meal a day, or not feeling like you belong.
BUT, when I close my eyes, what I remember are not those things, but the opportunity that my many teachers, mentors, allies, sponsors and friends all contributed to, in getting me to be here on this stage, speaking in front of you today. The positive far outweigh the negative.
Nowhere Like California
Now with that theme of positivity, let's focus on California.
I am an electronic engineer and a chartered accountant, so I certainly know my 1's and 0's and my debits and credits. What I would like to inspire you today in my remarks is to help you move away from these binary conversations and lenses that we see California in today.
Most conversations converge to a yes/no, agree/disagree, support/oppose and so on. Sadly, most of the problems and the challenges we're facing are very complex and require a very different way of thinking.
As someone who has lived on four continents and amongst many cultures, please trust me when I tell you that California is such a great place to live, work and do business. There is nowhere like California.
However, if an alien happened to come and listen to the commentary on California, they may feel like the sky is falling down.
So, let me share a few thoughts and some facts about California that may allow you to see a different, positive California as I do and illustrate why people want to be come here and be in California!
• California is the fifth largest economy in the world. Just think about that. Fifth largest country if it was on its own with our $3 trillion gross state product.
• 1 in 8 Americans live in California with 40 million — 10 million more than Texas and more than all of Canada.
• 1.2 million immigrants have made California their home over the last decade.
• California visitor travel spending will reach $145 billion next year.
• Our CSU [California State University] system is the largest four-year public university in the nation that confers 130,000 degrees every year.
• Our 116 Community Colleges provide 1.8 million students opportunities to progress in life.
• California agriculture accounts for 40% of all organic production in the nation and is the top producer for lemons, avocados, broccoli, almonds, to name just a few. One-third of all national vegetables are grown right here, and two-thirds of all our fruit and nuts — grown right here in California.
• California ports are the largest in the country and account for 40% of the nation's imports and 30% of all exports.
• California exports $27 billion to Mexico, $18 billion to Canada and $16 billion to China, to name a few examples.
• Top foreign-owned establishments that really invest in jobs in California include Japan at $10 billion, the UK [United Kingdom] at $8 billion and France at $6 billion, to name a few.
• Silicon Valley, where I live, has over one-third of all venture capital funding in our nation and is the heart of innovation in the world.
• California has 4 million small businesses that employ half the workforce of our state and over one-third of them are minority-started or -owned.
• From the U.S. Census Bureau study over 20 years, California has declining poverty rates which are lower than Texas and the national average and also has significantly higher per capita income.
• California is where we had such inventions as the Hula Hoop, Barbie Doll, Shirley Temple, Egg McMuffin and the Internet.
• We have the most National Parks of any state with 9 of 59.
• California has the highest point (Mount Whitney) and lowest point (Death Valley) in the nation.
• We have the world's largest tree — General Sherman. You should definitely go see it.
• The San Francisco Cable Cars were the first moving National Historic Landmarks.
NOW, if that is not enough to convince you that PEOPLE WANT TO COME HERE AND BE IN CALIFORNIA: according to the Center for Biological Diversity, California is more biologically diverse than anywhere in the world.
Even the micro-organisms want to be in California. They love California.
CalChamber
Let me talk a little bit about the positive work the Chamber does. I am incredibly proud and honored to be the Chair of the California Chamber this year and have seen first-hand the positive impact the organization has in helping businesses flourish in California. The Chamber is a powerful voice that is respected, and is respectful, in working with all stakeholders.
Over its 130-year history, the Chamber has engaged on:
• advocacy and policy to support job growth;
• employment law, training, and products and services for compliance obligations;
• international trade relationships.
Representing 14,000 diverse employers across all industries in California that employ a quarter of the private sector workforce, with 70% of the members having less than 100 employees, focusing on small and medium business growth is very important to the Chamber.
The Chamber helps California businesses comply with the ever-changing state laws and engages with stakeholders to set appropriate policy and legislation that enhances our state's economic growth.
You should check out California Works, where the Chamber shares stories of these businesses that are growing right here.
When the private sector succeeds, we all succeed.
Allan Zaremberg
Now I have the incredible honor and privilege to recognize somebody who has been important to the Chamber — Allan Zaremberg.
How did the Chamber become so successful you may ask? Well Allan retired at the end of 2021 and has led that charge for over 23 years as CEO and president at the Chamber.
Prior to that he worked for several Governors, was in the U.S. Air Force gaining a rank of captain, obtained a law degree right here in Sacramento.
He's been the foundation builder for what the Chamber is today. Thank you Allan. And we want to show a video to recognize how much Allan is respected as an effective voice for business and a strong economy.
You may know that we have our new, and the Chamber's first female CEO and president in Jennifer Barrera. She is doing a fantastic job in continuing this great work of the Chamber.
Coming Together
So, you may say, "Kailesh, everything seems so rosy to you in California — no issues?"
Here is my message to you: We are so lucky to live in a state like California that we should have way more positive messaging than negative commentary.
Don't get me wrong. California has its fair share of challenges: taxation, housing, water, fire, homelessness, transportation, inflation, food insecurity, digital divide, and many more.
But what I've learned over the many years that I've been here is that we are facing complex and exponential challenges that have no simple solutions for scale and urgent impact. Sadly, if we don't come together to tackle these issues, they will continue to grow exponentially.
We must move away from this "us v. them" mentality and apply new design thinking for the modern world as old and tried and tested ways will just not work.
So how might we solve these issues?
Changing Our Thinking
I'll share another quote by Albert Einstein, who said: "The world as we have created it, is a process of our thinking. It cannot be changed without changing our thinking."
So we have to work together in ways we have probably never done:
• With really strong public-private partnerships as each of us alone will not solve these issues at scale and complexity.
• Think differently together as the pace of change is so fast in this hyper-connected digital transformation world where we need to think in terms of months and years, not decades.
• Focus on scale versus disparate and disjointed efforts that only help in small pockets locally.
Each of us individually and collectively can be accountable for responsibility of thinking through what we are doing, and why, and be willing to let go of artificial boundaries — go outside of our comfort zone.
Drive accountability in our action and embrace change, as this window that we're living in right now will pass us by if we're sideline coaches.
Pick Our 'Moonshot'
And certainly, if we're courageous enough to pick one or two of these mega issues that we're dealing with, and make those our "moonshot," especially with the surplus that we have and may not get again, we can tackle them and solve them. Then there's a ripple effect to go and solve all the other issues.
We need to have the courage to discuss and understand each other's perspectives and especially focus on unintended consequences that may impact California years down the road and not manage out of fear, but build for good for the future.
I'll leave you with this: in discussing the future with my kids, I shared that with them that in this decade, the three of us, my kids and I, will be living in outer space. So I said, "think big, think different."
I said wouldn't it be cool that eventually when the three of us go to the moon to the bar, the food and drink will be out of this world, but there may not be much of an atmosphere.
Thank you. Stay safe, live your purpose and look after each other.