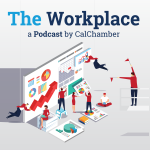 Taxes, Taxes and More Taxes
Even though California is enjoying its ninth straight year of economic growth and the state has a solid budget surplus and a brimming Rainy Day Fund, California legislators can't seem to resist the temptation to raise taxes.
In Episode 7 of The Workplace podcast presented by the California Chamber of Commerce, CalChamber President Allan Zaremberg and Loren Kaye, president of the California Foundation for Commerce and Education, highlight just a handful of the more than $15 billion in new taxes policymakers are considering. On the list of possible items lawmakers would like to tax is everything from medicine to tires and businesses.
One proposal alone, SB 37 (Skinner; D-Berkeley), contemplates one of the steepest corporate tax rates ever considered in California. The measure seeks to raise corporate taxes by $5 billion.
Kaye highlights another proposal, SB 468 (Jackson; D-Santa Barbara), which dangerously attempts to do away with one of the most important corporate tax incentives in the state — the research and development (R&D) tax credit, which fuels development in technology, agriculture, and manufacturing, among other sectors of the economy.
Zaremberg sums up the episode by commenting on projections of another $13 billion in surplus revenues coming in from anticipated Initial Public Offerings, further underscoring that there is no need to raise new revenue by adding more taxes.
"We have more revenue coming in, but there's no shortage of people who want to raise the average person's taxes," Zaremberg says.
What's Your Question for the Labor Law Helpline?
California's complex employment laws prompted 22,000 calls to the CalChamber Labor Law Helpline in 2018. In Episode 8 of The Workplace podcast, CalChamber President Allan Zaremberg and Erika Frank, CalChamber executive vice president of legal affairs and general counsel, discuss the most frequently asked questions—a good indicator of the compliance issues that are the most challenging for California businesses.
"There are so many questions that are out there for the California employer," says Frank. "It's quite challenging without having resources available."
What's hot on the helpline today? Frank says the Labor Law Helpline is ringing off the hook with questions about the new mandatory sexual harassment training requirements.
The new law requires that all employers with five or more employees provide 1-hour training for employees and 2-hour training for supervisors.
"We are realizing through a lot of the questions we are receiving, employers are starting to know more about it, starting to hear about it, but the devil is always in the details, and there's a lot of questions about who can do the training, when does the training needs to be completed," Frank says.
Among the most common topic areas that generate calls for the Helpline are: meal and rest breaks, California paid sick leave rules, overtime rules, and leaves of absence.
"Our Helpline advisers are former labor commissioners and attorneys. While none of us can provide legal advice, we can help employers by giving them the information they need and helping them understand what the legal requirements are," says Frank.
Zaremberg mentions the fact that California laws are so different from the rest of the country that many of them surprise callers.
Frank agrees and points out that things are further complicated because a number of localities also have their own ordinances.
Subscribe to The Workplace
Subscribe to The Workplace on iTunes, Google Play, Stitcher, PodBean and Tune In. New episodes will be released each Wednesday.
To listen or subscribe, visit www.calchamber.com/theworkplace.