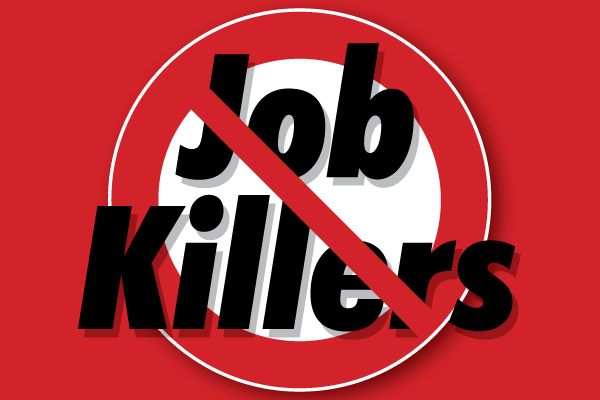 A California Chamber of Commerce-opposed job killer that could publicly shame employers and expose them to costly litigation for alleged wage disparity where no violation of the equal pay law exists passed a Senate policy committee this week.
AB 1209 (Gonzalez Fletcher; D-San Diego) imposes a mandate on California employers to collect data on the mean and median salaries paid to men and women under the same job title or description without also considering any bona fide reason for differences in compensation.
CalChamber has identified AB 1209 as a job killer because the bill will:
• Create a false impression of wage discrimination or unequal pay where none exists and, therefore, subject employers to unfair public criticism;
• Expose employers to significant litigation costs to defend against meritless claims. It also creates a privacy concern for employees and the disclosure of their wages.
No Violation of Law
AB 1209 seeks to publicly shame employers for wage disparities that do not violate the law.
The bill requires employers to collect data regarding salaries paid to men and women in the same job title or classification, and submit that data to the Secretary of State, where it will be posted on a publicly accessible website and specifically attributed to the individual company. The intent is to publicly shame companies who report any disparities in pay amongst employees of different genders.
In its bill letter, CalChamber explains that wage disparities do not automatically equate to wage discrimination or a violation of law.
Bona Fide Factors
The California Labor Code recognizes numerous, lawful, bona fide factors as to why wage disparities may exist between employees performing substantially similar work, such as:
• Different educational or training backgrounds amongst employees;
• Different career experience;
• Varying levels of seniority or longevity with the employer;
• Objective, merit-based system of the employer;
• A compensation system that measures earning by quantity or quality of production;
• Geographical differences that have an impact on the cost of living and job market;
• Shift differentials.
Publicly shaming companies for wage disparities that are not unlawful is simply unfair, will discourage growth in California, and expose employers to costs associated with defending against meritless litigation.
Key Vote
AB 1209 passed the Senate Labor and Industrial Relations Committee on July 12, 4-1:
Ayes: Atkins; (D-San Diego), Bradford (D-Gardena), Jackson (D-Santa Barbara), Mitchell (D-Los Angeles).
No: J. Stone (R-Temecula).
Action Needed
AB 1209 will be considered next by the Senate Appropriations Committee.
The CalChamber is asking members to contact their senator and members of Senate Appropriations to urge them to oppose AB 1209 as a job killer.
An easy-to-edit sample letter is available at www.calchambervotes.com.