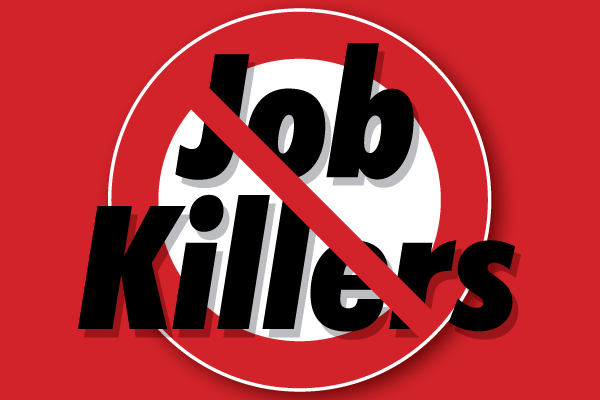 The California Chamber of Commerce is asking Governor Gavin Newsom to veto the six job killer bills sent to him by the Legislature this month.
The bills include proposals that expose employers — including small businesses — to costly litigation and one that in effect forces employers to pay for strikes at unrelated companies.
• AB 524 (Wicks; D-Oakland) Expansion of Litigation Under FEHA. Exposes employers to costly litigation under the Fair Employment and Housing Act by allowing an employee to assert that any adverse employment action was in relation to a new and broadly defined "family caregiver" status, which includes any employee who provides direct care to any person of their choosing, and creates a de facto accommodation requirement that will burden small businesses.
• AB 647 (Holden; D-Pasadena) Grocery Workers. Significantly expands statute related to successor grocery employers, including disrupting ability for independent small stores to join together and creating a significant new private right of action.
• SB 365 (Wiener; D-San Francisco) Undermines Arbitration. Discriminates against use of arbitration agreements by allowing trial courts to continue trial proceedings during any appeal regarding the denial of a motion to compel, undermining arbitration and increasing court, party time and resources spent on cases that ultimately are sent to arbitration.
• SB 616 (Gonzalez; D-Long Beach) Costly Sick Leave Expansion on All Employers. Imposes new costs and leave requirements on employers of all sizes by increasing existing sick leave mandate, which is in addition to all other enacted leave mandates that small employers throughout the state are already struggling with to implement and comply.
• SB 627 (Smallwood-Cuevas; D-Los Angeles) Onerous Return to Work Mandate. Imposes an onerous and stringent process to hire employees based on seniority alone for public-facing and health care businesses, including hospitals, retail, restaurants and movie theaters, which will delay hiring and eliminates contracts for at-will employment.
• SB 799 (Portantino; D-Burbank) Increased Unemployment Insurance Taxes to Subsidize Striking Workers. SB 799 will allow striking workers to claim UI benefits when they choose to strike. Because the UI Fund is paid for entirely by employers, SB 799 will effectively add more debt onto California employers. Moreover, SB 799 will effectively force employers to subsidize strikes at completely unrelated businesses because the UI Fund's debt adds taxes for all employers, regardless of whether they've had a strike.