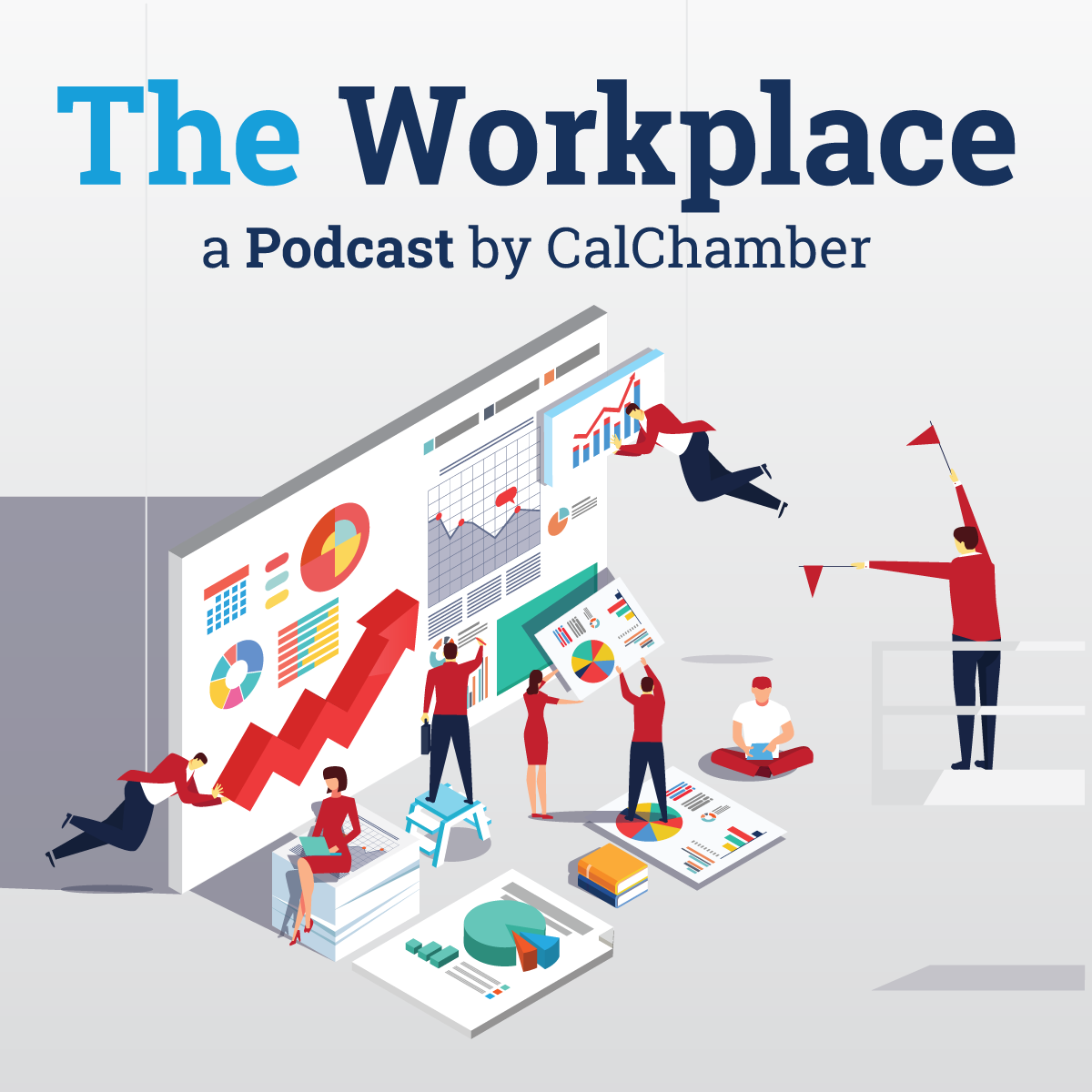 In Episode 145 of The Workplace podcast, CalChamber employment law expert Matthew Roberts and CalChamber policy advocate Ashley Hoffman discuss AB 1993 (Wicks; D-Oakland), a bill recently introduced in the California Legislature that would mandate all California employers to establish a COVID-19 vaccination requirement for employees.
We are approaching the second anniversary of when the COVID-19 pandemic first was declared a public health emergency, and we're starting to see signs that California is moving away from the intense regulatory schemes that dominated much of the last two years, Roberts says in kicking off the podcast.
Quarantine and isolation guidance is softening, mask mandates are being lifted and Governor Gavin Newsom has signaled that we are moving away from the declaration of emergency into an endemic plan, which views the COVID-19 virus much like the seasonal flu, Roberts continues. However, legislation has recently been introduced that would establish a workplace COVID-19 vaccine mandate.
AB 1993
Assemblymember Buffy Wicks recently introduced AB 1993, a bill that would establish a hard vaccination mandate for nearly all public and private employers (both large and small), Hoffman explains. The proposed law does not include a testing alternative for unvaccinated people, but it does allow exceptions for workers who have a qualifying religious or disability reason and would need accommodation under the Fair Employment and Housing Act or similar federal laws.
The definition of "vaccination" within the bill language is a bit vague, Hoffman says, but it appears that the term does not cover boosters and an employee would be deemed vaccinated if they've had the completed series of the Pfizer or Moderna vaccine, or the one-shot dose of the Johnson & Johnson vaccine.
Should AB 1993 be signed into law, compliance would start January 1, 2023.
CalChamber Concerns
While the California Chamber of Commerce has not yet taken a position on AB 1993, it did issue a letter of concern to Assemblymember Wicks.
Hoffman expects the bill to be modified and urges listeners to follow the CalChamber for updates.
As the bill is currently drafted, the CalChamber is concerned about its effects on worker retention and recruitment, especially given the present large labor shortage.
Hoffman points out that Goldman Sachs recently issued a report finding that 90% of small businesses are concerned about hiring, and that it is affecting businesses' bottom line. Businesses' concern is that if a hard mandate is imposed, a significant number of their workforce would leave. And even if only a small number of people leave, companies risk losing high-level workers who have been around for years and have institutional knowledge that is very difficult to replace.
In addition, businesses may have to terminate workers who have been on the front lines during the entire pandemic, and terminating them due to this proposed vaccine mandate would hit morale.
"…[It] would be really difficult to have expected these people to work in person through this entire situation, and then now have to terminate them," she tells Roberts.
AB 1993 would also mandate businesses to require vaccination from independent contractors, Roberts says.
The CalChamber is very supportive of COVID-19 vaccinations, Hoffman stresses, but AB 1993 shifts the burden to employers to not only track the vaccination status of their employees, but also anyone with whom the employer contracts.
And that's a big burden, she says.
Employers in rural areas may have very limited contractors who may be very uniquely specialized, and it could be hard for these employers to be able to actually contract out their work. And the bill also places a high administrative burden, requiring employers to keep track of documents and things for a worker who is not actually an employee.
"There's a lot of open questions that come with this mandate," Hoffman says.
Proof of Vaccination
Another concern with AB 1993 is that the bill specifically states that employers cannot retain documentation of vaccination proof unless the employee specifically allows it, Hoffman says. This is problematic because how else can employers prove their compliance with the law?
In addition, this conflicts with existing COVID-19 regulations. For example, hospitals under the California Department of Public Health (CDPH) vaccination mandate are required under the regulation to maintain those records. And the California Division of Occupational Safety and Health (Cal/OSHA), while not explicitly requiring documentation, does encourage it explicitly in its FAQ.
Moreover, if an employer doesn't have documentation of employee vaccination status, then the employer must treat everyone as unvaccinated, which means that they will be subject to different rules, and usually would have to be kept out of the workplace longer, etc.
Avenues for Litigation
Employers in violation of AB 1993 could also be subject to a private right of action, meaning that private attorneys can enforcing this law. This would surely open the floodgates to litigation, Hoffman points out.
Legislative Process
As this bill was only recently introduced, Hoffman expects amendments to be made once groups have talked to the bill's author.
Before becoming law, AB 1993 would first need to be referred to committees in the Assembly and then will need to pass a vote on the Assembly floor, Hoffman explains.
From there, the bill would go to the Senate and go through a similar process. If passed by both houses, it would proceed to the Governor's desk. If signed, the bill would take effect on January 1, 2023. If, however, the bill passes with two-thirds approval from both houses and includes an urgency clause, the law would take effect immediately.