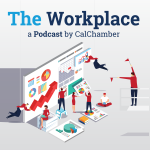 In Episode 55 of The Workplace podcast, CalChamber Executive Vice President and General Counsel Erika Frank is joined by employment law experts Bianca Saad and Matthew Roberts to discuss the most common coronavirus-related questions employers and human resources professionals have been asking the CalChamber's Labor Law Helpline this past week.
The answers to the following questions have been shortened. To hear the in-depth answer, visit the time stamps attached to each question at www.calchamber.com/theworkplace.
FAQs
Q: What is the difference between a layoff and a furlough? [Time Discussed: 02:35]
This question is likely the most common being asked at the Helpline—so much so, Roberts says, that he wrote an article on HRWatchdog this week addressing this very question.
A furloughed employee remains an employee, but with reduced or eliminated work hours, while a layoff generally means a complete employment severance. If an employee's work hours are reduced to zero, however, and they are not called to work within the same pay period, the law will deem the furlough a layoff, Roberts explains.
Q: Can I take an employee's temperature before they start work? [Time Discussed: 07:38]
Generally, an employer cannot take an employee's temperature as it is considered a medical exam. However, Saad says, given the recent recommendations from the Centers for Disease Control (CDC) to address community spread of COVID-19, the Equal Employment Opportunity Commission (EEOC) and California Department of Fair Employment and Housing (DFEH) are permitting employers to take employees' temperatures if specifically related to COVID-19, effective March 2020.
Employers should bear in mind that taking an employee's temperature is subject to American with Disabilities Act (ADA) confidentiality requirements, she adds.
Q: I am confused by the shelter-in-place orders. Is my business an "essential business"? [Time Discussed: 10:52]
The list of the types of businesses deemed "essential" is lengthy, technical and varies depending on the statewide order or a particular county's order. Roberts recommends that business owners should refer to the Governor's state order or the HRWatchdog article "What Is and Isn't 'Essential' Business Under California's 'Stay at Home' Order" to determine if their business is deemed "essential." Both resources are linked on the CalChamber coronavirus resource page.
Q: We recently learned an employee tested positive for COVID-19. Are we required to notify all of our employees? [Time Discussed: 13:06]
If an employee tests positive for COVID-19, employers should immediately contact county health officials and the California Department of Public Health. The agencies will direct employers on what steps they need to take, Roberts explains.
Employers should be mindful of employees' privacy, and not divulge names. Employers can alert employees with a general statement that an employee has tested positive for COVID-19, and other employees may have been exposed.
Q: Many of our employees have children that are no longer in school due to school closures. Do we have to pay these employees who are not working? [Time Discussed: 16:13]
There are several options to consider, Saad says.
California has school activities leave that includes school-related emergencies (applies to employers with more than 25 employees), providing 40 hours a year. Employers also can require that employees use other available personal leaves, such as vacation time, or, depending on a company's policy, allow employees to take unpaid time off.
If possible, employers may offer remote work options. Another option becoming available on April 1 is the new federal Emergency Family Medical Leave Expansion and Emergency Paid Family Leave Act.
Q: We are considered an "essential business" and we are having our employees report to the workplace. Can we require our employees to wear protective gear, such as masks? [Time Discussed: 20:57]
Employers can require employees to wear personal protective equipment, but should make reasonable accommodations where appropriate, Roberts explains. For example: if an individual is in a wheelchair and is required to wear a gown, the employer should find a gown that will fit; if an employee has a latex allergy, the employer should provide nonlatex gloves.
Q: We have more than 100 employees and due to COVID-19 must lay off 20% of our workforce. What laws must I follow? [Time Discussed: 22:13]
The 60-day notice requirement under the California Worker Adjustment and Retraining Notification Act (WARN Act) has been suspended under a recent order issued by Governor Gavin Newsom. Employers still are required to provide written notice as soon as practicable with a statement of why the notification period was reduced and information for obtaining unemployment insurance benefits, Saad says.
Q: If we close our company due to COVID-19 do we pay our employees? [Time Discussed: 25:50]
Employers still must meet final pay requirements and are subject to waiting time penalties, Roberts stresses.
Roberts points out that these requirements may be especially difficult to meet if a company's workforce is currently working remotely. The Labor Commissioner is currently looking at this issue and further guidance is expected.
Q: How do we pay exempt and nonexempt employees who are working remotely? [Time Discussed: 29:01]
Pay obligations do not change simply because an employee (exempt or nonexempt) is working remotely, Saad explains.
If an exempt employee does any work in a week, the employee must be paid. If, however, the employee does not do any work in the week, the employee's weekly salary may be reduced.
For nonexempt hourly employees, all hours worked must be paid. Employers should accurately track any time worked, and pay for overtime if it occurs. Employers also should ensure that nonexempt employees take appropriate meal and rest breaks—especially since employees may forget to take their breaks in a home setting. Examples of easy things employees can do to remember to take breaks include setting an alarm.
Subscribe to The Workplace
Subscribe to The Workplace on iTunes, Google Play, Stitcher, PodBean and Tune In.
To listen or subscribe, visit www.calchamber.com/theworkplace.