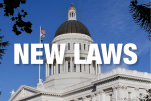 There are a few new and significant 2020 California employment laws that employers need to be aware of, as they may affect daily business operations, policies and employees.
Of the 2,625 bills introduced in the Legislature this year, 1,042 bills reached Governor Gavin Newsom's desk. He signed 870 and vetoed 172—and many of those signed will affect California employers.
Some bills made significant changes to California employment law, such as the much-publicized independent contractor bill, AB 5. Others made small but important changes of which employers must be aware, such as those changing the mandatory harassment prevention training deadlines.
The Governor vetoed several California Chamber of Commerce-opposed bills, including AB 589, which would have created overly burdensome requirements for employers to post and provide employees with a "Worker's Bill of Rights," among other things.
The Governor also vetoed SB 218, which would have amended the Fair Employment and Housing Act (FEHA) to allow local governments in Los Angeles County to enact their own anti-discrimination ordinances similar to the FEHA, creating uncertainty, inconsistency and confusion regarding the FEHA's application and interpretation.
The white paper summarizes new laws in:
• recruiting and hiring;
• discrimination, harassment and retaliation protections;
• leaves of absence and benefits;
• workplace safety;
• arbitration;
• privacy; and
• wage and hour.
Unless otherwise noted within the white paper, the new laws take effect on January 1, 2020.
To learn more, download CalChamber's free white paper, New 2020 Labor Laws Affecting California Employers, at www.hrcalifornia.com.