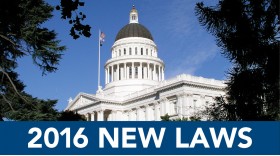 The California Chamber of Commerce is presenting handy summaries of new legislation taking effect in 2016 that will affect the day-to-day operations of California employers.
The summaries appear in a CalChamber white paper, available to download at www.calchamber.com/newlaws2016.
Some of these new laws make important changes to existing state law. Other mandates make small changes to different parts of existing law or may affect only certain types of employers, such as employers with piece-rate workers.
The CalChamber also reminds employers that the minimum wage increases on January 1, 2016, to $10 an hour. The increase is not a new law, but is the last mandatory increase from the legislation signed into law in 2013.
See an infographic highlighting important new laws below.
Paid Sick Leave
Already in place are the July 13, 2015 amendments to the mandatory paid sick leave law.
Those changes included clarifying who is a covered worker; providing alternative methods of accruing paid sick leave other than one hour for every 30 hours worked; clarifying protections for employers that already provided paid sick leave or paid time off before January 1, 2015; and providing alternative methods for paying employees who use paid sick leave.
More details appear in a CalChamber white paper, available at www.calchamber.com/paidsickleave.
The Labor Commissioner's Office also has released revised FAQs to reflect its position on the paid sick leave amendments.
Leaves and Benefits
Other changes to leave and benefit laws include changes to kin care requirements; school and child care activities leave; National Guard leave and protections; unemployment insurance and electronic reporting (taking effect January 1, 2017); state disability insurance eligibility waiting periods (taking effect July 1, 2016); and unemployment insurance training benefits.
Discrimination/Retaliation
The Fair Pay Act prohibits an employer from paying any of its employees less than employees of the opposite sex for "substantially similar work, when viewed as a composite of skill, effort and responsibility."
The act places specific requirements on employers to affirmatively show that a wage differential is not unlawful but is instead based entirely and reasonably upon one or more acceptable listed factors, including seniority and merit systems or other bona fide factors coupled with a showing of "business necessity."
It also creates a private right of action for retaliation and discrimination.
Other new laws expanding employee protections in 2016 include: whistleblower and anti-retaliation protections; protection against retaliation for requesting reasonable accommodation; immigration-related protections; and expansion of anti-discrimination protections in state contracts.
Wage and Hour
Many of the new wage-and-hour laws deal with how the laws will be enforced, instead of imposing significant new obligations on employers.
Urgency legislation that went into effect when the Governor signed it on October 2, 2015 gives employers the right to correct two types of violations relating to itemized wage statements before an employee may bring a civil action under the Private Attorneys General Act, subject to specified limitations.
Other wage-and-hour laws set new rules for employers with piece-rate employees; deal with the meal periods in the health care industry (urgency legislation that went into effect on October 5, 2015); expand the Labor Commissioner's ability to enforce state and certain local laws; reduce the prohibited amount of weekly disposable earnings that may be garnished (effective July 1, 2016); provide an amnesty program for port drayage companies that misclassify commercial drivers; and make various changes relating to public works and prevailing wages.
Hiring
New laws affecting hiring practices in 2016 deal with the use of the federal E-Verify system; job protections for grocery store workers when the store changes ownership; and classifying cheerleaders for professional sports teams as employees, not independent contractors.
Workers' Compensation
Workers' compensation-related bills signed into law in 2015 will require creation of a formulary for prescription medications in the workers' compensation system by July 1, 2017; clarify that workers cannot be denied benefits based on citizenship or immigration status; require certain forms, notices and fact sheets to be made available in additional languages by January 1, 2018; clarify medical provider network laws; allow investigation and enforcement of the obligation to secure valid workers' compensation insurance.
The Division of Workers' Compensation also recently finalized regulations revising certain benefit notices for January 1, 2016.
Miscellaneous
Other new laws deal with franchisor/franchisee agreements; and require ride-sharing services, such as Uber and Lyft, to participate in the state Department of Motor Vehicles "pull-notice" system to regularly check the driving records of participating drivers.
Compliance Help
CalChamber employment law experts will cover new state laws in more detail on HRCalifornia and in the 2016 California Labor Law Digest and will make the necessary updates to all CalChamber products.
In addition, live 2016 Employment Law Updates seminars are scheduled in January throughout the state. Seminar attendees will receive a handout on important cases and new laws. A live webinar also is scheduled.
More information about the Digest, the seminars and webinar are available at www.calchamberstore.com.
Staff Contact: Gail Cecchettini Whaley