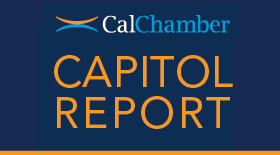 The latest proposal by the state Office of Environmental Health Hazard Assessment (OEHHA) to revise Proposition 65 warning requirements should be of concern to business, the California Chamber of Commerce warns in a video report.
The revised regulation would not add more meaningful information regarding how businesses present Proposition 65 warnings and would further increase the risk of litigation.
CalChamber Policy Advocate Anthony Samson says in the latest CalChamber Capitol Report that there is cause for alarm, first due to the "sheer costs to the business community," which will be extraordinary. Second, the proposal will do far more to alarm consumers and less to inform them, he says. Finally, the proposal will invite "extraordinary new avenues for increased litigation under Proposition 65."
CalChamber is urging business to voice concerns to OEHHA on the proposed warning changes. CalChamber comments are posted at www.calchamber.com/environmental.
Governor Calls for Reform
In May 2013, noting that Proposition 65 has been abused by "unscrupulous lawyers driven by profit rather than public health," Governor Edmund G. Brown Jr. proposed reforms to strengthen and restore the intent of Proposition 65.
Specifically, the Governor proposed to end frivolous, "shakedown" lawsuits; improve how the public is warned about dangerous chemicals; and strengthen the scientific basis for warning levels.
Proposition 65 Requirements
Proposition 65, the Safe Drinking Water and Toxic Enforcement Act of 1986, requires California businesses with 10 or more employees to provide a clear and reasonable warning before knowingly and intentionally exposing individuals to chemicals known to cause cancer and/or reproductive toxicity.
In order to comply with Proposition 65, a business must:
• Assess whether it releases, or its products contain, Proposition 65-listed chemicals;
• Determine whether its consumers may be exposed to a listed chemical at levels that necessitate a warning (that is, "when" to warn); and
• Determine (if a warning is required) what the warning must say (that is, "how" to warn).
Recent Regulatory Efforts
OEHHA has initiated three significant regulatory undertakings in 2014. Most significantly, OEHHA has proposed a substantial regulatory overhaul of the "clear and reasonable" warning requirements, which address the "how to warn" question.
OEHHA also has asked that stakeholders suggest additional potential regulatory changes that may help to address the "when to warn" question, and has further developed regulations related to a Labor Code requirement for adding chemicals to the Proposition 65 list.
Warning Regulations
On March 7, 2014, OEHHA proposed a "pre-regulatory" draft regulation overhauling the existing requirements for "clear and reasonable" warnings under Proposition 65.
The proposal, according to OEHHA, is "designed to provide more meaningful information for individuals in Proposition 65, facilitate the public's understanding of these warnings and make the warnings more consistent."
OEHHA also noted that the proposal "is intended to implement the Administration's vision concerning improving the quality of the warnings being given and providing certainty for businesses subject to the Act."
On June 12, 2014, CalChamber submitted an extensive comment letter, also signed by nearly 140 California-based and national organizations and businesses of varying sizes that, collectively, represented nearly every major business sector on which OEHHA's proposal would have an impact.
The coalition explained in detail why OEHHA's proposal actually undermined the Governor's calls for reform. Specifically, the proposal would:
• substantially exacerbate the already-problematic Proposition 65 litigation climate;
• further increase consumer alarm and confusion about Proposition 65 warnings;
• significantly decrease business certainty; and
• dramatically increase compliance costs and defense costs for businesses of all sizes.
The comment letter addressed virtually every provision of the OEHHA proposal, explained the basis for the coalition's opposition, and provided recommendations where appropriate.
On September 23, 2014, OEHHA circulated a revised draft of the regulation to several stakeholders, including CalChamber.
In an informal memorandum dated October 10, 2014, CalChamber noted that the revised draft, while an improvement from the original draft, still contains significant flaws that undermine the Governor's calls for reform.
Additional refinements are needed to the improvements identified above, and some of the major flaws, including the requirement to specify one or more of 12 specific chemicals, are still present in the revised regulation.
Next Steps
CalChamber continues to work with OEHHA on a revised regulatory proposal, which OEHHA anticipates will be released for formal rulemaking comment in late 2014 or early 2015.