A strong storm system is rolling through California, prompting mudslide concerns in the Northern and Southern half of the state, particularly in areas that endured the Colby, King, and Rim fires. With enough rain in burned areas, loose debris can damage roadways and homes.
In some areas, the U.S. Forest Service prepared in advance for the storms with an aerial mulching effort, dropping a layer of straw over burn areas to stem the flow of water.
Drought Persists
Despite this storm system and recent rains, the Sierra Nevada snowpack, which provides two-thirds of California's water supply, is only at 24% of normal for this time of year, and Lake Oroville, which delivers water from Northern California south, is at 26% of its capacity.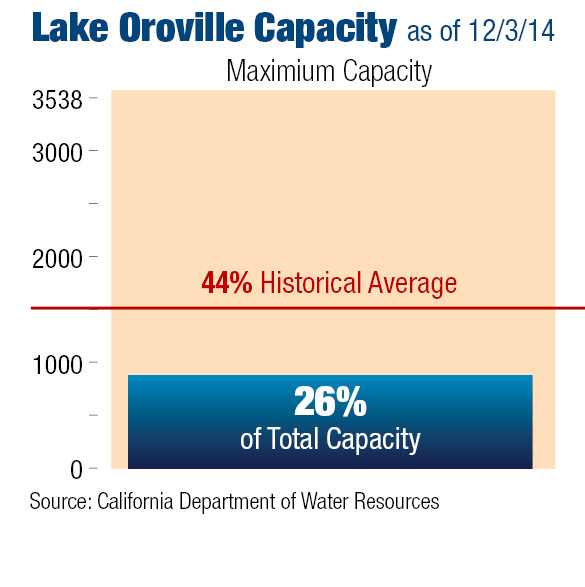 California would need to have a storm every three to five days for the next three months (150% of the normal seasonal rainfall) to recover from its historic drought, according to Michael Anderson, a climatologist with the California Department of Water Resources.
Water Conservation Down
The latest water use report released by the State Water Board indicates that statewide residential water conservation receded further in October to 6.7%, after having dropped in September to 10.3%.
California residents' peak conservation rate was in August, at 11.6%. The report's findings prompted concern that state residents won't be prepared if California faces a fourth year of drought conditions in 2015.
"Recent rains are no reason to let up on our conservation efforts," said Felicia Marcus, chair of the State Water Board. "…This latest report raises questions whether some residents have slowed on water conservation efforts, whether conditions like temperature made a big difference in different areas, or whether it is just time to direct agencies to find additional conservation opportunities in day-to-day water use."
The South Coast exhibited a decline in monthly water savings, dropping to 1.4% savings in October as compared to 7.5% savings during September. With 56% of all the residential water customers statewide, this decline in conservation had a significant impact on the state average for October residential water savings.
Water Allocation
On December 1, the California Department of Water Resources estimated that it will be able to deliver 10% of the water called for in contracts held by the members of the State Water Project. This projected allocation is an increase over last year when the initial allocation of 5% was reduced to zero due to lack of rain.
Depending upon the volume of rain and snow that reaches California this winter, the allocation may increase or decrease. On average, half of California's precipitation occurs December through February, and three-quarters from November through March.
Workshop Ahead
A half-day Southern California water conservation workshop will be held on December 17 to solicit suggestions on what, if any, additional conservation measures should be adopted in 2015 to increase water conservation statewide.
To view the latest water use report, visit www.waterboards.ca.gov.