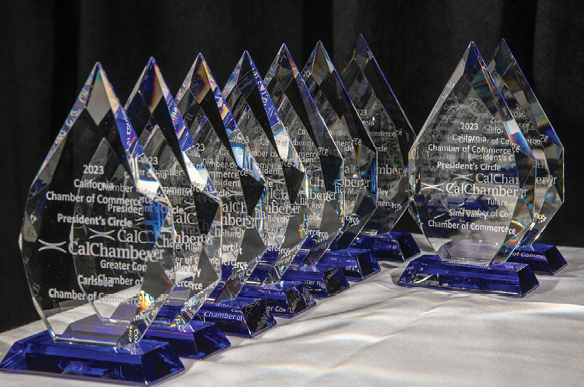 The California Chamber of Commerce has named 10 local chambers of commerce as recipients of the 2023 President's Circle Award.
The award, first presented in 2009, recognizes chambers for excellence in business advocacy and helping their members comply with California employment laws.
The award-winning chambers were announced during the CalChamber Capitol Summit on May 17, 2023.
Three of the chambers have received the award all 15 years it has been presented.
The 2023 recipients of the President's Circle Award are as follows. An * marks the chambers that have received the award all 15 years:
Carlsbad Chamber: Bret Schanzenbach, president/CEO;
Greater Conejo Valley Chamber*: Danielle Borja, president/CEO;
Greater High Desert Chamber: Mark Creffield, president/CEO;
Lake Elsinore Valley Chamber: Kim Cousins, president/CEO;
Long Beach Area Chamber*: Jeremy Harris, president/CEO;
Greater Riverside Chambers*: Nick Adcock, president/CEO;
Santa Maria Valley Chamber: Glenn Morris, president/CEO;
Simi Valley Chamber: Kathi Van Etten, president/CEO;
Tulare Chamber: Donnette Silva Carter, CEO;
West Ventura County Business Alliance: Nancy Lindholm, president/CEO.
President's Circle Award recipients published vote records of their state legislators on key business issues, joined coalition efforts to let state elected officials know about community sentiment on issues of interest to members, voiced the local chamber's position at legislative policy committee hearings, and participated in the CalChamber compliance product resale program at an exemplary level.