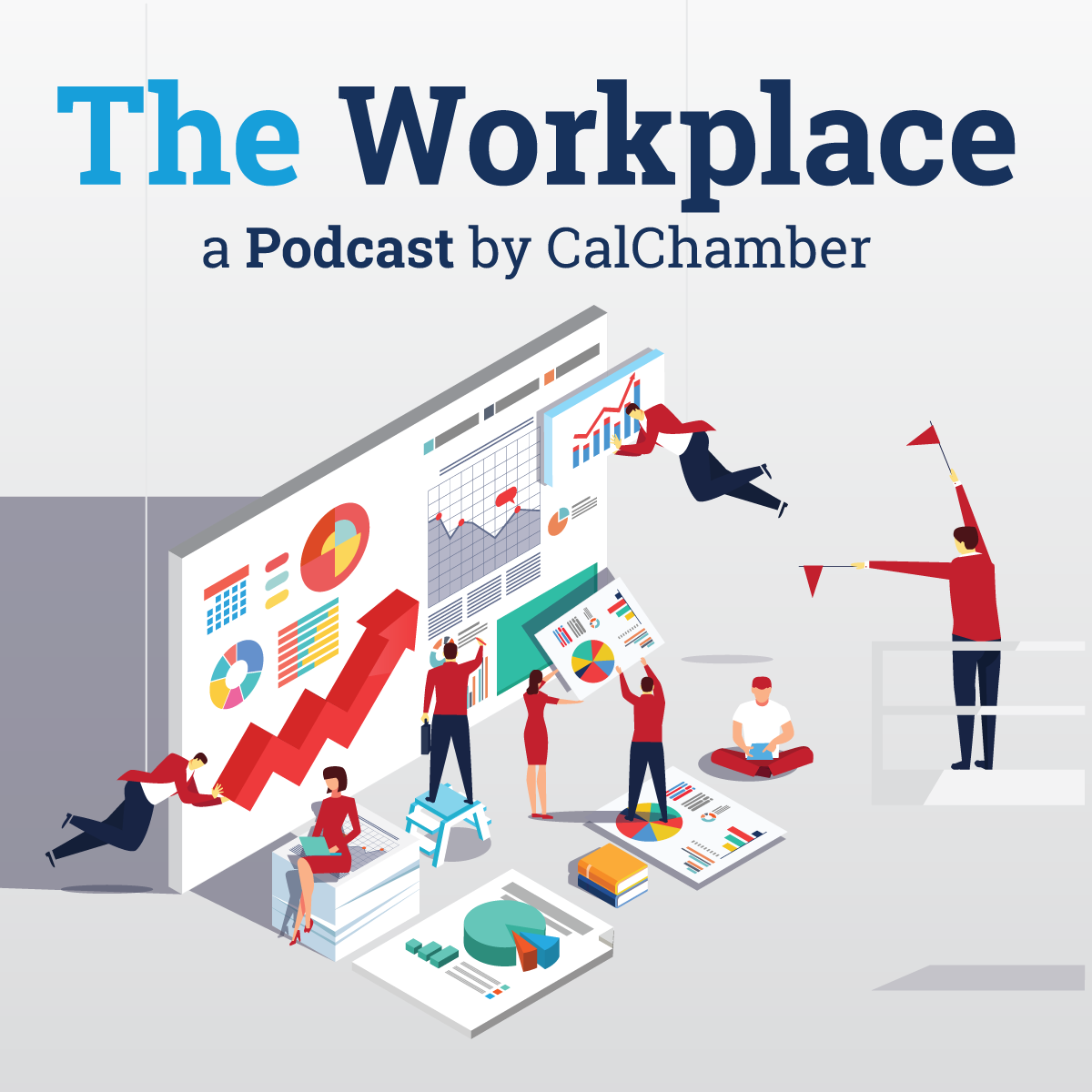 In Episode 107 of The Workplace podcast, CalChamber Executive Vice President and General Counsel Erika Frank, CalChamber Policy Advocate Ashley Hoffman, and Legislative Advocate Chris Micheli of Aprea & Micheli discuss what employment law changes employers can expect to occur this year at the state level.
Paid Sick Leave
The federal and state COVID-19 supplemental paid sick leave mandates expired at the end of last year, so the biggest labor law change Hoffman anticipates this year pertains to paid sick leave (PSL). Some cities have expanded PSL ordinances.
President Joseph Biden has laid out a proposal that has not yet been submitted to Congress, but would mandate PSL for all employers, not just for employers with fewer than 500 employees, she explains. The proposal does away with some of the exemptions previously granted to small employers and employers of first responders. The proposal, however, includes a tax credit for all employers with fewer than 500 employees to help reimburse PSL expenses.
California employers have seen some mandates come through in the form of emergency regulation from state agencies. Hoffman points out that the Division of Occupational Safety and Health (Cal/OSHA) issued an emergency temporary regulation ordering that employees be excluded from the workplace for 14 days in the event of an exposure or diagnosis of COVID-19, and be provided with full paid benefits. This is especially concerning to a lot of businesses that are barely staying afloat.
"[Employers] thought they were going to get…a bit of a break from paid leave and then here comes in this uncapped mandate," she says.
In summary, Frank says, businesses should expect to see more proposals to expand leave rights for workers and more leave management responsibilities for employers.
Will these PSL proposals be tied exclusively to COVID-19, Frank asks?
Micheli answers that it is possible to see non-COVID-19-related proposals that expand existing leaves or create new ones. For example, last year, a bill sought to establish a bereavement leave mandate, but failed to pass on to the Governor's desk. A bill similar to this failed proposal was one of the first to be introduced at the start of this year's session. So, PSL proposals might not solely be narrowed to COVID-19, he says.
Target on Specific Industries
Another issue that is being talked about is legislation that targets specific industries. For example, labor organizations and Democratic legislators recently held a briefing on garment industry workers and discussed possible crackdowns on the garment manufacturing industry, Micheli says.
Similarly, Micheli has heard of possible proposals to increase wages for grocery store workers, known as "Heroes Pay."
Hoffman agrees, stating that this type of law has already been seen at the local level.
Also, she says, Assemblywoman Lorena Gonzalez (D-San Diego) is working on a bill that addresses fast food workers specifically, but the particulars of that proposal are not yet known.
Independent Contractors
Micheli expects worker classification to continue to be a top issue this year. Between the enactment of AB 5 in 2019 and AB 2257 in 2020, 109 professions have been granted exemptions from the ABC worker classification test, and it is likely that more industries will pursue exemptions this year.
Micheli also expects clean up language changes to AB 5 (California's independent contractor law) to be introduced.
Hoffman adds that there is talk of a bill to tax the commission rideshare companies earn.
Other Top Issues
Other issues Hoffman anticipates will be addressed this year are workplace safety, employment insurance, and reforms to the California Employment Development Department (EDD).
Micheli says that a hot topic of interest to both employees and employers is addressing flexible workplace scheduling laws to better reflect telecommuting arrangements.
Hoffman explains that California wage and hour laws are really meant for employees that are physically at the workplace, and these laws have not truly been updated in a long time. The result is a number of rules that create inequity between exempt employees and non-exempt employees.
For example, Hoffman points out that many parents who work from home must also care for their children since many schools have closed due to the COVID-19 pandemic. These working parents often find it easier to divide their work responsibilities between the morning and afternoon, reserving the midday hours to care for their children. Due to split shift rules and premiums, many employers simply cannot afford to grant this type of arrangement and flexibility to nonexempt employees.
Frank adds that while many employers want to provide their workers with flexibility, labor and employment laws often tie employers' hands on what can be done.
Subscribe to The Workplace
Be sure to follow The Workplace podcast for updates on important federal and state legislation that will have an impact on California employers.
Subscribe to The Workplace on iTunes, Google Play, Stitcher, PodBean and Tune In.
To listen or subscribe, visit www.calchamber.com/theworkplace.