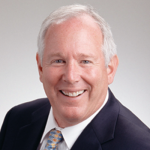 Michael Ziegler, CEO of PRIDE Industries and former member of the California Chamber of Commerce Board of Directors, passed away this week. He was 75.
For 37 years, Ziegler headed PRIDE Industries, provider of business outsourcing solutions and employer of people with disabilities. Under his passionate leadership, the organization grew from 65 employees to more than 5,600 today, 3,350 of whom are persons with disabilities.
PRIDE has placed and supported employment for thousands of people with disabilities at small businesses, Fortune 500 companies and government partners across the nation, according to the company news release reporting his death.
He became president and CEO of PRIDE in 1983 and was a member of the CalChamber Board of Directors from September 2004 to October 2018. He also had served since 2004 as a member of the Sacramento Host Committee, which each year joins the CalChamber in sponsoring a Sacramento breakfast and reception highlighting the state's role as a leader in agriculture, technology, international commerce and many other industries.
"Mike's impact on the communities PRIDE serves and the PRIDE family is immeasurable," said Jeff Dern, president of PRIDE Industries. "Everyone who met Mike was instantly drawn to his passion for PRIDE's mission and his love of people. I've never known a more brilliant businessperson or someone with a bigger heart than Zig."