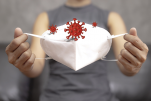 As California and its localities begin to modify their shelter-in-place orders, employers across the state are thinking about how to comply with evolving workplace guidelines so that employees and customers can return safely.
To help employers prepare their workplaces for the "next normal," the California Chamber of Commerce is presenting a 90-minute webinar on May 21, "Creating a Return to Work Plan for Your California Employees," 10 a.m. to 11:30 a.m. (PT).
During the webinar, CalChamber employment law experts will discuss factors to consider and tips to remember as employers prepare to reopen.
Topics
Topics include:
• Overview of Governor Newsom's guidelines to reopen;
• Safety considerations for workers and customers;
• Providing personal protective equipment (PPE);
• Administering testing and screenings;
• Following guidance from the federal Centers for Disease Control and Prevention (CDC), California Division of Occupational Safety and Health (Cal/OSHA), California Department of Fair Employment and Housing (DFEH), Equal Employment Opportunity Commission (EEOC) and other agencies
• Hiring and onboarding considerations.
• How to bring back temporarily laid off employees.
• Recruiting practices for new hires.
• Considerations about when and whether to bring teleworkers back to the office.
• Compliance requirements, including wage and hour, Americans with Disabilities Act (ADA), EEOC and DFEH.
• Staggered work schedules.
• Wage and hour rules to remember.
• Recommended changes and additions to handbook policies.
• Communicating your return to work plan and setting expectations.
Webinar Features
• Presented by top CalChamber employment law experts.
• Ideal for HR professionals, office managers, business owners or anyone responsible for hiring and staffing.
• Mobile-optimized for viewing on tablets and smartphones.
• Ability to submit questions during the webinar.
• Downloadable webinar slides and a recording of the live event.
This webinar offers guidance only and does not serve as or replace legal advice.
Presenters
• CalChamber Executive Vice President, Legal Affairs, and General Counsel Erika Frank was named to her current position in 2017 after serving as vice president since 2009. Before assuming general counsel responsibilities in late 2005, she lobbied the legislative and executive branches on taxation, civil litigation and lawsuit abuse issues. Frank leads CalChamber's Legal Affairs Department, which participates in court cases having a broad impact on California's economy and business climate. She oversees and contributes to CalChamber labor law and human resources compliance publications; co-produces and presents webinars and seminars; and heads the Labor Law Helpline. J.D. McGeorge School of Law, University of the Pacific.
• Employment Law Subject Matter Expert Bianca Saad joined CalChamber in April 2018. She oversees CalChamber coverage of the ever-expanding area of labor-related local ordinances and serves as a co-presenter for CalChamber compliance seminars and webinars. She also serves as an HR adviser on the Labor Law Helpline. Saad brings the perspective of an employee representative, coming from nearly eight years in private practice as an employment law and litigation attorney. She has represented plaintiff workers in wage and hour disputes, employment whistleblower claims, personal injury matters, and employment discrimination, harassment and retaliation cases. J.D. California Western School of Law.
• Employment Law Counsel/Subject Matter Expert Matthew Roberts joined CalChamber in July 2019. He explains California and federal labor and employment laws to CalChamber members and customers, including serving as an HR adviser on the Labor Law Helpline. Roberts brings a decade of experience as an attorney representing business owners on California wage and hour and anti-discrimination employment laws for law firms in Sacramento and Davis. In addition to representing employers in all phases of litigation before state and federal employment law enforcement agencies, he has provided training on topics such as sexual harassment prevention training, wage and hour and leaves of absence issues, as well as conducted sensitive workplace investigations for public and private employers. J.D. McGeorge School of Law, University of the Pacific.
To Register
To register for Creating a Return to Work Plan for Your California Employees, visit the CalChamber store at store.calchamber.com, or call (800) 331-8877. CalChamber preferred and executive members receive a 20% discount.