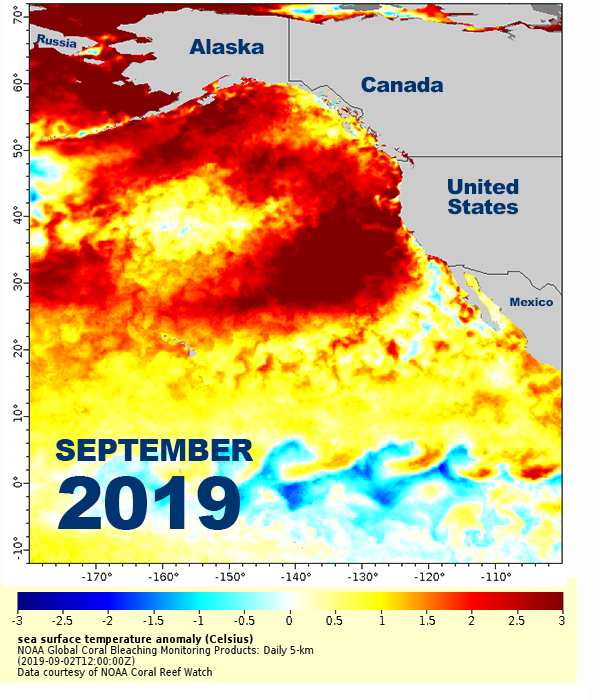 The Blob is back in the Pacific Ocean. The Blob is a massive pool of water that is warmer than normal in the Pacific Ocean and runs from Alaska past Southern California down to Baja.
It's caused by persistent high-pressure ridges in the atmosphere above the ocean's surface. The lack of wind allows the sun to warm the water's surface while at the same time preventing waves that help churn and mix cooler water up from the ocean's depth to reduce the overall temperature.
The last time it appeared was during the 2012 to 2016 drought. There was considerable scientific speculation about its role in the extreme weather of those times.
Which came first? The Blob or the drought?
That is unknown. The persistent high-pressure ridge above California exacerbated and prolonged the last drought. It is likely that the 2018–2019 water year, which ended September 30, will be recorded as an average to slightly wet water year though the southeastern part of the state has been dry. But what will 2020 be—wet, average, or dry?
West Coast Impacts
The last Blob negatively affected marine ecosystems and resulted in extensive commercial fishery closures across the West Coast.
It caused sea lions to forage farther out into the ocean, leaving their pups to wash up on beaches starving, and whales to forage into coastal waters and ultimately to tangle in commercial fishing lines. It triggered the largest and most toxic algae bloom ever seen in the region.
According to the National Oceanic Atmospheric Administration (NOAA), this Blob is almost the same size as the prior one and is "the second largest marine heatwave in terms of area in the northern Pacific Ocean in the last 40 years." A NOAA research scientist says it's on trajectory to be as strong as the last Blob event.
A climate scientist at Stanford University said, "Very warm water over the northeast Pacific is a statistical predictor of circulation patterns that tend to promote warm, dry conditions here in California."
However, science isn't at the point where it is able to forecast drought a season ahead, so it is unknown at this time if 2020 will be a dry year.
No El Niño
What is different about this year as compared to the drought years is the lack of an El Niño, a warmer-than-normal large swath of water in the tropical Pacific Ocean. El Niños tend to have significant impacts on weather across the world. It is thought that the combination of the Blob and an El Niño made the drought so pervasive and deep.
More sophisticated forecasting tools are needed to efficiently operate water infrastructure and to plan for droughts. Until then, more water storage strategically developed around the state is needed to capture water from large storm events to be used in drier years.
This article first appeared as a Capitol Insider blog post.