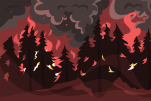 An emergency regulation requiring employers to protect workers from potential harm due to wildfire smoke may give way to a more stringent rule.
The emergency regulation adopted by the California Division of Occupational Safety and Health (Cal/OSHA) Standards Board last month and taking effect on July 29 requires California employers to take steps to protect workers from potential harm due to exposure from wildfire smoke.
Some of the steps required in the emergency rule (which kicks in when air quality erodes to specified levels) include relocating workers to other sites or providing respirators in the most severe circumstances.
Last week, the California Chamber of Commerce learned that Cal/OSHA is considering significant changes to the rule that would lower the threshold levels which trigger the need for employer action.
Discussion Draft
A discussion draft circulating from Cal/OSHA this week proposes lowering the Air Quality Index (AQI) threshold from 500 to 300 for mandatory respirator use and 150 to 100 AQI for voluntary respirator use.
In addition, there is a new consideration in the discussion draft that proposes requiring all structures and vehicles to contain minimum MERV (Minimum Efficiency Reporting Value) filter levels in buildings and structures in order to be exempt from the regulation—which would greatly broaden the application of the regulation.
The CalChamber and a coalition of employer groups have been closely following developments on this rule at every stage of the process. The CalChamber is continuing to evaluate this new discussion text and will provide formal comments as part of the regulatory process, but, at this point, it is clear the coalition will be communicating its concerns regarding the drastic lowering of all trigger thresholds from the levels approved by the Standards Board just last month.
Threshold Change
The CalChamber is concerned that lowering the mandatory respirator use threshold to 300 could effectively shut down urban areas in the event of a wildfire.
For example, during the 2018 wildfires, Sacramento's downtown center occasionally exceeded an AQI for airborne particulate matter (PM) 2.5 of 300—meaning that if the draft regulation had been in effect, it would have forced businesses to either fit test and medically evaluate all employees who might be outside for more than an hour, or to shut down.
Given the cost and burden of ongoing fit testing and medical evaluation for all employees, and the rarity of such AQI levels, most businesses will simply shut down at the proposed 300 AQI standard. This won't help either employees or businesses as employees will be sent home, where they may have no access to respiratory protection.
In contrast, the 500 AQI standard in effect under the emergency regulation provides mandatory protection for those truly extreme circumstances, when the AQI exceeds 500, but also allows businesses to continue functioning (and providing respiratory protection) in the event of a wildfire.
MERV Filtration
Regarding MERV filtration, the CalChamber is concerned that setting this standard transforms the regulation from focusing on outdoor workers to an all-encompassing regulation on air quality. This regulation began based on a petition for a standard to protect outdoor occupations such as agriculture—and the Standards Board's adopted decision echoed that goal.
The CalChamber believes that if Cal/OSHA intends to expand this regulation into regulating the air filtration of every business and vehicle in California, there will be potentially massive costs that must be shouldered by California's business community.
More Information
For more information about the emergency rule and resources for compliance, see the August 2 Alert story.
A compliance "to do" list was outlined in Episode 22 of The Workplace podcast, "What Employers Need to Know: Emergency Wildfire Smoke Regulation."