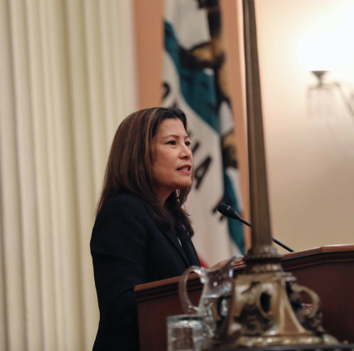 In an address to the California Legislature last week, California Chief Justice Tani Cantil-Sakauye reported on the progress the court system has made in its three-tiered civil justice reform initiative, and outlined the challenges the judiciary will focus on in the coming year.
'Access 3D'
The civil justice reform initiative, referred to as "Access 3D," is a mission to make access to justice "three-dimensional," the Chief Justice said in her State of the Judiciary address on March 19. The initiative seeks to:
• Fund physical courts and restore courthouses to their full operating hours and staff, with fair compensation;
• Establish remote (online) access so that court users can conduct their business online; and
• Offer equal access to the court system, so that courts serve people of all languages, abilities and needs.
The Chief Justice told lawmakers that Governor Edmund G. Brown Jr. "breathed new life into the judiciary" with more than 600 judicial appointments. Of the 200 new justices appointed last year, she commented, 41% self-reported as non-white and more than half are female.
"The judiciary now is more representative of the communities we serve in every way," she said.
New Programs
With funding support approved by the Legislature, the Chief Justice pointed out, the judiciary is able to:
• Maintain more than 500 courthouses and is building 10 new "safe and secure courthouses."
• Establish more than 50 new projects that include technology, such as a mobile app, a multilingual self-help website, video hearings, and video remote interpreters.
• Provide court navigators, also called "wayfinders," and improve access to the court system with interpreters in critical civil cases like domestic violence, child custody, elder abuse, and evictions.
Challenges to Tackle
Despite the progress made, the Chief Justice said there is still more work to be done, and listed the following four challenges the judiciary will work on:
• Ensuring "that income inequality doesn't translate into a two-tiered justice system";
• Ensuring "that fines and fees no longer fall on those least able to afford them";
• Ensuring "that minor traffic offenses don't turn poor drivers into poor criminals"; and
• Ensuring "that we keep our workplaces safe and free from discrimination and harassment and that we treat each other and the public we serve with respect."
To tackle these issues, the judiciary will convene workgroups, deliberate the facts and the law, and pursue recommendations through all three branches of government, Cantil-Sakauye said.
A task force already has been launched to study the practices and reform of existing pretrial detention and suggest steps to make the process fairer and safer.
In addition, Governor Gavin Newsom has proposed $75 million in court funding for the development, implementation, and evaluation of pretrial detention decision-making pilots in 8 to 10 courts.
The Judicial Council also is convening a workgroup on preventing workplace discrimination, harassment and abuse. Recommendations from the workgroup are expected to be delivered this summer.