Practical and entertaining insights on the nuts-and-bolts of implementing state and federal labor and employment laws were the focus of the second California Chamber of Commerce HR Symposium on November 2.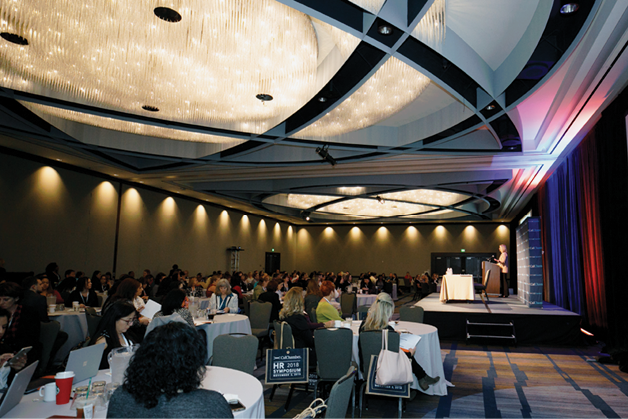 Like last year's symposium in Los Angeles, this year's gathering in San Francisco was a sellout. Attendees heard from and were able to ask questions of HR practitioners and experts in a wide array of topics of interest to California employers.
Before the start of the formal program, the 250 symposium registrants had a chance to mingle and network at a breakfast buffet. Symposium highlights included the following:
• Luncheon keynote speaker Kevin Kish, director of the California Department of Fair Employment and Housing (DFEH), explained department enforcement priorities and upcoming regulations.
• Ohnmar Shin, senior partner at Mullen & Filippi, a firm that advises employers and insurance carriers throughout California, presented scenarios of workers' compensation cases in the real world.
• Erika Frank, CalChamber executive vice president, legal affairs and general counsel, moderated a roundtable discussion on trends in hiring and recruiting practices. Roundtable speakers were Lisa V. Ryan, partner at Cook Brown LLP, specializing in investigating and defending sexual harassment, wage and hour, discrimination, retaliation and labor law claims; and longtime HR practitioner Hilda Watson, CalChamber director of human resources.
• From the CalChamber policy team, Jennifer Barrera, senior vice president, policy, and Laura Curtis, policy advocate, gave a recap of how legislators and the Governor handled priority labor and employment bills this year and provided a forecast of issues likely to be revisited in 2019.
• The first afternoon session featured Lisa Buehler, partner at Ellis Buehler Makus, drawing on more than 17 years' experience conducting investigations for California employers to explain how the #MeToo movement is changing the landscape of internal harassment investigations.
• The closing session focused on managing reasonable accommodation requests. Jennifer Shaw, principal, Shaw Law Group, told attendees how to know when a request is no longer reasonable, citing anecdotes from more than 20 years in the field.
CalChamber thanks everyone who attended this year's symposium. Planning has begun for the 2019 HR Symposium.