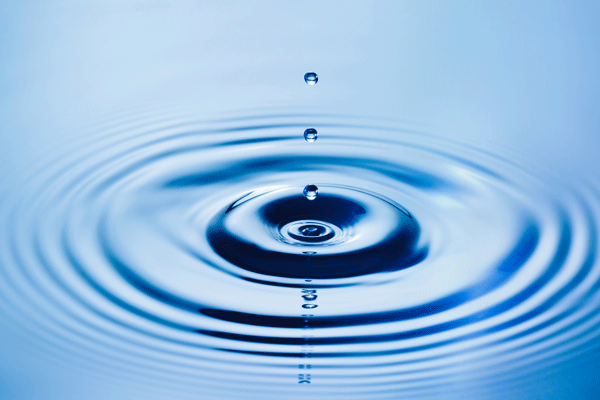 Eight of 11 water storage projects seeking funding from a bond measure approved by voters in 2014 advanced to the next phase of the approval process run by the California Water Commission.
After hearing staff recommendations, project applicants and comments from the public during three days of meetings in Sacramento last week, the Commission released its list of eligible approved amounts on May 3.
Proposition 1, the 2014 measure, authorized $2.7 billion for investments in new water projects. The California Chamber of Commerce supported the water bond based on the water storage component.
The Commission explained that Proposition 1 funds the public benefit aspects of water storage projects, specifically ecosystem improvement, water quality improvement, flood control, recreation and emergency response. To receive funding, applicants for Proposition 1 funding must detail the public benefits, along with a measurable benefit for the Sacramento-San Joaquin Delta.
Importance of Storage
As reiterated by project applicants in last week's meetings, storage is needed to control the amount and timing of water flowing through the Delta to meet endangered species requirements, which affects the amount of contracted water available for farmers and cities downstream.
Storage capacity also provides the opportunity to store more water in wet years to offset needs in drier years. Stored water gives water managers greater flexibility that ultimately benefits people, farmers and other businesses, and the environment.
Conjunctive use projects use surface water and groundwater collaboratively, such as storing surface water in groundwater basins in wet years to be withdrawn for use in dry years.
Funding Amounts
One major surface water storage project, the Sites Project, was listed by the Commission as eligible for $1.008 billion in funding, slightly more than the staff had recommended. The total cost for the project, located in Northern California west of the community of Maxwell in Colusa County, is estimated at $5.176 billion.
The Commission declined to increase the staff-recommended funding level for another major surface water storage project, listing $171.3 million for Temperance Flat Reservoir, a $2.661 billion project located on the San Joaquin River upstream from Millerton Lake.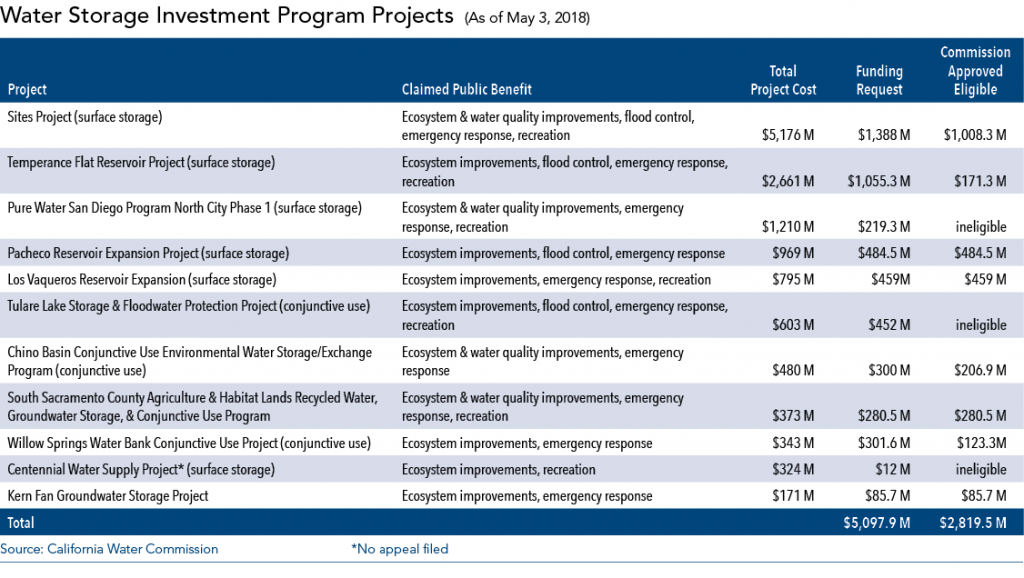 Reactions
In a prepared statement, the Sites Project Authority chairman said the state is "missing a significant opportunity to flexibly manage water for the benefit of endangered salmon" and expressed disappointment that the process "was not more collaborative and resulted in an undervaluing of the benefits Sites provides to struggling salmon populations."
Supporters of the Temperance Flat project, including local, state and federal officials representing San Joaquin Valley communities, also criticized the Commission's decision.
Assemblyman Vince Fong (R-Bakersfield) issued a statement with Assemblyman Jim Patterson (R-Fresno) commenting the project "was an important and needed opportunity to save, store, move and use millions of acre-feet of water—water that is now wasted and recklessly flushed to the sea."
A chart of the water projects appears on above. More information on the projects, applications and hearings is available at the Commission website, www.cwc.ca.gov.
Next Steps
On May 25, the Commission staff will release recommendations for project scoring based on relative environmental value, resiliency and implementation risk.
The Commission will make final decisions on those scores at its June 27–29 meeting, and make preliminary award decisions at its July meeting.