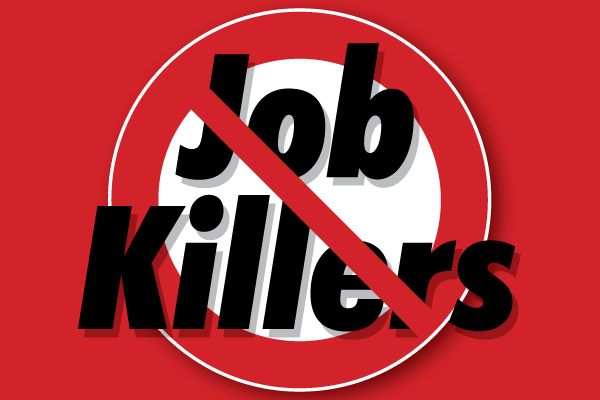 The California Chamber of Commerce is asking legislative fiscal committees to stop a number of job killer bills from moving on in the legislative process.
Several job killers already have been placed on the suspense files of the Assembly or Senate Appropriations committees pending a review of the bills' fiscal impact. Others await committee action.
Arbitration Discrimination
• AB 3080 (Gonzalez Fletcher; D-San Diego) Ban on Settlement Agreements and Arbitration Agreements — Significantly expands employment litigation and increases costs for employers and employees by banning settlement agreements for labor and employment claims as well as arbitration agreements made as a condition of employment, which is likely preempted under the Federal Arbitration Act and will only delay the resolution of claims. Banning such agreements benefits the trial attorneys, not the employer or employee. In Assembly Appropriations Committee.
Economic Development Barriers
• AB 1902 (Levine; D-San Rafael) Interference with Contracts — Discourages and reduces "personal service contracts" as defined, by unfairly increasing the contract price for these services based upon an undefined and unspecified "area income" rate that presumably will include wages from different industries and different occupations that are not comparable to personal services. It also provides the Department of Industrial Relations with extraordinary authority to value companies, determine "similar services" to be included under the provisions of this bill, and what constitutes "area income." Assembly Appropriations Suspense File.
Increased Unnecessary Litigation Costs and Increased Labor Costs
• AB 2069 (Bonta; D-Oakland) Medical Marijuana in Employment — Undermines employer's ability to provide a safe and drug-free workplace by creating a new protected classification of employees who use marijuana for medical purposes, and exposing employers to costly and unnecessary litigation under the Fair Employment and Housing Act (FEHA) whenever the employer terminates an employee in this new protected class who has created a safety hazard in the workplace. In Assembly Appropriations.
Increased Unnecessary Litigation Costs
• SB 1284 (Jackson; D-Santa Barbara) Disclosure of Company Pay Data — Unfairly requires California employers to submit pay data to the Department of Industrial Relations, creating a false impression of wage discrimination or unequal pay where none exists and, therefore, subjecting employers to unfair public criticism, enforcement measures, and significant litigation costs to defend against meritless claims. Senate Appropriations Committee Suspense File.
• SB 1300 (Jackson; D-Santa Barbara) Removes Legal Standing and Prohibits Release of Claims — Significantly increases litigation by removing standing requirement for plaintiff alleging failure to prevent harassment or discrimination when no harassment even occurs, limits the use of severance agreements, and prohibits the use of a general release or nondisparagement clause in employer/employee contracts. Senate Appropriations Suspense File.
• SB 1121 (Dodd; D-Napa) Increased Consumer Litigation — Removes the requirement of economic injury for standing to bring a claim in California against a company for a data breach, undermining the intent of voters, and drastically increasing liability for companies without providing any corresponding benefit to California consumers. Senate Appropriations hearing May 14.
Increased Labor Costs
• AB 2613 (Reyes; D-Grand Terrace) Wage Statement Penalties — Imposes another layer of Labor Code penalties for wage and hour violations in addition to the penalties already available under the Private Attorneys General Act (PAGA) and imposes personal liability onto employees who have no control over the actual payment of wages. Assembly Appropriations Suspense File.
Increased Health Care Costs
• AB 2384 (Arambula; D-Kingsburg) Increases Health Care Premiums — Increases health care premiums by mandating medication-assisted treatment for substance disorders and by eliminating all quality control and cost containment mechanisms. In Assembly Appropriations.
• AB 3087 (Kalra; D-San Jose) Health Care Price Controls — Jeopardizes employers negotiating power and access to care, ignores the drivers of health care costs, and adds another layer of bureaucracy by creating an appointed commission to impose price controls on health care providers and insurers. In Assembly Appropriations.
Action Needed
The CalChamber is encouraging members to contact their Assembly and Senate representatives to urge that these job killer bills be left on the Appropriations Committee suspense file if the bills are already there, or sent to the suspense file because they are costly job killers that will damage the California economy if they become law.