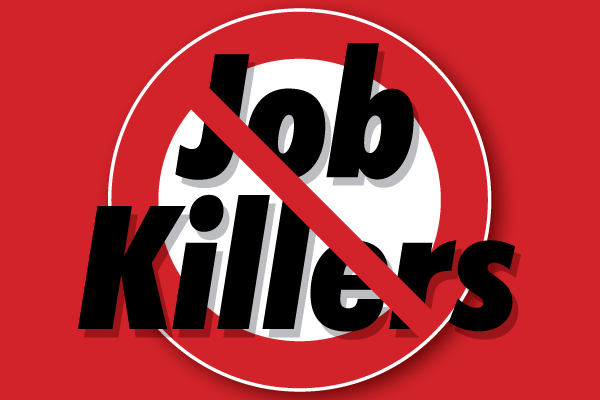 Six job killer bills moved from one legislative house to the other in time to meet last week's June 2 deadline for bills to pass the house in which they were introduced while three job killer bills were stopped.
A fourth job killer was held by a fiscal committee the previous week.
Job Killers Stopped
Strong opposition from the California Chamber of Commerce and the business community helped to stop SB 705 (Allen; D-Santa Monica) from reaching the Assembly. SB 705 would have prohibited food vendors from using take-out food containers made from polystyrene foam as of January 1, 2020. The bill was refused passage on May 31 on a vote of 15-19, then granted reconsideration. Senator Ben Allen placed SB 705 on the Senate Inactive File, where it will remain and will be eligible for consideration in 2018.
Also stopped on the Senate Floor was SB 567 (Lara; D-Bell Gardens), which proposed multiple tax hikes on state employers. The bill targeted family-owned businesses that transfer the business upon death to other family members. SB 567 also sought to eliminate the current deduction allowed for compensation paid to executive officers for achieving performance-based goals. Senator Ricardo Lara moved the bill to the Senate Inactive File and it may be considered in 2018.
AB 1576 (Levine; D-San Rafael) was never brought up for a vote on the Assembly Floor. The bill proposed to significantly amend the Gender Tax Repeal Act of 1998 so that businesses could easily have been sued for a consumer's assertion that there was a price difference for substantially similar goods due to the gender of the intended user. The bill would have required businesses to settle consumer complaints with a minimum of $4,000 in damages or face further costly litigation.
The previous week, AB 43 (Thurmond; D-Richmond), which would have imposed a targeted tax on contractors for the privilege of doing business with the Department of Corrections and Rehabilitation, was held on the Assembly Appropriations Committee Suspense File on May 26. AB 43 also requires the contractor to absorb the cost while maintaining a price of lowest responsible bidder. The bill will not be moving any more this year, but will be eligible for consideration next year.
Job Killers in Second House
Moving on to the second house are the following CalChamber-opposed job killer bills:
Arbitration Discrimination
• SB 33 (Dodd; D-Napa) Discrimination Against Arbitration Agreements: Unfairly discriminates against arbitration agreements contained in consumer contracts for goods or services with a financial institution, as broadly defined, which is likely preempted by the Federal Arbitration Act and will lead to confusion and unnecessary litigation. To Assembly.
• SB 538 (Monning; D-Carmel) Arbitration Discrimination: Unfairly and unlawfully discriminates against arbitration agreements by restricting the formation of antitrust arbitration agreements in hospital contracts, leading to costly litigation over preemption by the Federal Arbitration Act. To Assembly
Increased Labor Costs
• AB 1209 (Gonzalez Fletcher; D-San Diego) Public Shaming of California Employers: Imposes a mandate on California employers to collect data on the mean and median salaries paid to men and women under the same job title or description without also considering any bona fide reason for differences in compensation, to publicly shame California employers and expose them to costly litigation for alleged wage disparity where no violation of the equal pay law exists. To Senate.
• SB 63 (Jackson; D-Santa Barbara) Imposes New Maternity and Paternity Leave Mandate: Unduly burdens and increases costs of small employers with as few as 20 employees by requiring 12 weeks of protected employee leave for child bonding and exposes them to the threat of costly litigation. To Assembly.
• SB 562 (Lara; D-Bell Gardens) Government-Run Health Care: Creates a new single-payer government-run, multibillion-dollar health care system financed by an unspecified and undeveloped "revenue plan" which will penalize responsible employers and individuals and result in significant new taxes on all Californians and California businesses. To Assembly.
Increased Unnecessary Litigation Costs
• SB 49 (de León; D-Los Angeles) Creates Uncertainty and Increases Potential Litigation Regarding Environmental Standards: Creates uncertainty for businesses with respect to the federal environmental standards proposed to be incorporated into California law if backsliding occurs at the federal level and the standards/requirements to be adopted by state agencies, and increases the potential for costly litigation by creating private rights of action under California law when certain events occur. To Assembly.
To see the full list of job killer bills identified this year, visit www.calchamber.com/jobkillers.