Following are remarks presented by Michael W. Murphy, 2016 chair of the California Chamber of Commerce Board of Directors, at the 91st Annual Sacramento Host Breakfast on May 18. Murphy is president and chief executive officer of Sharp HealthCare, San Diego.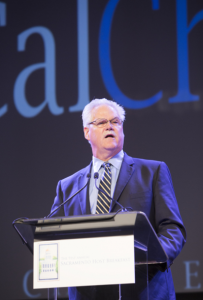 I'm honored and humbled to have this opportunity to address the 91st annual Sacramento Host Breakfast as the 2016 chair of the California Chamber. And congratulations to the Host Committee and to all of you who have been responsible for carrying the banner of this event for these many years.
I'd also like to congratulate and recognize our Armed Forces, honorees and all of those Armed Forces members and veterans in attendance today. Give them another round of applause. . .We are so indebted to you, and thank you for all you have done and do in support of our country and all of us.
The California Chamber, which celebrates its 126th anniversary this year, is very proud to have been engaged in and supported this event for over 50 years. For the past 126 years, the CalChamber has successfully engaged with all stakeholders, and our commitment to make California a better place to live, work and do business, by providing advocacy for our members at the state, federal and international levels, and by also providing a full range of products and services to help all of our members navigate and succeed in this challenging environment.
Governor's Remarks
I know we all appreciated the Governor's comments and his thoughts on the current condition of our state, and the budget, and the opportunities and challenges that lay ahead…
Again, two key takeaways from the Governor: timing is everything; and government is best at solving problems it creates. I think I can actually even take that back to my work about problems I create also.
Interesting Times
In preparing for this talk, I first reflected as I often do on what interesting times we live in. And I'm sure we can all agree on that. They just seem to get more and more interesting every day at every level. Who would have predicted some of this environment a year ago… six months ago… two months ago… and even last night.
I recently had a conversation with a candidate for statewide office who reflected it is both a blessing and a curse to live in such interesting times. And I guess that depends on if your glass is half full or your glass is half empty kind of person—which probably changes by the issue that you're talking about.
Themes
In continuing my preparation, I reviewed the past two CalChamber chairs' comments to this group in 2015 and 2014. One of the themes focused on the need to have goals and a shared vision, and that by taking the right actions today, we can make our dreams come true for tomorrow.
She was referring to the goals and visions and dreams of Walt Disney. And that model did seem to work pretty well for him and his organization.
The second theme focused on innovation and transformation, both from the perspective of California's history of innovation that has driven much of our state's success and the continued need to invest in and support innovation and job creation, and enhance our foundation for the future.
Progress
I then reflected on a number of articles and commentaries about California—some written by glass half full people, some written by glass half empty people.
And as the Governor's comments and some of these articles noted, we should recognize and appreciate that California's economy is growing faster than the national economy and job growth is outpacing the rest of the nation. And while this might be a lower bar than we would all like, we all are still outperforming and better than most.
Our state finances are in a surplus position, and the Governor has placed significant funds in the state's rainy day fund—a significant improvement from just a few years ago.
Uneven Recovery
Even with this good news though, we must acknowledge that California's performance has been extremely uneven, with the strongest performance coming along the Coast, benefitting from the state's leading position in information technology, life sciences, biotech and tourism sectors. I live in San Diego where the growth in all of these fields has been very positive for our overall economy and the community.
The large agricultural sector of our economy again had to contend with drought, along with weaker global growth and a strong dollar—stronger dollar—yet through their innovation and ingenuity, the state's farm sector also had a good year.
Yet, while every metropolitan area had shown improvement over the past year, we must acknowledge the inland areas have had slower growth and more challenging times than the rest of our state.
Health Care Advances
Naturally, I also spent time reflecting on the health care sector and many of the influences that are impacting my industry, and how they impact the overall economy.
With health care spending representing close to 18% of GDP, 23% of the federal budget, 21% of the California budget, all of us as stakeholders have a very large responsibility to keep health care front and center of our thinking.
Like many sectors, health care is seeing many positive advances, and is also experiencing many significant challenges. Our state is leading great advances in biotech, pharmacy, genomics, wearable health technology, telemedicine, to name just a few.
The Covered California insurance exchange now covers more than 1.3 million people. Through the expanded coverage of Medi-Cal in 2014, our state has added nearly 3 million previously uninsured residents to the Medi-Cal rolls. Medi-Cal now covers over a third of the population—over 15 million beneficiaries.
The payment changes for doctors, hospitals and all providers have incented improved value and quality over volume. And there is continued focus and more priority being placed here.
Work Remains
However, the costs to the federal government, the state, employers and individuals, are bending very little—if at all—and certainly not at the level that was forecast in the Affordable Care Act.
There is still much work to be done to deliver on the triple aim of the Affordable Care Act, which is increased quality in care experience across everyone's entire care continuum; increased access to care for the entire population; and the bending of the unsustainable cost curve.
There were other articles that highlighted the significant unfunded pension retiree health obligations at both the state and local government levels, which we also must address as we move forward.
Engaged Leadership
So, after all this reflection, what do I conclude? I believe that in the grand scheme of things, California should be very pleased with our recent performance and accomplishments, particularly in comparison to our not-too-distant challenges and to the overall U.S. and global economy.
I also conclude that if we are to continue on a path to make California a better place to live, work and do business, we will be required to successfully tackle many significant challenges. Our ability to succeed in this endeavor will require engaged leadership at every level.
Long-Term View
As previously noted, it will take shared goals and values, require innovation and ingenuity. It will take a long-term view and horizon, not exclusively a today focus.
It will take value creation and we will need to collectively address many issues, including the economy, water, strong comprehensive immigration reform, education, and the development of a skilled workforce to meet our employment needs.
We must make real progress on health care, housing, transportation, international trade, pension underfunding and retiree health care costs. All of this, while balancing the overall cost of doing business in California and our competitive position to attract and retain businesses that will ignite our economy.
Leaders Seeking Answers
The correct answers to these challenges will be difficult. The Governor said a term that I would add here—that they might be like riding a tiger…what are our priorities and how do we choose? They will require leaders seeking answers with goals and visions and dreams … leaders searching for a better way for today and the future.
I encourage all of you and all of us to be those leaders … to identify those leaders … to support those leaders … to elect those leaders … to work with those leaders to make California an even better place to live, work and do business. I know and I commit that the California Chamber is committed to continue to do its part to make California the very best we can be.