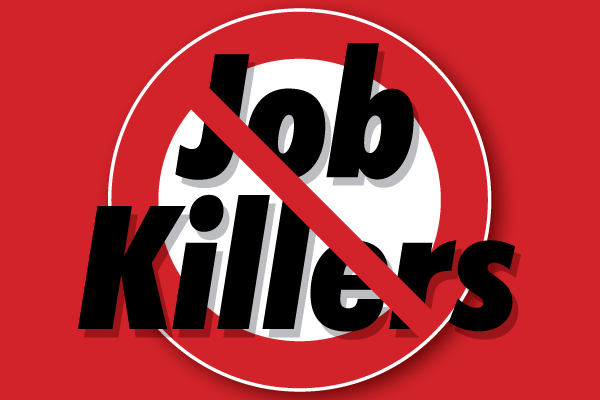 Two "job killers" failed to move off the Assembly Floor on June 4, missing Friday's deadline for bills to pass the house in which they were introduced. Of 19 "job killer" bills identified by the California Chamber of Commerce to date, just 10 remain active.
Seven Senate "job killer" bills and three Assembly "job killer" bills remain alive. Two of the Senate bills and one Assembly bill still alive are tax measures and not subject to the house of origin deadline.
The following "job killer" bills failed to pass the Assembly by the house of origin deadline, June 5, and are likely dead for the year:
​AB 356 (Williams; D-Santa Barbara) Limits In-State Energy Development — Potentially shuts down certain in-state oil production operations by redefining critical components of the Underground Injection Control program which would, in turn, compromise oil production without providing any additional environmental and groundwater protections beyond those recently proposed by state regulators. Failed to pass the Assembly on a vote of 28-33; Failed deadline, 6/4/15.​
AB 357 (Chiu; D-San Francisco) Predictable Scheduling Mandate/Protected Leave of Absence — Imposes an unfair, one-size-fits-all, two-week notice scheduling mandate on certain retail and food employers that penalizes these employers with "additional pay" for making changes to the schedule with less than two weeks notice, and additionally imposes a new, protected leave of absence from work for employees who are seeking public assistance. Assembly Floor Inactive File, 6/4/15.
For more information on the 2015 "job killer" bills, visit www.CAJobKillers.com.