Executive Summary
California's recovery continues to be relatively strong in an overall sense, yet many areas have only recently begun to see tangible gains. Real gross domestic product (GDP) growth in the Golden State outpaced the nation in each of the past three years.
Although employment gains have moderated somewhat in 2014, overall job growth is poised to outpace the nation once again, suggesting that real GDP also outpaced the nation in 2014.
Much of the state's strongest gains continue to be concentrated in San Jose and San Francisco, although other metro areas, such as San Diego and Fresno, also have seen conditions improve considerably over the past year.
Growth in the tech sector is spilling over into other parts of the economy and construction activity has ramped up to meet the growing needs of the state's expanding population base and recovering economy. Home prices have rebounded across the state and incomes are rising at the strongest sustained pace since the recovery began.
California continues to attract a great deal of business investment, particularly in the information technology, life sciences and entertainment industries. Tourism also has improved, with both international and domestic visitor counts rising.
California remains an expensive and burdensome place to live and do business, however, which has led to a number of high-profile corporate relocations to areas outside the state. To remain competitive in the future, California will need to do more to keep those employers within its borders and attract new businesses from other areas.
The state has a number of inherent advantages that are difficult for other states to emulate:
• California's ideal climate and clusters of prestigious universities has built a large world class workforce and also sets a relatively high hurdle for competing areas to draw businesses and residents away from the state.
• The growing preference for urban lifestyles by younger persons, particularly those engaged in innovative endeavors, also plays to California's advantage and is leading to profound changes in downtown San Francisco and downtown Los Angeles.
Wanted: Low Business Costs
California has lost out to other states on a number of high-profile corporate relocations and expansions, which calls into question whether the state is competitive for business investment. Chevron, Tesla, Toyota, Charles Schwab and Active Network are among the major employers that have chosen to expand elsewhere or relocate altogether.
The cost of doing business in the state is high, with taxes, wages and electricity costs all well above average.
On the positive side of the ledger, California benefits from a well-educated workforce, an extremely favorable climate and geographic proximity to rapidly expanding Asian markets.
Taxes
The Tax Foundation has ranked the state as the 10th highest for corporate income tax. Although states and some municipalities have the ability to offer tax credits and breaks to individual firms to attract them to their region, this strategy is inferior to having a more permanent low-tax environment where corporations are not bound by employment and expenditure quotas to qualify for such low tax rates.
Moreover, the state's property tax structure is stacked in favor of existing residents, creating another hurdle to attracting major corporate relocations.
In addition to relatively high taxes, California also is generally an expensive place to live and therefore requires high wages. For businesses that rely on local demand, the price of their goods or services can incorporate these higher costs and wages, but for other businesses that sell goods outside the region, such as manufacturing and engineering, prices are less flexible.
The median price of a home sold in California was $380,000, about double the national rate, and the second highest in the nation behind Hawaii.
Salary/Wages
Furthermore, the average annual salary for all workers in California was $56,580 in 2013, while it was only $49,700 nationwide, a 13.8% wage premium.
For manufacturers, wages are 27.5% higher than the national average. Of course some of this reflects the inherent difference in types of manufacturing that occur in California relative to the rest of the nation, with output tilted toward more high value-added products, but this trend is indicative of just how much more California workers demand in terms of compensation.
While wages and salaries are generally high in California, they are not necessarily growing faster than the rest of the country. Average hourly earnings for all private industries have grown very slowly in California over the past two years and were up only 0.6% from a year ago on a three-month moving average basis.
In the nation as a whole, they were up 2% and were up 4% in Texas. The slower growth in average hourly earnings in California likely reflects the loss of mid-skilled and low-skilled jobs in manufacturing and professional services, as well as the movement of some higher-skilled, high-paying jobs to neighboring states and Texas.
Energy
Energy costs also are inflated in California. Commercial customers paid about 17.89 cents per kilowatt hour in California in July, while in the nation as a whole they paid 11.16 cents.
Industrial electricity costs in California are nearly twice the national average, and overall, California has the highest electricity costs of any state in the contiguous United States. The high energy costs are a big hurdle for large industrial firms, particularly with lower-cost alternative locations available in neighboring states and much lower energy prices available in Texas and the Southeast U.S.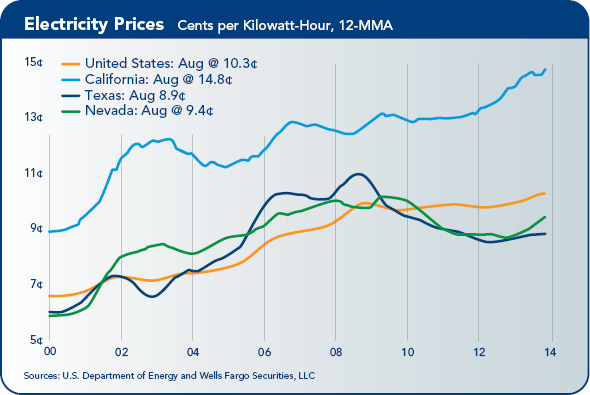 High-Skilled Workers
California's high costs are not new and were never a secret. One of the amazing long-running conundrums about California is just how much businesses are willing to endure to enjoy the state's ideal climate and other positive attributes. One of California's greatest attractions is its large pool of highly skilled workers.
With one of the best-educated populations, businesses requiring workers with the highest skills would be hard pressed to find a higher concentration of them anywhere else. This is why Google, Facebook, Samsung and Apple are all located in the Bay Area and are expanding rapidly there.
Life sciences is another key strength, with hubs in both the Bay Area, home to Genentech, and San Diego, home to Scripps Laboratories, Isis Pharmaceuticals, and Illumina.
Aerospace
Defense spending has played a large role in California's history and helped build the base for much of the state's tech sector. Employment has been steadily declining since the end of the Cold War, however, which has hit the state's large aerospace sector particularly hard.
The sector received some good news recently. Boeing announced it is moving engineering jobs from Seattle to Long Beach over the next two years, which should bring 1,000 workers to the area.
Entertainment Industry
Although several other states attempt to lure film production away from California with generous tax breaks, Hollywood remains the epicenter of the motion picture business and recording industry. Agglomeration alone ensures the long-run viability of the industry. The high concentration of workers with expertise in the entertainment industry is a strong motivator for more of those businesses tied to it to locate nearby.
The motion picture and entertainment industry continues to evolve, with digital content and reality programming growing rapidly. After years of slower growth, the industry has seen a burst of activity in recent years and on-location film production days have risen to their highest levels in years.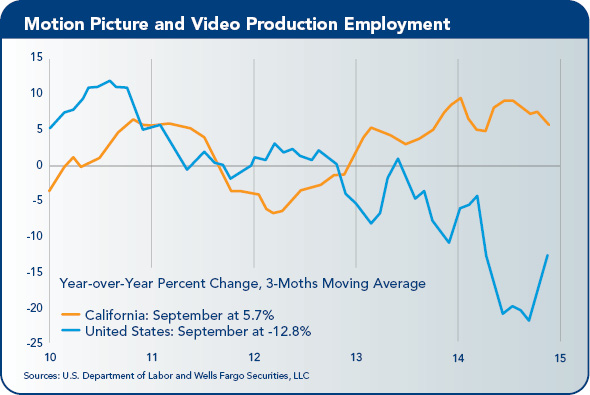 Regional Growth Perspectives
Real GDP growth in California outpaced the national average for 2013, the latest year available, and the labor market expansion so far in 2014 points to another year of above-average gains. Economic growth as measured by GDP, however, does not always translate into many more jobs or the persistence of growth thereafter.
For example, Madera's economy surged by an astonishing 8% in 2013, but employment gains were below average in 2013 and have since been the lowest in the state. Merced and Visalia also ranked in the top five California metro areas by real GDP growth, but have posted some of the state's weakest employment gains in 2014. Some of this is likely due to the fluctuation in agricultural production in metro areas in the Central Valley.
Although such strong GDP growth should not be deemed a bad thing, the labor market is a better indicator of the near-term health of a metro economy. At the regional level, GDP is calculated using the income approach, which uses incomes and profits as a measure of output.
In areas that have a high concentration of agriculture or energy in particular, GDP growth can dramatically overshoot or undershoot the true underlying trend during any given period. The profits component of the GDP measure also may not be allocated to residents within the region, and even if it is, can be highly concentrated to a few equity holders who do not then distribute much of it to the broader economy, preventing sustained gains.
Employment Growth
Using employment as a better measure of a region's economy, California still looks to be growing faster than the nation and the unemployment rate, although higher, has been falling faster than the national rate. California's unemployment rate is 1.3 percentage points higher than the nation as a whole.
Nonfarm payrolls in both the state and nation are about 0.5% higher than their prerecession peaks. Since California's demographics differ from those of the nation, this latter measure may be the better way to compare unemployment in the state to the nation as a whole.
To further support this idea, consider that since 1976, the unemployment rate in California has been more than 1 percentage point higher than the national rate on average. If you shorten that period to the last 20 years, the average differential rises to 1.4 percentage points, which is the same gap that existed in September.
With that in mind, the stronger employment gains are more impressive as they do not appear to be the result of any catch-up that the labor market may be playing.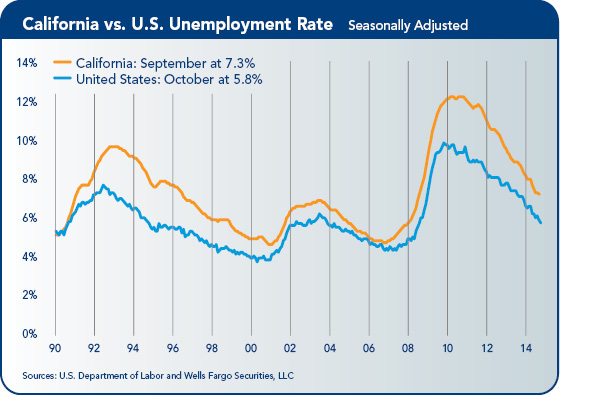 Metro Areas
The metro areas with payrolls the farthest above their prerecession peaks are Bakersfield, Napa, San Luis Obispo, El Centro and San Diego. With the exception of El Centro, these metro areas are also posting year-over-year employment gains at least equal to the state average.
Redding, Yuba City, San Jose and Hanford all have payrolls still more than 5% below their prerecession peaks. San Jose was badly hit during the dot-com collapse around the turn of the century and has yet to recover all of the jobs from that recession, while employment is soaring above its more recent peak in 2007.
San Jose also stands out in this crowd because it has very strong year-over-year employment growth, while the other three metro areas have all posted job growth below state and national averages. Growth in San Jose is actually the fourth highest of any metro area in the state, just behind Fresno, Riverside and San Francisco.
Growth in Fresno and Riverside has been dominated by construction and professional and business services and, in Fresno in particular, strong gains in education and health services.
Madera, Redding and Merced are posting year-ago gains below 1%, reflecting sluggish gains in the region's agricultural sector and less residential development.
Keeping It in Tinseltown
The Governor recently signed legislation that allows for more tax credits to be used for the state's film industry. Incentives for the industry are now $330 million or more than three times the $100 million that is currently available. Funding begins in the 2015-2016 fiscal year. The expanded incentives should help prevent some filming from leaving the state.
A report released by the Southern California Association of Governments claims that the state lost out on $9.6 billion and 47,600 jobs because of rising production outside of the state. These figures, however, are likely overstated. For one, it is unreasonable to expect that all movies filmed in locations outside of the state needed only a tax credit to move production to California.
The authors of the paper point to a list of big budget movies filmed elsewhere, but it seems unlikely that the Hobbit movies, which were included on the list, would have been produced anywhere but New Zealand where the terrain is somewhat uniquely suited for the storyline. In addition, should the Wolf of Wall Street, which was also included on the list, have been filmed outside of New York?
A number of other states and Canada had effectively lured film production to their regions with their own incentive packages. However, a number of those regions have scaled back those efforts, as they were not perceived to have produced the intended economic benefits.
Movie and video production employment has increased by more than 5,000 workers over the past year in California, while in the rest of the United States employment in the industry has fallen by more than 35,000. Although the tax credits will certainly benefit the movie and television producers, they may not bring the number of jobs to the state that some are anticipating, particularly since the number of workers in the industry is falling throughout the nation.
Home Prices Strengthen, Sales Weaken
Although California's housing market bust was one of the worst in the nation, conditions are gradually improving. For one, the delinquency and foreclosure rates have declined significantly and are now lower than the national average.
Similarly, the share of homeowners who owe more on their mortgage than their home is worth also has fallen to below-average levels. Home prices are quickly making up lost ground, rising 10.5% from a year ago and closing the 14.5% price gap with its prerecession peak. Strong gains early in the recovery, which were aided by significant investor demand, propelled the housing market recovery forward.
However, some of that momentum appears to be slipping. Home price appreciation is still rather strong but is moderating. Demand for homes also has slipped, with single-family home sales in the state down 9.3% in August from a year earlier and condo and townhome sales down 15.6% over the same period.
Furthermore, the pending home sales index released by the California Association of Realtors is also down 8.7% from a year ago and has been posting year-over-year declines for 19 straight months. Weak housing demand has been seen across the state, with just seven counties posting higher home sales numbers in August relative to a year ago.
As a result, new construction has been slow to rise again with permits only creeping back slowly. A large snapback in residential construction will likely elude the state until more housing demand comes back.
The longer-run outlook is more positive. With relatively young residents, solid population growth and an improving labor market, more housing demand will surely follow.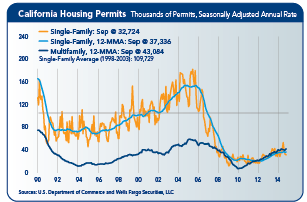 Agriculture
The effects of the drought have become more evident as the year has progressed. Harvests have been underway for quite some time and many are now virtually complete.
Water issues appear to have cut into the state's almond crop, with estimates now showing a harvest of 1.95 billion pounds, which is 2.5% below the prior year's harvest. The walnut crop has fared better, with yields expected to rise modestly this year and the crop expected to be 11% larger. The state's pistachio crop has not fared as well, however, and will see a significantly smaller harvest.
Processing tomato yields have been good in the Sacramento Valley but the total crop is hard to forecast. Harvest came earlier this year and there is considerable variation across regions depending upon water availability.
Fruit
Fruit harvests continue to diminish. California is expected to ship between 35 and 38 million boxes of peaches, plums and nectarines this year. Per-acre yields are running 10% to 15% below the prior year due to extreme weather earlier this winter, with colder weather early and warmer weather in late winter. Growers continue to decrease acreage and replace fruit groves with nuts, citrus and grapes. Labor availability and cost has been a major concern for growers.
The California Agricultural Statistics Service projects that the 2014 grape crush will be 3.9 million tons, which is down 8% from 2013 but still the third largest crush on record. The crop was harvested early due to dry and hot weather.
Grape market activity has been relatively strong. Pricing on the North Coast has been solid with extended-year contracts for many varieties. The Central Coast market also has been fairly active, while the San Joaquin Valley has seen less activity. Bulk wine values remained relatively stable for most varietals.
Reservoirs Low
Reservoir conditions reflect drawdowns from unusually low levels at the start of the summer. Lake Shasta is currently at 23% of capacity, versus a historical average of 39% at this time. Folsom Lake is at 29% of capacity, compared to a historical average of 59%. Lake Oroville is at 26% of capacity versus a historical average of 42%. The only reservoir anywhere near its historic average is Pyramid Lake in Southern California, which is a relatively small reservoir, used for short-term water needs.
Outlook
The council remains optimistic about the California economy headed into 2015. Hiring has picked up across most major industries and the annual revisions to the employment data are likely to reveal that job growth was modestly stronger in 2014 than initially reported.
Homebuilding and commercial construction are on the mend and should gain momentum over the course of 2015. Industrial activity could slow, however, as weaker global economic growth cuts into manufacturing exports.
Most of the state's marquee industries—information technology, life sciences, entertainment and tourism—continue to perform exceptionally well and should gain momentum in 2014.
While the state continues to struggle with competitiveness issues with other states, employment and population growth are more than keeping pace with the rest of the country, suggesting that plenty of businesses, entrepreneurs and workers still see a compelling value in doing business in the state.

The California Chamber of Commerce Economic Advisory Council, made up of leading economists from the private and public sectors, presents a report each quarter to the CalChamber Board of Directors. This report was prepared by council chair Mark Vitner, managing director and senior economist at Wells Fargo Securities, LLC.
Publication of this report is a project of the California Foundation for Commerce and Education.