The annual revisions to the gross domestic product (GDP) data revealed that the U.S. economy has gained momentum over the last year and now more closely corresponds with the employment data, which showed clear improvement during the first half of this year.
Real GDP has risen 2.4% over the past year, which is modestly better than the 2.1% pace averaged during the first four years of the recovery. The unemployment rate has fallen to 6.2%.
Consumer confidence, small business confidence and job openings have all improved in recent months, while homebuilding and commercial construction continue to slowly come back on track.
Europe
While economic conditions have improved, uncertainty has increased. The Federal Reserve has nearly completed its gradual reduction in bond purchases and is poised to begin to raise short-term interest rates in 2015.
Fiscal policy largely remains on hold, with deals on the budget and debt ceiling agreed to earlier this year pushing hard decisions past the November elections. Geopolitical concerns have increased in a way unseen for quite some time, with conflicts in the Ukraine and the Middle East significantly raising the risks for European and global economic growth.
Europe's economy appears to be on the precipice of another recession, but is widely expected to improve during the second half of the year. That improvement likely hinges on a favorable resolution to the Ukraine crisis and an easing in the trade tensions with Russia. Without such, global economic growth likely faces some additional downside risks which will likely weigh on U.S. exports and commodity prices in general.
United States
The general consensus of the Economic Advisory Council calls for economic activity to improve further during the second half of 2014 and in the coming year. The recovery in housing, commercial real estate and business fixed investment is expected to gain momentum, while improved public finances are expected to reduce the drag from government spending cuts.
Real GDP is expected to average between a 2.5% and 3% pace over the next several quarters. Such a pace would be sufficient to further reduce the unemployment rate, but not be so strong as to stoke inflationary pressures.
Interest rates should rise modestly, with the Fed expected to begin to hike the federal funds rate around the middle of next year. The pace of rate hikes is widely expected to lag behind previous tightening cycles, with the Fed moving more cautiously and ultimately less forcefully than it has in the past.
Long-term interest rates will also rise more modestly than in the past, held back by sluggish economic conditions around the globe, continued low inflation and increased demand for fixed income instruments from an aging population in much of the developed world.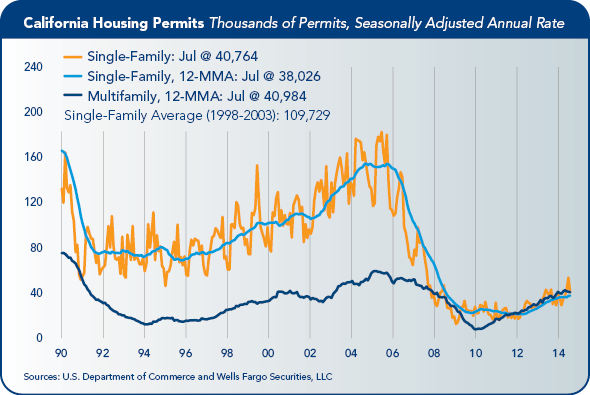 California
California's economy continues to grow at a slightly faster pace than the rest of the nation but appears to have moderated slightly during the first half of this year.
Growth has been driven primarily by the technology boom, most evident in the Bay Area. The rapid growth of new information technologies, most notably social media, cloud computing and mobile devices, has driven employment growth up at its strongest pace since the dot-com boom.
Rebounding home prices, the resurgence in international trade and strong growth in tourism have also driven gains in recent years, with most of the improvement occurring in California's coastal areas. All three have shown signs of cooling in recent months, however, possibly reflecting the impact of the Fed's tapering of securities purchases as well as slower economic growth in Japan, China and much of Europe.
The winding down of the Fed's asset purchase program is helping cool off some of the more speculative aspects of California's recovery. The rapid rebound in home prices has cooled off in recent months and run-up in equity valuations for technology and life sciences companies has subsided somewhat.
Home sales struggled during the first half of the year, with traditional buyers having more difficulty affording the higher home prices resulting from the influx of investor buyers or qualifying for mortgages under more stringent underwriting and income standards.
The tech sector also appears to be cooling off, with several hardware manufacturers announcing job cuts in recent months and the IPO market for new technology firms becoming more selective.
Forecasts for California remain generally upbeat. Nonfarm employment estimates have been revised higher in recent years and the latest forecasts from members of the Economic Advisory Council are on balance slightly higher than the most recent year-to-year growth.
California's unemployment rate is expected to drop further over coming months, but the pace of the decline is expected to slow. The jobless rate should end the year at around 7% and end 2015 at 6.5% or less. Homebuilding is expected to increase further this year, with single-family starts rising 25% to 30% this year and multi-family starts rising 15% to 20%.
Home prices have moderated considerably over the past year and are expected to rise even more modestly during the coming year, with the 6.7% gain in median home prices reported by the California Association of Realtors over the last year moderating to less than 5% a year from now.
Water Issues
California's drought continues to take a heavy toll on the state's agriculture sector and threatens to impact the state's economy more broadly if it extends into the coming year. Fallowed acreage now exceeds 400,000 acres, mostly in the San Joaquin Valley.
Livestock feeders are paying more for hay and roughage this year. Most operators are increasingly concerned about the performance of their wells and the possible impact of lower-quality water on some orchards and vineyards.
The open market price for supplemental water in 2014 has risen to as much as 10 times normal. This will continue to push up the cost for some growers and provide others additional income, if they have water to sell. There is little water for sale because deliveries to senior water rights holders also have been reduced.
Many growers also are concerned about water supplies for 2015 if precipitation is only normal or less next year, since there is no water to carry over and groundwater basins are being depleted.
Despite the devastating impacts of the drought, commodity prices have continued to decline due to record or near-record harvest in the Midwest and slower economic growth around the world.

Employment Growth Shows Signs of Moderating
Nonfarm employment increased 0.2% in July, as California added 27,700 net new jobs. Health care and social assistance, professional and technical services, and the leisure and hospitality sector accounted for the bulk of July's job gains. Most other major categories also added jobs during the month, including manufacturing and local government.
While employment gains remain fairly broad-based across most major industry categories, there are also signs that growth is moderating in some areas. Construction employment fell 1% in July, as builders cut 6,400 positions. The drop followed an 8,000-job loss during the prior month. Hiring has also slowed in wholesale trade and in transportation and warehousing.
California's unemployment rate was unchanged in July at 7.4%, as both civilian employment and the civilian labor force declined by the same proportion during the month. The California unemployment rate has fallen by 0.9 percentage points since the end of last year and is down 1.6 percentage points over the last 12 months.
The drop in the unemployment rate over the past year has primarily come from stronger job growth. Civilian employment has risen 1.7% over the last year, while the labor force has fallen 0.1%. The drop in the labor force pulled California's labor force participation rate down to 61.9%, which is a full percentage point below the comparable national rate.
The continued slide in California's labor force participation rate reflects the rise in retirements associated with the aging of the state's large baby boom population, stubbornly high long-term unemployment, and a greater hesitance by younger persons to join the workforce.
California faces greater challenges on all three fronts, with the state's larger and slightly older workforce retiring at a faster rate than the nation. Long-term unemployment is also a greater problem in the Golden State, with many longtime major employers and industries restructuring or leaving the state.

Is Job Growth Slowing in Silicon Valley?
Following four years of steady and nearly uninterrupted monthly job gains, employment in the San Jose-Sunnyvale-Santa Clara metropolitan division has hit a bit of a wall recently. Nonfarm employment has fallen modestly during each of the past three months on a seasonally adjusted basis and has increased just once in the past five months.
The culprit appears to be cutbacks in the region's factory sector, which is home to numerous tech hardware manufacturers. Manufacturing employment, which accounts for 16% of nonfarm jobs in the San Jose metropolitan area, has fallen 1.9% over the last three months, reflecting the loss of 3,000 jobs.
Employment in professional and business services, which also includes a number of technology professions, also has struggled as of late, with employment falling 1.3% over the past three months, producing a net loss of 2,600 jobs. Government payrolls have also declined over this period as has employment in construction and wholesale trade.
Just how significant the recent slide in San Jose's employment growth actually is remains to be seen. The monthly employment numbers are similar to the early returns in an election; sometimes they provide important early clues of the outcome and sometimes they are just noise.
There is some supporting evidence of a slowdown. The recent weakness in reported nonfarm employment growth follows a string of major layoff announcements by high-profile firms, including Cisco, Hewlett-Packard and Intel.
In addition, several major construction projects have recently been completed, including Levi's Stadium in Santa Clara. There has also been a significant shift in job growth, with many more tech jobs being created along the San Francisco Peninsula or in downtown San Francisco. Some of the slowdown may simply reflect a shift of jobs into the San Francisco-San Mateo-Redwood City metro division.
There is no question that the influx of technology jobs has been a major factor driving San Francisco's economic recovery. Nonfarm employment in the San Francisco metropolitan division has increased 3.3% over the past year, with the fastest growth coming from the tech sector.
Nonfarm employment now slightly exceeds its previous peak level hit at the height of the dot-com boom in December 2000. By contrast, employment in the San Jose metropolitan division remains 86,100 jobs below its earlier peak, despite years of strong job growth. Employment in the Oakland-Fremont-Hayward metropolitan division is still 15,500 jobs shy of its March 2001 peak.
The California Chamber of Commerce Economic Advisory Council, made up of leading economists from the private and public sectors, presents a report each quarter to the CalChamber Board of Directors. This report was prepared by council chair Mark Vitner, managing director and senior economist at Wells Fargo Securities, LLC.
Publication of this report is a project of the California Foundation for Commerce and Education.