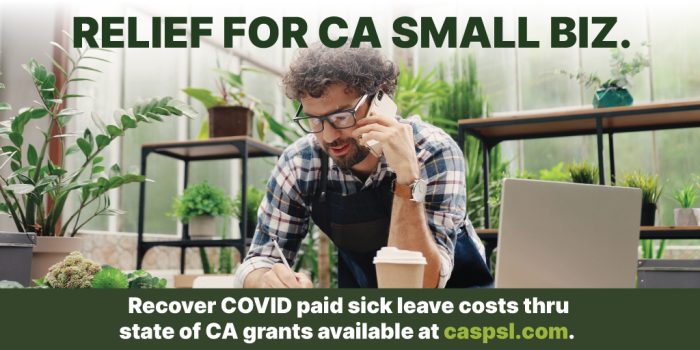 Eligible California small businesses may apply now for a state program that awards funds for costs incurred from the COVID-19 Supplemental Paid Sick Leave.
Under the California Small Business and Nonprofit COVID-19 Supplemental Paid Sick Leave Relief Grant Program, eligible businesses may be awarded between $5,000–$50,000. Funds are limited and will be awarded based on eligibility and availability of funds.
To apply, visit caspsl.com
Program Details
Grant awards are to be used only for reimbursing COVID-19 Supplemental Paid Sick Leave provided between January 1, 2022, and December 31, 2022.
Applicants must provide proof of employee payroll records that verify all COVID-19 Supplemental Paid Sick Leave provided by the applicant. The amount provided in the records also must match that of the grant request.
For eligibility restrictions, and a list of documents required to apply for the program, visit caspsl.com/faqs/.
Upcoming Webinars
On behalf of the California Office of the Small Business Advocate, Lendistry is hosting a series of webinar sessions where representatives will walk applicants through the program guidelines and do a live demo of the application process.
To view available dates and sign up for a webinar, visit caspsl.com/webinars/.