Following are brief biographies of the eight women who have chaired the CalChamber Board of Directors.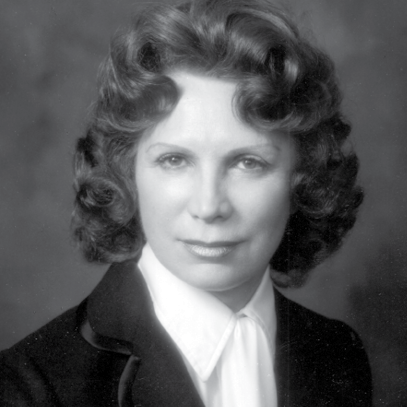 Shirley R. Chilton (1982)
Shirley R. Chilton, the first woman to hold the top volunteer position at the California Chamber of Commerce, joined the CalChamber Board in 1976, the same year she founded and became chairman of the board of Clavis Corporation, a small business in Marina del Rey specializing in financial and real estate investment consulting.
She served as a member of the CalChamber Executive Committee and officer for several years before being elected to head the CalChamber Board of Directors in 1982. At the time, she was the first woman to hold the top volunteer position in any state chamber of commerce throughout the United States.
In 1983, Governor George Deukmejian named her secretary of the State and Consumer Services Agency. In that position, which she held until 1991, she served as a member of the Governor's Cabinet and was responsible for overseeing 11 departments and more than 50 boards, bureaus and commissions.
In 1992, President George H. W. Bush nominated Chilton to serve on the Federal Retirement Thrift Investment Board. She was confirmed by the unanimous consent of the U.S. Senate and served a two-year term.
Born in Vancouver, Washington, Chilton attended the University of Washington in Seattle, eventually relocating to California to become a social worker. She moved from social work to time as a housewife and mother, model, flight attendant and bookkeeper before being hired in 1955 to be a switchboard operator at Daniel Reeves & Co., a brokerage in Los Angeles.
By 1962, she was a regional manager, and in 1965, she became an assistant vice president of Hayden, Stone & Co., which had acquired seven offices of Daniel Reeves. She returned to Daniel Reeves in 1971 as chairman and CEO, becoming the first woman to be chief of a West Coast brokerage firm and one of the first women to hold a seat on the New York Stock Exchange.
During her years in the securities industry, Chilton earned a Master of Business Administration and Doctor of Education from Pepperdine University, where she taught economics, marketing, finance and communications, first as an assistant professor, then an associate professor.
She continued to teach on weekends at Pepperdine while agency secretary, as well as teaching undergraduate and graduate classes at California State University, Sacramento. She also developed and co-authored books to teach economic principles to elementary school students.
She passed away in Agoura Hills on June 30, 2013 at age 90.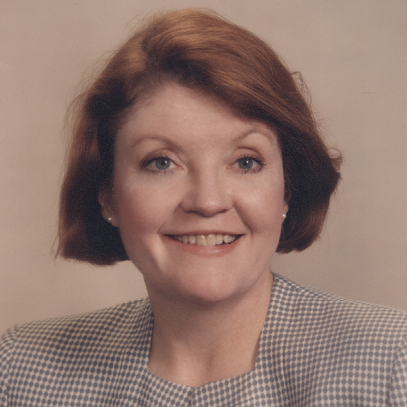 Amy McCombs (1998)
Amy McCombs, then-president and CEO of Chronicle Broadcasting Company and president and general manager of KRON-TV, San Francisco, served as CalChamber chair in 1998.
She joined KRON in 1988 as president and general manager. In addition to KRON, she oversaw WOWT-TV in Omaha, KAKE-TV in Wichita and BayTV, KRON's 24-hour news, sports and information cable channel then serving more than 1.3 million households in the Bay Area. At the time, KRON was an NBC affiliate owned by Chronicle Broadcasting Company of San Francisco.
In addition to her president/CEO positions at the Chronicle Publishing Company, McComb's media career included stints with the Broadcast Division of the Washington Post Company; participating in Silicon Valley's impact on information and journalism; and as a consultant to media organizations.
Widely acknowledged for transforming traditional legacy-based organizations into proactive businesses and organizations ready to respond to changing competitive, regulatory, and technology environments, she was at the forefront of technological advances and the transition of journalism into the digital age. Her broad-based experience also encompasses financial services, higher education and nonprofit sectors.
McCombs said she fell in love with journalism while working on her high school newspaper. Originally from Pittsburgh, Pa., she attended Penn State University, then went on to the University of Missouri School of Journalism, where she earned a B.A. and M.A. in journalism and a B.A. in political science.
Since 2019, she has been professor emeritus at the Missouri School of Journalism after being named in 2010 the Lee Hills Chair in Free-Press Studies and a professor at the Truman School of Public Affairs.
She also served as executive editor of the University's Global Journalist media properties exploring global issues and the state of press freedom around the world. Her focus continues to be the future of journalism, media innovation, and digital entrepreneurship. She is an advocate for the value of a free press and of free expression to democratic societies.
She serves on corporate boards and is actively involved in professional associations and national and local nonprofits. These include: The Pacific Council on International Policy, a nonpartisan organization founded in 1995 in partnership with the Council on Foreign Relations; the National Advisory Board of the Commonwealth Club of California, the nation's oldest and largest public affairs forum; and the Smithsonian Institution's National Board.
McCombs was a CalChamber Board member from January 1990 through 2000.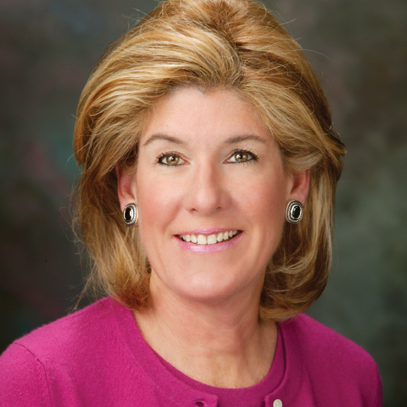 Donna F. Tuttle (2006)
Donna F. Tuttle, CalChamber chair in 2006, was co-owner and chairman of Elmore Tuttle Sports Group, owner of minor league sports teams, such as the Seattle Mariners' single A farm club in San Bernardino.
She also was co-owner and chairman of Centennial Management, a company that specialized in managing arenas, stadiums, convention centers and amphitheaters; co-owner and chairman of Diamond Creations, a concession company that specialized in banquets, concessions and restaurants; CEO of Les Frame Enterprises, owner of light manufacturing mobile park communities; and president of Korn Tuttle Capital Group, a diversified investment company.
During her year as CalChamber chair, Tuttle co-chaired with Leon Panetta the Base Realignment and Closure (BRAC) Council, to which she was appointed by Governor Arnold Schwarzenegger. She also was a member of the National Collegiate Athletic Association (NCAA) Leadership Advisory Board, among other groups.
At the Sacramento Host Breakfast in 2005, Tuttle emphasized that everyone should be concerned about the cost of doing business in California because "when businesses do well, the state does well. Jobs are created, salaries are raised, state coffers are filled, and people walk around with more money in their pockets." She concluded: "Regardless of our political perspectives, consensus doesn't mean giving up on dreams…There are not Democrat solutions or Republican solutions. There are only California solutions. So let's stop arguing and let's start fixing, and together we will realize the California dream."
Tuttle was among the 17 business and labor leaders named by Governor Pete Wilson in 1991 to the Council on California Competitiveness, chaired by Peter Ueberroth.
During the Reagan administration, Tuttle served as deputy secretary of commerce.
She was a CalChamber Board member from January 1998 to January 2014.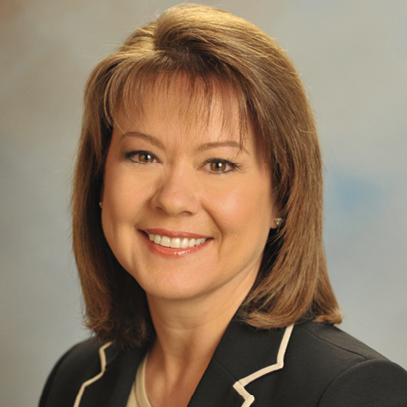 Larree M. Renda (2010)
Larree M. Renda served as the 2010 chair of the CalChamber Board while she was executive vice president, chief strategist and administrative officer for Safeway, Inc.
As one of Safeway's top executives, Renda was responsible for all retail strategies and a broad range of administrative functions for one of the largest food and drug retailers in North America. Her responsibilities included retail strategy, labor relations, public affairs, government relations, health initiatives, human resources, quality assurance and consumer protection, industrial engineering, re-engineering and communications. She also managed the Pleasanton-headquartered company's relationship with Casa Ley, Safeway's joint venture in Mexico, where she also was a member of the board of directors. At the time, Safeway had a 49% interest in Casa Ley, S.A. de C.V., which operated 137 food and general merchandise stores in western Mexico.
Renda began her Safeway career in 1974 at the age of 16. She progressed through Safeway's retail ranks and earned the distinction of being the youngest store manager, district manager and retail operations manager in Safeway's 80-year history.
The first woman and youngest person promoted to senior vice president in 1994, Renda subsequently became Safeway's first female executive vice president in 1999. In 2001 and 2002, she was voted one of the "50 Most Influential Women in Business" by Fortune magazine. Renda was active in several community organizations, chairing the board for the Safeway Foundation, which oversees the company's charitable giving activities. Under her direction, Safeway contributed more than $248 million in 2008 alone to a range of charitable initiatives, including food banks, education, breast and prostate cancer awareness and research, as well as other health services and organizations supporting people with disabilities such as Easter Seals, Special Olympics and Muscular Dystrophy Association.
Renda also served as a national vice president of the Muscular Dystrophy Association, a member of the board of directors for HSBC Finance Corporation and for HSBC North America Holdings Inc., and served on their audit committees. She was a member of the Retailing Initiative Advisory Board of the Wharton School of Business at the University of Pennsylvania, and served as a trustee on the National Joint Labor Management Committee. She also was a member of the Board of Regents for the University of Portland. In 2008, Renda became the first woman inducted into the California Grocers Association Hall of Achievement for her career of significant industry accomplishments. She was named 2009 Food Industry Executive of the Year by the USC Marshall Food Industry Management Program.
Renda was a CalChamber Board member from November 2004 to December 2014.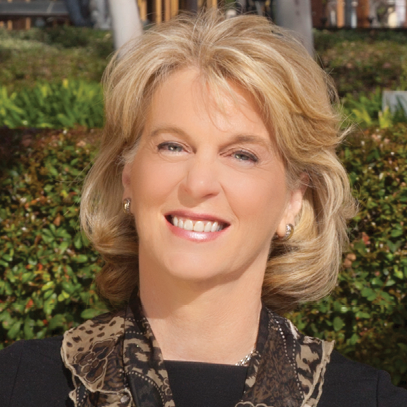 Anne Buettner (2014)
Anne L. Buettner, a senior vice president at The Walt Disney Company, chaired the CalChamber Board in 2014. She served on the CalChamber Board from June 2009 to December 2016.
Buettner led the tax legislative policy function at Disney, a diversified worldwide media and entertainment company with operations in five segments: media networks, parks and resorts, studio entertainment, consumer products, and interactive.
Before becoming senior vice president, Buettner was Disney's global head of tax and was responsible for all domestic and international tax matters. She joined Disney in 1990 and held a number of positions in the Corporate Tax Department.
Before joining Disney, she was a tax manager at Arthur Andersen & Co. She served as a member of the Planning Committee for the University of Southern California Law School Tax Institute, is a member of the Domestic and International Tax committees of the Motion Picture Association of America (MPAA), was an advisory board member of the National Multistate Tax Symposium, and was a member of The Tax Council Board of Directors.
Buettner holds a bachelor of business administration in accounting from The University of Iowa and a master's degree in taxation from the University of Texas at Austin. She is an honors graduate of both programs and is a Certified Public Accountant (CPA).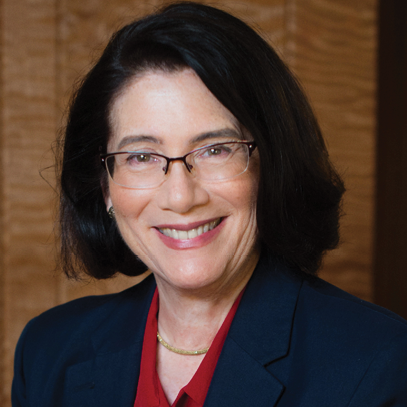 Susan Corrales-Diaz (2017)
Susan Corrales-Diaz, president and CEO of Systems Integrated, an Orange County-based technology firm, served as 2017 chair of the CalChamber Board and is a member of the CalChamber Executive Committee.
She assumed the top post at Systems Integrated in 1988. Under her guidance, Systems Integrated transitioned from a specialty government contractor to a provider of leading-edge technology solutions to government, municipal entities and private industry.
Systems Integrated also manufactures specialized communications equipment, and display and control software. From providing the largest wireless traffic control infrastructure in California, to controlling the water for most of Southern California, the company has grown to provide solutions worldwide for automating infrastructure.
Systems Integrated has applied technology to solve operation challenges confronting industry and government: wireless networks for one-person control of subways; distributed control for major water and wastewater systems; and hydroelectric plant automation. Keeping in step with technology yet ensuring that its designs are built using published standards means that a Systems Integrated solution can evolve with technology.
Corrales-Diaz's company goal is to invest continually in new technology and applications. Her company's newest development is with Dedicated, Short Range, Communications (DSRC) — this technology is at the forefront of inter-car communications and bus prioritization transportation. Over the years, Corrales-Diaz has served on a variety of public and private boards.
She was appointed to the President's Export Council (1995–2000), which provided the President business input about national export policies. In 1996, President Bill Clinton appointed Corrales-Diaz to serve as one of three U.S. business representatives to the Asia-Pacific Economic Cooperation (APEC) Business Advisory Council (ABAC). ABAC members from the then18 member economies of APEC provided the business sector's input to the leaders of the APEC member economies regarding the objective of finance and trade liberalization in the APEC region.
In 1997, she co-chaired ABAC's Cross-Border committee, which addressed issues such as intellectual property, standards and conformance, business mobility, and the sectorial approach to liberalization. She also chaired the Small & Medium Enterprise (SME) committee in 1998. She has continued her involvement with the U.S. Department of Commerce through the District Export Council for Southern California.
Corrales-Diaz has served as a board member with the Automobile Club of Southern California; National Small Business Association; Small Business Exporter Association; and Board of Governors of Chapman University
An active member of the CalChamber Board since 1995, Corrales-Diaz chaired the CalChamber Council for International Trade for many years and participated on various committees. She received her bachelor's degree from California State University, Long Beach.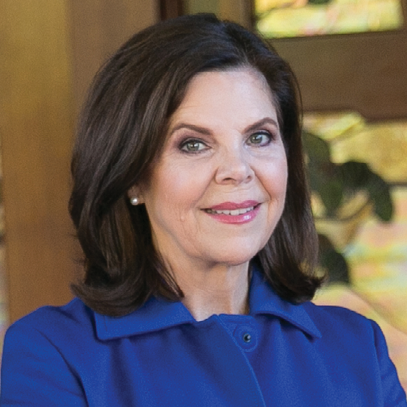 2019 Grace Evans Cherashore
Grace Evans Cherashore, executive chairwoman of Evans Hotels, provider of San Diego waterfront resorts, served as 2019 chair of the CalChamber Board. She joined the board in March 2012.
Evans Hotels was founded in 1953 by Cherashore's late father, William D. Evans, and her mother, Anne L. Evans, a former member of the CalChamber Board.
Cherashore began her tenure with Evans Hotels as chief financial officer in 1984 and later served as president and CEO for 21 years.
Before Evans Hotels, Cherashore worked for Wells Fargo Bank in San Francisco in the Real Estate Industries Group. Outside of Evans Hotels, Cherashore served as a member of the Dean's Advisory Council for the University of California, San Diego Rady School of Management. Previously, she served as a director of the Federal Reserve Bank of San Francisco, Los Angeles Branch, from 2008 through 2013 with one term as chair.
Prior to her Federal Reserve position, she served as a director of Peninsula Bank of San Diego and was a founding director of San Diego Trust Bank.
Cherashore also was a director of San Diego Economic Development Corporation, the San Diego State University School of Business, the San Diego Consortium and Private Industry Council (now the San Diego Workforce Partnership), the San Diego Chapter of the American Cancer Society, and the Bishop's School.
Cherashore has a B.A., magna cum laude, from the University of Colorado, and an M.B.A. from the Amos Tuck School of Business at Dartmouth College. She was honored by the San Diego Business Journal as the 2013 "Most Admired CEO" for large family-owned businesses. In 2005, she was honored at the publication's 12th Annual "Women Who Mean Business" awards. In 2017, Cherashore and Anne Evans received the Distinguished Service Award from the Federal Reserve Bank of San Francisco.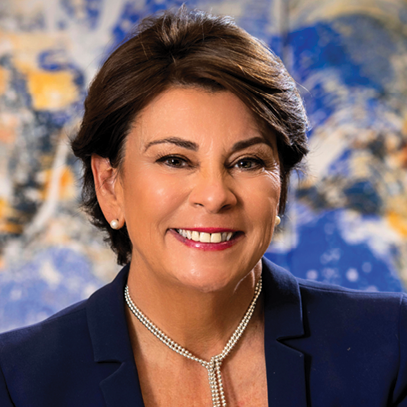 Donna L. Lucas (2021)
Donna L. Lucas, then CEO and president of Lucas Public Affairs (LPA), chaired the CalChamber Board in 2021. A member of the CalChamber Board since August 2012, she continues to serve as a member of the CalChamber Executive Committee.
For Lucas, now CEO and founder, opening LPA in 2006 was the latest chapter of a 30+-year career that includes senior executive positions in the public and private sectors. The Sacramento-based agency counsels clients across a wide swath of sectors, including energy, environment, health care, higher education, technology tourism, transportation and related foundations, nonprofits and state agencies. The firm specializes in strategic, corporate and crisis communications to support its clients' public policy objectives.
Lucas served as deputy chief of staff for strategic planning and initiatives for Governor Arnold Schwarzenegger and chief of staff to First Lady Maria Shriver. Lucas also served as deputy press secretary for Governor George Deukmejian, deputy treasurer for state Treasurer Tom Hayes and California press secretary for the 1988 presidential campaign of then-Vice President George H.W. Bush.
She was the global and public affairs practice leader for Porter Novelli, an international public relations firm, after Porter Novelli acquired Nelson Communications Group, where she served as president and CEO for several years.
Lucas served on the Public Policy Institute of California Board of Directors from 2007 to 2019, chairing the board from 2013 to 2016. She also serves on the boards of the John Burton Advocates for Youth, College Futures Foundation, Scripps Institution of Oceanography, and Maria Shriver's Women's Alzheimer's Movement.
Lucas is a founding member of She Shares, a conversation series featuring women leaders who have created a lasting impact on women in California and beyond. She routinely is named among the top 100 unelected influencers in the State Capitol community. In 2018, the Sacramento Metropolitan Chamber of Commerce named her Sacramento Businesswoman of the Year.
Lucas is a graduate of the University of Southern California in journalism. She lives in Sacramento with her husband, Greg Lucas, the California State Librarian.