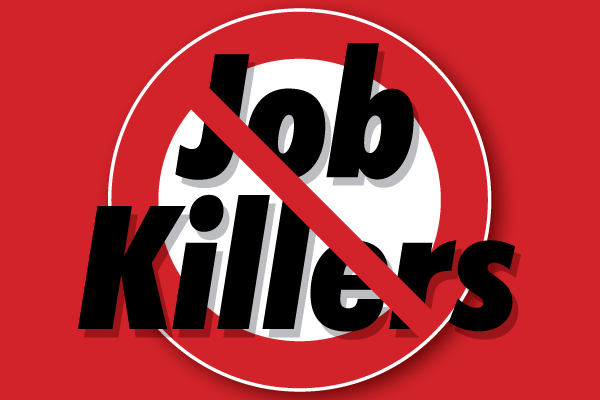 Three California Chamber of Commerce job killer bills and seven oppose bills have been stopped from advancing this year after being held in legislative fiscal committees on May 19.
One job killer bill would have created a new private right of action for biometric information; another would have expanded the duty to accommodate employees for leave requests; and a third would have imposed onerous wage and hour data reporting requirements.
Job Killer Bills Stopped
The following job killer proposals will no longer advance this year:
• AB 2095 (Kalra; D-San Jose) would have placed new onerous administrative burdens on employers by requiring annual reporting of wage and hour data and employee benefits on an employer's entire United States workforce that will unfairly criticize employers for lawful conduct by publishing that data on the Labor and Workforce Development Agency's website and using such data to rank employers and deny them state opportunities, and would have subjected employers to frivolous litigation and settlement demands.
• AB 2182 (Wicks; D-Oakland) would have imposed new burdens on employers to accommodate any employee with family responsibilities, which essentially would have included a new, uncapped protected leave for employees to request time off and exposed employers to costly litigation under the Fair Employment and Housing Act by asserting that any adverse employment action was in relation to the employee's family responsibilities, rather than a violation of employment policies.
• SB 1189 (Wieckowski; D-Fremont) would have created legal liability for businesses large and small, potentially in the millions to tens of millions of dollars, while not providing any exceptions, such as for the use of biometric data for safety, security, or other reasonable purposes. It also would have imposed new, untenable restrictions on the use and disclosure of biometric information in a thinly veiled attempt to undermine the California Privacy Rights Act (CPRA) limited private right of action for data breaches.
Opposed Bills
Also stopped were the following CalChamber-opposed bills:
• AB 1819 (Lee; D-San Jose) was an unconstitutional proposal that would have banned corporations with 50% or more of foreign investment from contributing to campaigns or independent expenditures.
• AB 2029 (Wicks; D-Oakland) would have increased health insurance premiums paid by employers and enrollees by $957,449,000 by mandating plans and insurers provide coverage for fertility services to diagnose and treat infertility, including in vitro fertilization.
• SB 983 (Eggman; D-Stockton) would have allowed proprietary equipment and trade secrets to be shared with the public.
• SB 1059 (Becker; D-Menlo Park) would have undermined the purpose and efficacy of the existing Data Broker Registry with an overly broad expansion of the definition of "data broker" that makes it harder for consumers to identify third-party entities selling their information. It would have required businesses registered on the Registry to disclose information about any data breach they have experienced without defining clearly what makes a breach worthy of disclosure. It would have created potential for consumer confusion and frustration by requiring covered entities to provide information already readily available to consumers in the entities' privacy policies.
• SB 1361 (Kamlager; D-Los Angeles) would have increased health care premiums over $200 million by requiring an enrollee's or insured's prescription drug cost sharing to be calculated at the point of sale (POS) based on a price that is reduced by an amount equal to 90% of all rebates received, or to be received, in connection with the dispensing or administration of the drug. This would have applied only to the small demographic of patients who received rebated drugs even though all patients would have paid more in premiums without receiving the benefit.
• SB 1404 (Stern; D-Canoga Park) would have arbitrarily and statutorily defined what is a considered a significant environmental impact when removing an oak tree, substantially changing how the California Environmental Quality Act (CEQA) has operated since its inception. In doing so, SB 1404 would have made the construction of housing even harder and jeopardized the state's ability to mitigate wildfires.
• SB 1458 (Limón; D-Goleta) would have automatically increased benefits for all members of one gender based on a presumption that they are being discriminated against by the same amount based on misleading, or unrelated data, and it likely would have violated both the federal and state constitutions.