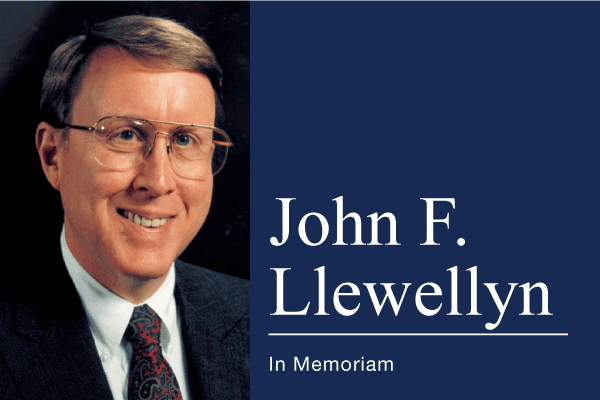 John F. Llewellyn, a member of the California Chamber of Commerce Board of Directors for 31 years and chairman of Forest Lawn Memorial-Parks & Mortuaries, passed away on April 6. He was 74.
Llewellyn joined the CalChamber Board on January 1, 1991 and was a member at the time of his death.
A third generation Californian, Llewellyn was born in Los Angeles, earned a bachelor's degree in economics at the University of Redlands and his M.B.A. at the University of Southern California.
After working for Pacific Telephone and Allstate Insurance Company, he began his career with Forest Lawn in 1972. He served the company for nearly 50 years, becoming president and CEO in 1988, and assuming the chairmanship in March 2011.
A leader in the industry, he was a past president of the International Cemetery, Cremation and Funeral Home Association and the Cemetery & Mortuary Association of California.
He also authored three industry-related books: A Cemetery Should Be Forever (1999), Saying Good-bye Your Way (2004), and Birth of a Cemetery (2018).
Until his death, he was a director of the Los Angeles Area Chamber of Commerce, the YMCA of Metropolitan Los Angeles, and the Braille Institute of America. He also served for many years as trustee and CEO of the AS&F Foundation, which until its liquidation in 2018 focused on giving to youth, recreation, boy scouts and human services organizations in the greater Los Angeles area.
Family and friends remember Llewellyn for his gentlemanly nature and penchant for knowledge, which led to his pursuit of such passions as technology, photography, investments, writing and extensive travel. He was an Eagle Scout who expressed a desire for human kindness and is credited with instilling a culture of caring throughout the Forest Lawn organization.
In January 2022, he was diagnosed with a glioblastoma brain tumor. He received comfort in the last week of his life from the neurology and palliative staff at Huntington Hospital in Los Angeles.
He is survived by his wife Carol; daughter Sharon; grandson Oliver; sister-in-law Julia and sister Ann (Andy). He was predeceased by his brother Rick.