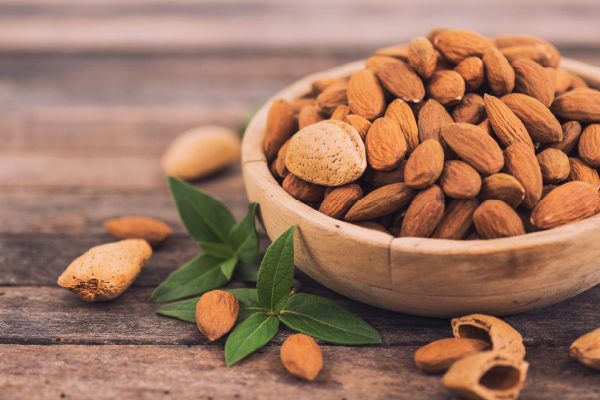 As a major component of California's fifth largest export category, agricultural products, California almonds have been a mainstay of the state's economic vitality for decades.
The $175.12 billion worth of goods California exported to the world in 2021 accounted for almost 10% of total U.S. exports, making it a top exporting state in the nation. California's top five exports, in order, were made up of computer and electronic products, non-electrical machinery, chemicals, transportation, and agricultural products.
Leading Export
Agricultural product exports totaled $14.17 billion in 2021, making up 8% of total exports. Of that, $10.56 billion was attributed to fruits and tree nuts. California almonds fall into this category, and in 2019 were the single largest agricultural export from California totaling $4.9 billion. California is the sole producer of almonds in the nation, but, more impressively, California almonds make up 77% of total global production of the crop. (California Department of Food and Agriculture)
California is the nation's largest agricultural producer and exporter. In 2019, California exported approximately 28% of its agricultural production by volume, which amounted to $21.71 billion that year. Of the top 10 foreign destinations for California agricultural products, almonds were in the top three products for each. The largest export markets for California almonds are the European Union, India, China, Canada, Japan, and the United Arab Emirates (UAE).
Top Trading Partners
It is no coincidence that these top markets for California's almonds also make up California's top trading partners. California's top export partners are Mexico, Canada, China, Japan, and South Korea. India comes in as California's ninth largest export destination, and, if the European Union is considered as a whole in this ranking, the European Union would top Mexico as California's No. 1 export destination. The UAE is also an important destination for California exports, purchasing $1.56 billion in goods from California, with agricultural products making up 27% of the total.
According to a 2020 U.S. Business Roundtable report, California has nearly 5 million jobs that relied on international trade in 2018 (latest data available). That translates to almost 1 in 4 jobs in the state being supported by exports and imports. California exports are tied directly to more than 1 million high-paying jobs for Californians. Trade with California's top trading partners each contribute thousands of jobs in the state.
Foreign-Owned Firms
Foreign-owned enterprises also play an important role in the state's economy. In 2020, the 18,451 foreign-owned firms operating in California employed more than 700,000 residents, contributing an estimated $64 billion in wages to the state's economy that year.
Japan is the leading source nation of foreign direct investment (FDI) into California, employing more than 115,000 residents, contributing $10.6 billion in wages. The United Kingdom is the second largest source of FDI, employing more than 100,000 residents and contributing $8.8 billion in wages. France, Germany and Switzerland round out the top five sources of FDI into California, each contributing more than $5 billion in wages. (World Trade Center Los Angeles)
As California is the fifth largest economy in the world, with a gross state product of more than $3.1 trillion in 2020, trading $645.87 billion worth of goods with 226 foreign economies, international trade and investment are an important part of the state's economic engine that broadly benefits businesses, communities, consumers, and state and local governments.
California's economy is diverse, and the state's prosperity is tied to exports and imports of goods and services by California-based companies, to exports and imports through California's transportation gateways, and to movement of human and capital resources.