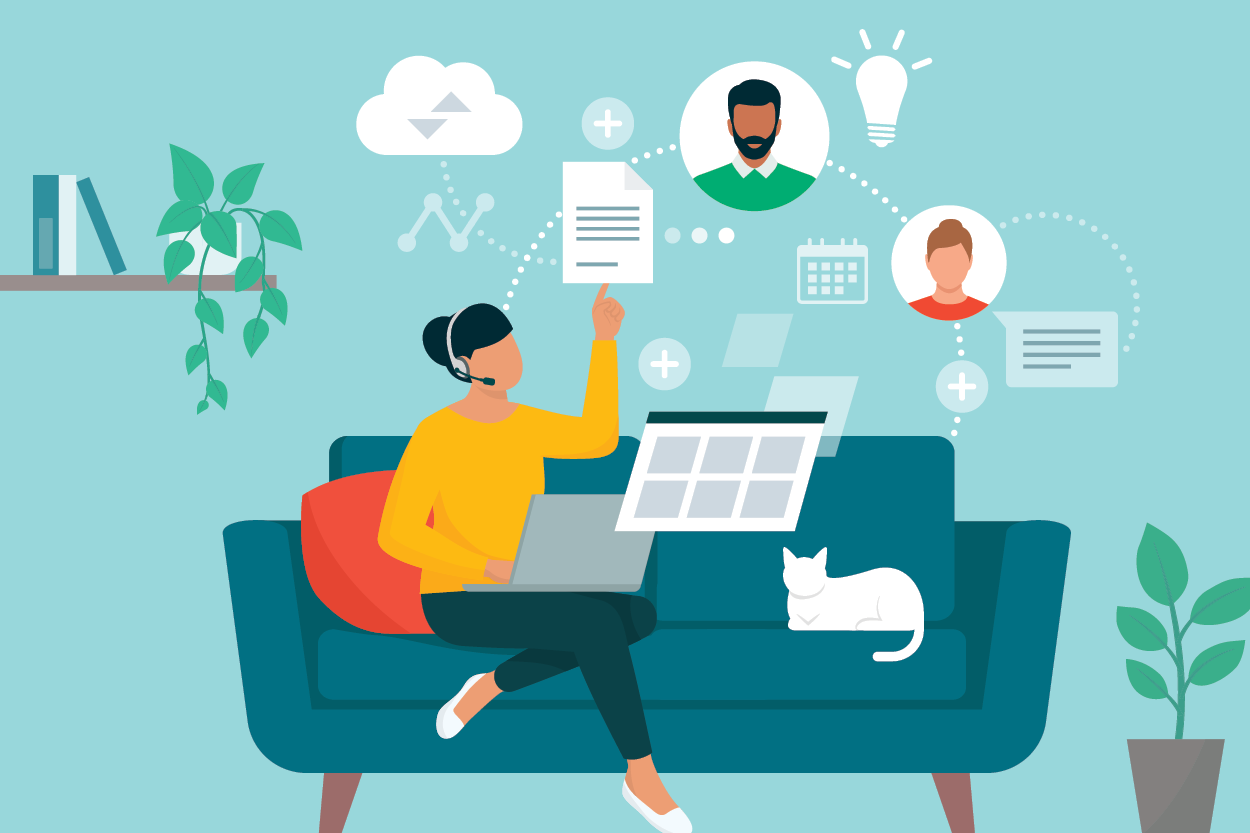 The pandemic has changed how we live and work, certainly in the short term and probably longer. The seventh CalChamber poll, The People's Voice, 2021, found that voters prefer policy changes to ease their ability to work from home, and are comfortable with strict COVID measures in the workplace.
The California economy — and the livelihoods of millions of Californians — survived the worst of the pandemic because thousands of employers implemented work-from-home arrangements, also known as telecommuting.
But devising a telecommuting policy can be complicated and risky because of California's treacherous employment laws. In overwhelming numbers, voters want to change that.
Telecommuting
For starters, telecommuting got a big vote of confidence from the electorate. By a 9 to 1 margin, voters support changing labor laws or policies to make it easier for employees to work from home.
They also supported the details.
Nearly 9 of 10 voters support changing overtime requirements to allow an alternative schedule (for example, four 10-hour days or three 12-hour days, instead of a typical five 8-hour days).
More than 8 out of 10 voters supported allowing employees to take the required 10-minute rest breaks any time of their choosing, rather than one break every four hours.
Eighty percent of voters supported allowing employees, at their own choosing, to forgo the required half-hour meal break in exchange for ending their workday a half-hour earlier.
By the same margin, voters supported allowing an employee, at their own choosing, to split their shifts to accommodate personal needs.
On all these questions, the strongest support came from women, younger voters, and voters living in the Inland Empire or Central Valley.
Potential Ballot Measure
Litigation over employment practices, such as telecommuting, vexes employers in California like in no other state. A potential ballot measure would change how labor laws are enforced in California to require Labor Code violations to be handled by independent state regulators. This measure would require 100% of penalties for violations be paid to employees — instead of the state — and it would double penalties for employers who willfully violate labor laws.
The CalChamber poll asked voters to choose between the two major arguments over this proposal.
Supporters say that using independent regulators to quickly resolve wage claims is better and faster than hiring a lawyer and going to court, which can take years and cost thousands of dollars. Supporters say this measure offers a better way to quickly get problems fixed, and still protect workers' rights.
Opponents say that the threat of immediately getting a lawyer and filing a lawsuit is the only way to get a company's attention and fair compensation. Opponents say this measure would reduce workers' rights, and still tie up most cases in court.
By a margin of 79% to 21%, voters agreed with proponents to the labor law enforcements proposed in this measure.
Vaccination/Testing
Should they return to work, voters are comfortable with mandatory vaccination and testing policies.
Three-quarters of voters support mandatory vaccinations for all employees returning to offices and workplaces, with a slightly higher margin supporting rigorous mandatory testing for employees or school children who are unvaccinated. Seventy-two percent of voters support mandatory vaccinations for school children once Food and Drug Administration-approved vaccines are available for their age group.
Unsurprisingly, the greatest difference among voters is by political party. More than 90% of Democrats support mandatory vaccinations, compared with only 40% of Republicans. About three-quarters of independent voters support mandatory vaccines.
Previous articles have reported about California voters' economic concerns, anxiety about public safety and voters' issue priorities. Subsequent articles will take a deep dive on additional public policy issues of interest to voters and employers.
Methodology
The CalChamber poll was conducted by Core Decision Analytics and Pierrepont Consulting and Analytics with online interviews from October 9–12, 2021 with 1,003 online interviews of California 2022 general election voters. The margin of error for this study is +/- 3.09% at the 95% confidence level and larger for subgroups. This is the seventh year CalChamber has published a voter survey.