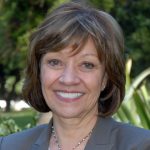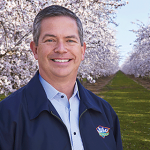 Issues for California agriculture will be the focus of a virtual gathering presented by the California Chamber of Commerce on May 10, 2 p.m.–3 p.m. (PT).
Karen Ross, secretary of the California Department of Food and Agriculture (CDFA), will be the guest for the virtual program, "A Conversation on Issues Facing California Agriculture."
The program host will be Mark Jansen, president and CEO of Blue Diamond Growers and immediate past chair of the CalChamber.
CalChamber President and CEO Allan Zaremberg will welcome attendees to the virtual program.
Ross has served as state secretary of food and agriculture since 2011, when she was first appointed by Governor Edmund G. Brown Jr. Governor Gavin Newsom reappointed her to the post in 2019, citing her leadership experience in agricultural issues nationally, internationally, and here in California, in areas including environmental stewardship, climate change adaptation, and trade.
Before joining CDFA, Secretary Ross was chief of staff for U.S. Agriculture Secretary Tom Vilsack. She served as president of the California Association of Winegrape Growers from 1996–2009, and as vice president of the Agricultural Council of California from 1989–1996.
Since taking the helm at Blue Diamond in 2010, Jansen has transformed the operation into a $1.6 billion global branded manufacturer. He has led brand growth for Haagen-Dazs, Betty Crocker, Totino's, Pillsbury, Red Baron, Freschetta, Blue Diamond and Almond Breeze.
Before joining Blue Diamond, he was president of Schwan's Food Service in Marshall, Minnesota. He currently serves on the Executive Council for the National Council of Farmer Cooperatives, the Board of Trustees for the International Nut and Dried Fruit Council, the Board of Trustees for the Graduate Institute of Cooperative Learning, and the Almond Board of California.
Registration
To register for the virtual gathering, to be held on Zoom, visit this link.
Attendees are asked to submit questions they would like to hear addressed at the event to nicole.ellis@calchamber.com by Wednesday, May 5.