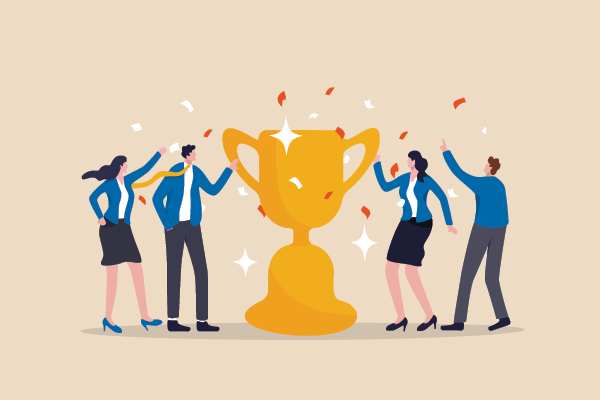 Twenty-seven California Chamber of Commerce member companies have been selected by Fortune as among the 100 best companies to work for in 2021.
Company responses to COVID-19 were a significant factor in compiling this year's list. The magazine describes its honorees as "the most heroic companies" for supporting their people and communities in the United States during this historically challenging year.
Featured Companies
Following are the 27 CalChamber member firms on Fortune's "100 Best Companies to Work For" list and what the employees had to say about their employers.
• Cisco (information technology, No. 1) The company leadership "works to ensure that the company is an active member of the communities in which we operate and are quick to provide resources to support the most vulnerable." Their attention to the health and welfare of the surrounding community is "extraordinary."
• Salesforce (information technology, No. 2) "During this pandemic, our company has shown its true colors. What the executive team has done to support our communities and country is outstanding and makes me so grateful every day." One employee is on the WINDforce employee group and "asked our executive team if they could consider sending a large amount of PPE to a Native American tribe and guess what? They did!"
• Capital One Financial Corporation (financial services and insurance, No. 9) "During the COVID-19 crisis this company not only took care of its employees, but also paid third-party contractors who couldn't come to our closed offices and worked in the company cafeteria, security, and janitorial services… The CEO and management show that they care about people with their actions."
• Intuit Inc. (financial services and insurance, No. 11) Intuit has been "awesome" during the pandemic. It established multiple programs to help employees deal with being a caretaker, maintain a work/life balance and take care of themselves and their families. Employees also are receiving "additional days to 'recharge' so we can really unplug and not feel like we should be 'on' and none of it decreases our PTO [paid time off] balance."
• Target Corporation (retail, No. 14) "Target is one of the most philanthropic companies in the world! One of our beliefs is that we have a moral obligation to humanity… Not only do we care for each of our team members, we care deeply for each of our guests and our communities."
• Marriott International Inc. (hospitality, No. 15) "Hands down, the way Marriott took care of their associates during the pandemic was beyond unbelievable!" The hospitality industry was hit hard during the pandemic and many positions were furloughed. Marriott partnered with outside companies that were hiring hourly and executive positions and made sure employees had access and references to get a new job/career if they chose that path.
• Hyatt Hotels Corporation (hospitality, No. 16) During the pandemic Hyatt Hotels suspended operations for seven months. During this time all 800 colleagues were kept on furlough status in order to have their health insurance remain active. In addition, the company covered 100% of all employee premiums and benefits.
• Comcast (telecommunications, No. 21) During the pandemic the company made every effort to keep all employees working with no layoffs. It accommodated the employees at every level as they balanced health, childcare, and all other instances as the pandemic continued. Mike Burnett, regional vice president of technical operations for Comcast California, is a CalChamber Board member.
• Bank of America (financial services and insurance, No. 22) The CEO's commitment to no layoffs during the pandemic "has given everyone I've spoken to huge peace of mind. That's a massive commitment to make during a time of uncertainty." Julian Parra, regional executive, is a CalChamber Board member.
• Perkins Coie LLP (professional services, No. 23) The firm responded "incredibly well" to the pandemic, transitioning to remote work in just 10 days, regardless of the employee's role in the company. All resources needed to work from home and cope with emotional stress were provided. Added benefits rolled out included a free subscription to a meditation app to promote wellness.
• Nugget Market Inc. (retail, No.24) With health being a major focus of concern, employees said they appreciate the "Thank You" pay all associates have received during the pandemic. "Although it is still concerning to have so much exposure due to our service to the public, I feel comforted to know that if I get sick I will be taken care of because of the financial stability and amazing benefits the company has always offered."
• Kimley-Horn and Associates Inc. (professional services, No. 30) "The company is upfront and honest about its plans and why they are making them." The company has taken the time to create plans and explain them to the employees. "It can be easy to be a great company when times are perfect, but they have really shown that they care and are a great company when times are more uncertain."
• Experian (financial services and insurance, No. 31) "Leadership focuses on ensuring employees have what we need to be our best… the response to COVID has been amazing. They rapidly transitioned us to work from home with great support for the different situations that each employee faced."
• Deloitte (professional services, No. 34) Deloitte has done a lot for its employees through the pandemic including helping parents financially with young children at home as well as kids learning virtually. "I am grateful for how they have rallied around their employees during the pandemic." Garrett Herbert, regional managing partner – West Region, is a member of the CalChamber Board.
• The Cheesecake Factory Incorporated (hospitality, No. 35) The company provided everyone with a free meal everyday throughout the period of being furloughed. It provided employees with home essentials, such as toilet paper, and nonessential items, like games and fun things to pass the time in quarantine. They offered help in filing for unemployment as well as resources to find temporary jobs during the shutdown.
• PricewaterhouseCoopers LLP (professional services, No. 38) "Leadership was clear in both messaging and actions that top priorities were employee safety, avoiding layoffs and promoting well-being. There were frequent webcasts to keep all of us updated, provide ongoing guidance on working virtually and team together." Stefanie Kane, Southwest managing partner, is a CalChamber Board member.
• KPMG LLP (professional services, No. 39) "With the pandemic, leadership communicated early and often, acted in a timely manner to prevent staff from exposure, implemented a program for individuals to take equipment to their home offices, and asked employees about their thoughts on returning to the office." Communication has increased via meetings and "all hands calls to promote a sense of connection and understanding about firm updates." Lisa Daniels, managing partner, is a CalChamber Board member.
• Progressive Insurance (financial services and insurance, No. 40) The immediate response to the pandemic to enable their near total employee population to work from home and provide all the tools and equipment needed to do their hob remotely makes this a great place to work. They modified their bonus/gainshare policy to pay out quarterly rather than the end of the year in order to provide funds to those with job losses within their families.
• Ernst & Young LLP (professional services, No. 41) "Rather than lay off people for fear of decreased revenue, our leadership has decided to eliminate bonuses and other expenses so that we can keep people on the payroll." The company encouraged the global EY community to help others, such as by making donations to help government agencies manage testing and tracking. "I feel our firm and our people care about each other and the broader global community." Kailesh Karavadra, West Growth Markets leader, is CalChamber first vice chair.
• Accenture (professional services, No. 44) "Their response to COVID-19 was great! They stepped in and made accommodations in a way that really made a difference. The benefit they extended for dependent backup care was huge for my family!" They are also helping parents with children heading back to school.
• Bain & Company (professional services, No. 55) "When Bain says it is a people first company, it means it… When the pandemic hit, the company immediately made clear that every person's job was safe and that the executive team would take the pay hits required if the business suffered — layoffs were not coming and people could rest easy." The company invested heavily to ensure employees had the personal capacity to continue working and made sure every employee had a chance to openly discuss and solve their individual needs. Jason Glickman, partner, is a CalChamber Board member.
• Bright Horizons Family Solutions (education and training, No. 64) "I joined this company as part of an acquisition and thought there was a lot of internal hype, but the way the company has responded to the pandemic has really made me believe that the top-level management takes our company values very seriously."
• IBM (information technology, No. 72) "The response to COVID-19 and the support of employees with external commitments to caretaking, etc., was first class. Ditto the dedication to creating an open and welcoming environment to a wide range of employees, with a dedication to diversity that seems to be consistently reflected in programs and initiatives rather than just in statements of support."
• Scripps Health (health care, No. 76) "I like that the CEO has been very engaged with the fight against COVID, reaching out to the press with real information. When a lot of the San Diego community was questioning whether COVID was such a big deal, he allowed the ICU staff to share their stories, which led to national press coverage of the situation."
• Farmers Insurance (financial services and insurance, No. 84) "Before there was any mention of the dangers of spreading COVID in the workplace, we were getting the option to work from home if we felt safer doing so. On top of that, the flexibility and understanding that I have four kids at home that now have to be essentially home schooled and that my work schedule might have to change, was more than I could have ever expected. The amount of stress [that took off of us] is immeasurable."
• NuStar Energy (transportation, No. 96) NuStar "goes out of their way to care for the employees," seen during the pandemic by protecting employees through remote workplace requirements. This huge undertaking included equipping the employees with tools and resources needed to work remotely. "NuStar has elected the employee first mentality and has not had any layoffs to date."
• Alston & Bird LLP (professional services, No. 97) "The flexibility of being a working mother. Whether that is using the array of childcare services provided in our benefits, or the understanding of my direct manager and others in the department to care for my family as needed, they still treat me the same as everyone else, and therefore I know my family and job are both safe. I am allowed plenty of space to figure out creative ways to problems and get input from others on best ways to execute."
Methodology
To compile the ranking, people analytics firm Great Place to Work® surveyed more than half a million workers at companies with at least 1,000 U.S. employees. The survey examined issues such as how trustworthy, caring and fair the company is in times of crises; employees' physical, emotional and financial health; and the company's broader community impact.
The analysis paid close attention to how employees' experiences varied depending on their job role, gender, race/ethnicity, payroll status, and other characteristics.
Confidential employee feedback accounted for 60% of each company's score, while 40% was based on the programs each company said they created to support their people and communities in response to the pandemic.
To see the full list of 100 Best Companies to Work for, visit fortune.com/best-companies/2021/.