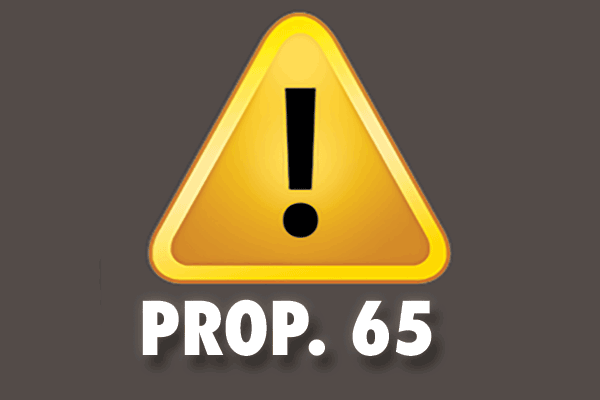 Proposed changes to Proposition 65 warning rules just two years after they went into effect will invite new frivolous enforcement actions against businesses and force them to once again spend millions of dollars overhauling their compliance programs.
That is why the California Chamber of Commerce is leading a coalition urging the state Office of Environmental Health Hazard Assessment (OEHHA) to withdraw its proposed amendments to Prop. 65 short-form warning requirements (Article 6).
More than 90 entities representing tens of thousands of affected businesses support the CalChamber request.
Testimony
In recent testimony to OEHHA, CalChamber Policy Advocate Adam Regele questioned the agency's rationale and timing of the proposed changes, and disputed its contention that those changes are simply "clarifying guidance."
The proposal will force every single business utilizing the short-form warning to redo warning programs set up at a cost of hundreds of millions of dollars in keeping with OEHHA guidance published just two years ago, in 2019, Regele stated.
The warning rule change, he pointed out, affects hundreds of thousands of businesses that sell products into California, including food and agricultural products, and will disrupt global supply chains. Moreover, the changes will do serious harm to small businesses with as few as 10 employees.
Litigation
Regele commented that OEHHA dismisses outright that the proposed amendments will have any adverse impact on businesses and ignores the litigious Prop. 65 environment driving businesses to warn.
Prop. 65's unique burden-shifting structure and the worsening litigation climate place businesses in the untenable position of deciding whether to issue warnings or risk defending expensive and difficult-to-prove lawsuits.
The last five years of data also show that even where companies decide not to issue warnings but are sued, more than 85% of the court-approved consent judgments compel the businesses to provide warnings as part of the injunctive relief.
Before proposing the latest changes, OEHHA should have conducted a Standard Regulatory Impact Assessment (SRIA), a process that requires the agency to consider the economic impacts to regulated entities and reasonable alternatives less burdensome to those entities.
Failure to Exercise Discretion
Although OEHHA's discretion to curb litigation abuse through regulation is limited without authority provided by law, Regele observed, the agency's discretion isn't limited when it comes to ensuring amendments don't exacerbate abusive Prop. 65 litigation.
OEHHA fails to exercise its discretion by proposing amendments to Prop. 65 short-form warnings that will provide additional opportunities for individuals and groups to file frivolous and unscrupulous private enforcement lawsuits, he stated.
Problem Examples
Examples of problems created by the proposed Prop. 65 warning amendments include:
• Eliminating the use of short-form warnings for internet or catalog purchases, creating consumer confusion and subjecting retailers to substantial new liability as warnings on products will in some cases differ from the internet or catalog warnings.
• The requirement that the "package shape or size cannot accommodate the full length warning" is too subjective a standard that also invites exploitation by private enforcers.
• The lack of uniformity in the proposed warning text risks inadvertent errors by businesses and invites exploitation by private enforcers.
• An arbitrary limit of 5 square inches of surface area is not supported by evidence — as OEHHA acknowledges in its initial statement of reasons for the warning amendments. The arbitrary size limitation will crowd limited labeling space, resulting in smaller fonts, excessive verbiage, consumer confusion and additional liability.
Balance Undone
The proposed Prop. 65 warning amendments erode confidence, create uncertainty and add substantial costs and liabilities for businesses by undoing a three-year regulatory process that culminated in the balanced current warning requirements. OEHHA spent more time crafting the Article 6 warning regulations than the requirements have been in effect.
The comment period and listen-only public hearing on the changes to the short-form warnings are not a comparable substitute for the multi-year pre-regulatory and regulatory process that included workshops and much more robust stakeholder engagement, Regele emphasized.