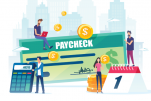 New Deadline: August 8, 2020
Legislation signed by the President last weekend extends the deadline to apply for Paycheck Protection Program (PPP) loans to August 8, 2020.
An estimated $130 billion in funding remains for the program, which offers loans to help small businesses with fewer than 500 employees stay in business and keep workers employed.
Employers in need of assistance and who have not yet obtained a loan are encouraged to speak with a lender as soon as possible.
The PPP Extension Act signed on July 4 extends only the loan application deadline and does not expand the program.
Legislation signed on June 5 amended the original PPP and aimed to clarify matters such as how and when the funds should be spent and how to handle re-staffing problems.
The key aspect of the PPP is that the loans provided can be fully forgiven without repayment if the employer meets certain conditions, including spending the funds only on certain costs.
A summary of the June 5 revisions appeared in the June 12 Alert.
Information about the PPP loan, including links to an EZ application requiring fewer calculations and less documentation for eligible borrowers, and the full forgiveness application—both released on June 16—is available on the U.S. Small Business Administration web page about the program, located here.