In her State of the Judiciary address this week, California Chief Justice Tani Cantil-Sakauye described how the judicial branch remains accountable, champions the needs of the people, her plan to appoint a workgroup to study homelessness and why the justice of today is important.
The workgroup, Cantil-Sakauye said in her March 10 address, will study how the judiciary can become better partners in the crisis of homelessness.
Assigned to report back to the Chief Justice later this year, the workgroup will consider questions such as: how the courts can become more proactive in addressing the homeless population; whether surplus property can be transferred to the executive branch and repurposed for housing; and laws that need to be amended to better serve California's homeless population.
"I firmly believe that the justice we do today will affect our communities of tomorrow," Cantil-Sakauye said.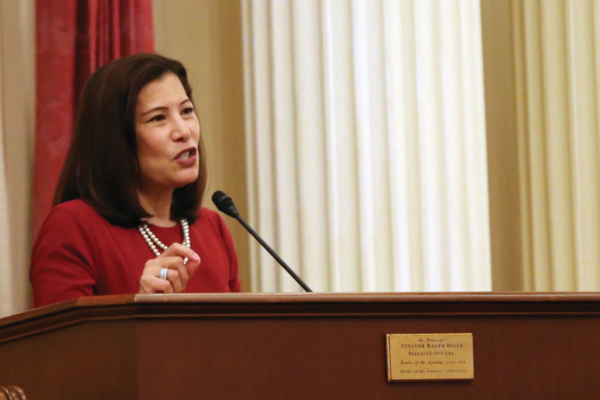 Accountability
The judiciary holds itself accountable by "doing justice in the name of justice," which means a three-dimensional access to justice, "that is that justice be equal, that it be physical and that it be online," Cantil-Sakauye said.
She noted that the Judicial Council passed along to the trial courts the one-time innovative grant funding from the California Legislature based on their ability to increase equal access in their jurisdictions.
Some of the programs include a human trafficking prevention court in Fresno and a veteran's court in San Francisco.
For physical access, the Judicial Council was able to repair and maintain more than 500 court facilities and build new ones in critical areas.
For online access, the Judicial Council used Skype to help Butte County and other rural county users who come to court or need self-help, expanding online access to 23 rural jurisdictions.
In Monterey, the council created a mobile app to enable court users to access court cases and calendars, and pay traffic tickets on their smartphones, Cantil-Sakauye said.
Champion of Needs
Over the last few years, California courts have become "more than a place that resolves disputes," Cantil-Sakauye said; they are "centers for social justice." During her administration, she said, the judiciary has become the champion of "the needs of the impoverished and overlooked."
Programs developed and worked on by the judicial branch include legal reforms to justice system practices that placed a heavier burden on those with the fewest resources. For example:
• A pretrial service was developed as an alternative to money bail.
• Translation services are available to people who are unable to understand English as well as they need to in order to interact with court services.
• A court navigator program has been created to connect those who come to court without an attorney and are in a crisis with a person who can guide them through available court resources.
Expanding Justice
In honor of Justice Ming Chin, who is retiring on August 31, Cantil-Sakauye recalled a Supreme Court opinion he authored that recognized battered women's syndrome as a legal defense in 1996.
The following year, Cantil-Sakauye created the first-ever domestic violence court in Sacramento. Justice Chin's decision, "changed the legal landscape forever," she explained, as it allowed courts to understand the effect of domestic violence not only on the present victims and families, but on future generations.
The chief justice closed her address by thanking Justice Chin for his public service and visionary leadership. His career, she said, demonstrates that "when we are open-minded, when we deliberate fairly, and when we come together for necessary changes, we can preserve and create and expand access to justice for all in California."