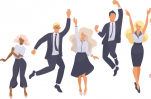 Twenty-seven California Chamber of Commerce member companies were chosen by Fortune as some of the 100 best companies to work for in 2020.
Now in its 23rd year, the "100 Best Companies to Work For" list was determined by conducting America's largest ongoing annual workforce study, representing more than 4.1 million employees this year alone.
Eighty-five percent of the evaluation was based on a survey of the trustworthiness of the organization and employees' ability to reach their full potential, regardless of who they are or what their position is. The rest is determined by the "employees' daily experiences of the company's values, people's ability to contribute new ideas, and the effectiveness of their leaders," according to Fortune.
CalChamber Member Firms
Below are the 27 CalChamber member companies that landed on Fortune's list.
• Hilton, a global hotel chain (No. 1). The company strives to treat its team members—from its cooks to its top leadership—with the same hospitality it treats the guests who stay at its hotels. Hilton goes above and beyond to make its team feel supported and respected, offering generous travel benefits, parental leave and opportunities for professional development.
• Salesforce, a global customer relationship management (CRM) leader (No. 6). Employees report feeling included in discussions and having the opportunity to contribute to the company in meaningful ways. Salesforce encourages a strong work/life balance, even allowing its employees to create clubs and partake in community service.
• Intuit Inc., an information technology company and the maker of TurboTax and QuickBooks (No. 11). In addition to offering a competitive pay and benefits package, the company has devoted itself to fostering trust and openness, allowing team members to truly be themselves and feel comfortable adding their voices to the conversation.
• The Cheesecake Factory Incorporated, a restaurant chain (No. 12). Beyond the approachability and openness of management, employees most appreciate the restaurant's commitment to its community. As of 2020, 26 of the Cheesecake Factory's restaurants participate in a program that donates excess food to the less fortunate, which the company reportedly plans to bring to all of its locations.
• Kimley-Horn, a planning, engineering and design consulting firm (No. 16). The firm has set itself apart in its generous benefits and rewards. Besides paying for 100% of employee health care costs, the company also grants year-end bonuses, offers in-house training programs and gives out cash and gift card awards to employees who embody great teamwork.
• Capital One Financial Corporation, an information-based technology company (No. 24). Employees enjoy a wide range of perks, such as unlimited sick days, telecommuting, compressed work weeks and college tuition reimbursement. The company has also built an inclusive work environment where every employee can feel comfortable, even spearheading a program whose mission is to support introverts in business.
• Ernst & Young LLP, a professional services firm (No. 25). The firm grants its employees opportunities to improve and learn more every day, harboring a culture that cultivates "excellence, creativity, innovation and teaming," according to one employee. Twenty-eight percent of job openings at EY were filled internally in 2019, and 42% of new hires were referred by current employees. Kailesh Karavadra, west growth markets leader for EY, is second vice chair of the CalChamber Board of Directors.
• Hyatt Hotels Corporation, a hotel chain (No. 28). The hotel, known for its commitment to diversity as well as giving back to its community, also makes sure to generously give back to its employees with a variety of perks. Housekeepers, for example, have the option to leave early if they finish their rooms—or stay to clean additional rooms and earn more money.
• Quicken Loans, a mortgage lender (No. 29). Those who work at Quicken Loans see their workplace as challenging and fun in equal measure. The company puts on an awards show every year at the Fox Theatre to honor its employees for their hard work and successes. The company also encourages employees to prioritize a strong work/life balance through subsidized childcare and flexible work weeks.
• KPMG LLP, a company that provides audit, tax, advisory and industry-focused services (No. 32). The firm offers a wide variety of perks that make work easier for its employees, including compressed work weeks, student loan debt repaid up to $1,200 a year, job sharing, telecommuting and an average of 36 paid days off per year. Mark R. Hutchins, Los Angeles managing partner at KPMG, is a member of the CalChamber Board.
• PricewaterhouseCoopers LLP, which provides audit, assurance, tax and consulting services (No. 36). Besides allowing employees a more flexible, less traditional work schedule, the company also offers unlimited sick days, an average of 34 paid days off each year, college tuition reimbursement and student loan debt repayment of up to $10,000 for early-career associates. John R. Buchanan, U.S. tax managing partner for PricewaterhouseCoopers, is a member of the CalChamber Board.
• Marriott International, Inc., a global lodging company (No. 38). The hotel chain shines in its commitment to putting people first. One employee reported that, after a surrounding community was devastated by flooding, Marriott encouraged its team members to "donate PTO [paid time off], purchase t-shirts to support their cause and contribute to a fundraiser for those affected."
• Perkins Coie LLP, an international law firm (No. 40). The largest law firm headquartered in the Pacific Northwest, Perkins Coie heartily invests in the wellbeing of its staff, granting fully paid health coverage and an on-site subsidized gym. The firm is also known for its longtime commitment to diversity, with its 2019 partner class consisting of 56% women and 30% lawyers of color.
• Accenture, a company that provides strategy, consulting, digital, technology and operations services (No. 41). With more than 500,000 employees worldwide, the company is a shining example of embracing people of all races, genders, sexualities and disabilities, according to one employee. Moreover, Accenture offers options for telecommuting, job sharing, subsidized childcare and compressed work weeks.
• T-Mobile US, Inc., a wireless network operator (No. 42). The company is devoted to making employees feel cared for and understood, and creating a safe space at work. For example, T-Mobile recently debuted its Insight Out program intended to tackle unconscious bias in the workplace and to teach employees how to empathize with each other.
• Scripps Health, a nonprofit health care system (No. 43). The nonprofit, which has been included on the 100 Best Companies list 12 times, puts people—both its 700,000 patients and 15,000 employees—first. Scripps spent $33.5 million on training and professional investment last year alone, aiming to build up its employees' careers and promote from within.
• Deloitte, a professional services network (No. 45). Deloitte offers extensive benefits for its staff members, including college tuition reimbursement, student loan debt repayment, the option to telecommute and fully paid sabbaticals. "Everyone is given chances to improve themselves" regardless of experience level or position in the company, one employee said. Kenneth H. Weixel, San Diego managing partner, is a member of the CalChamber Board.
• Orrick, an international law firm (No. 47). The secret to Orrick's success lies in its devotion to innovation, according to the firm. The company often puts on hackathons to inspire and challenge its employees, while also granting staffers up to $50,000 for coming up with good ideas. "Retention is off the charts compared to other firms," noted an attorney at Orrick.
• Progressive Insurance, an insurance company (No. 49). CEO Tricia Griffith notably rose to her position after starting as an entry-level claims representative 30 years prior. Now, she is committed to giving every employee at Progressive the same opportunities. Employees can use an internal tool called "Own It" to create road maps to various job titles, helping them envision a path to any position in the company.
• Dropbox, a file hosting service (No. 63). Efficiency remains a core element to Dropbox's workplace. If a decision is taking an unreasonably long time or if a process doesn't make sense, employees can email an internal mailbox monitored by senior management called "Unblock me." The company also provides fully paid health coverage and puts diversity at the forefront of its hiring process.
• Comcast NBCUniversal, a global media and technology company (No. 64). Staff members at Comcast praise the various opportunities for advancement at the company. Rising executives have a chance to break into senior management via accelerated leadership programs, and a career-relaunch program focuses on the talents of those coming off extended breaks from work. Elaine Barden, vice president sales and marketing for Comcast California, is a member of the CalChamber Board.
• Bain & Company, a leading management consulting firm (No. 69). Employees at Bain & Company highlight the firm's supportive culture. "We will go to great lengths to help other members of the team, no matter where they are in the world when they ask for help," one employee noted. Employees also enjoy unlimited sick leave, as well as access to an on-site fitness facility. Nils Behnke, partner and director of Bain & Company, is a member of the CalChamber Board.
• Bright Horizons Family Solutions, a childcare provider (No. 75). Philanthropy is at the center of Bright Horizons Family Solutions' mission, with the company allowing its employees to take up to 32 hours of paid time off to volunteer every year. The company further devoted itself to helping families at the U.S.-Mexico border last year, raising $25,000 through company and employee donations.
• Bank of America, a multinational investment bank and financial services company (No. 77). The bank champions a diverse workforce, with its support services department employing more than 300 people with cognitive and developmental disabilities. The company has also encouraged more than 3,400 employees to work with nonprofits across the nation to improve the financial lives of at-risk youth, single parents and the elderly. Julian Parra, regional executive for Bank of America, is a member of the CalChamber Board.
• Nugget Market, Inc., a grocery business (No. 79). At Nugget, employees and their accomplishments are put first. The company invests significantly in professional development, offers fully paid health coverage, and always strives to promote from within—to the point that the company has never had any layoffs. The family-owned grocery has additionally committed itself to reaching certain sustainability goals, including reducing its landfill tonnage each consecutive year.
• Experian, a multinational consumer credit reporting company (No. 90). Employees praise Experian's support of other cultures and diversity. The company hosts a variety of multicultural celebrations throughout the year, such as festivals honoring Black History Month or the Lunar New Year. "I've never seen a company go to such lengths with respect to diversity and inclusion," one employee said.
• Farmers Insurance, an insurer of automobiles, homes and small businesses (No. 97). Leaders at Farmers Insurance not only listen to employees' ideas—they put them into motion. The company's physical and virtual labs, iLab and xLab, allow employees to brainstorm ideas. One idea—using virtual reality (VR) as a training tool—has now been adopted by the company in a partnership with VR company Talespin.
To view the full "Fortune 100 Best Companies to Work for 2020" list, visit fortune.com/best-companies/2020/.