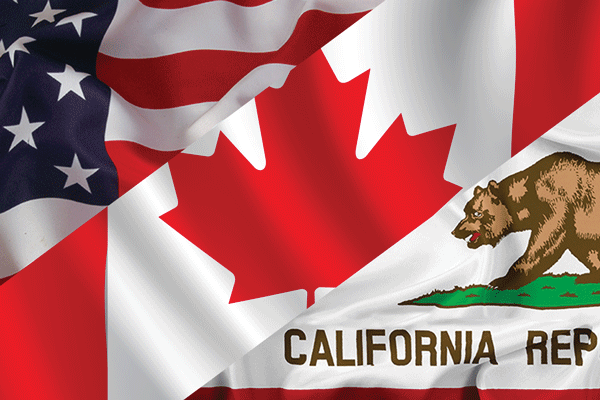 The California Chamber of Commerce welcomed news that the U.S.-Mexico-Canada Agreement (USMCA) passed the U.S. House of Representatives this week.
The agreement passed the House on a vote of 385-41, and will be considered next by the U.S. Senate in January 2020, which is expected to approve it.
"It's about time that the USMCA becomes a reality," said CalChamber President and CEO Allan Zaremberg. "Mexico and Canada are two of California's strongest trading partners and trade with Mexico and Canada supports nearly 14 million U.S. jobs. The USMCA is a necessary modernization to NAFTA that recognizes the impacts of technology on the three countries' economies."
The objectives of the USMCA are to eliminate barriers to trade, promote conditions of fair competition, increase investment opportunities, provide adequate protection of intellectual property rights, establish effective procedures for implementing and applying the agreements and resolving disputes, and to further trilateral, regional and multilateral cooperation.
California Congressional Delegation Vote on USMCA
Below is the vote record of the California congressional delegation. The CalChamber would like to thank California's representatives who voted in support of the agreement and a renewed trilateral partnership.
Ayes (44)

Pete Aguilar (D- Redlands)
Karen Bass (D-Los Angeles)
Ami Bera (D-Elk Grove)
Julia Brownley (D-Westlake Village)
Ken Calvert (R-Corona)
Salud Carbajal (D-Santa Barbara)
Judy Chu (D-Monterey Park)
Gil Cisneros (D-Yorba Linda)
Paul Cook (R-Yucca Valley)
Lou Correa (D-Santa Ana)
Jim Costa (D-Fresno)
TJ Cox (D-Fresno)
Susan Davis (D-San Diego)
Anna G. Eshoo (D-Palo Alto)
John Garamendi (D-Walnut Grove)
Jimmy Gomez (D-Los Angeles)
Josh Harder (D-Turlock)
Ro Khanna (D-Fremont)
Doug LaMalfa (R-Richvale)
Mike Levin (D-San Juan Capistrano)
Zoe Lofgren (D-San Jose)
Doris O. Matsui (D-Sacramento)
Kevin McCarthy (R-Bakersfield)
Tom McClintock (R-Roseville)
Jerry McNerney (D-Stockton)
Grace F. Napolitano (D-Norwalk)
Devin Nunes (R-Tulare)
Jimmy Panetta (D-Monterey)
Nancy Pelosi (D-San Francisco)
Scott Peters (D-La Jolla)
Katie Porter (D-Irvine)
Harley Rouda (D-Laguna Beach)
Lucille Roybal-Allard (D-Los Angeles)
Raul Ruiz (D-Palm Desert)
Linda T. Sánchez (D-Lakewood)
Adam Schiff (D-Burbank)
Brad Sherman (D-Sherman Oaks)
Jackie Speier (D-Hillsborough)
Eric Swalwell (D-Dublin)
Mark Takano (D-Riverside)
Mike Thompson (D-St. Helena)
Norma Torres (D-Pomona)
Juan Vargas (D-San Diego)
Maxine Waters (D-Los Angeles)
Noes (7)
Nanette Barragán (D-San Pedro)
Tony Cárdenas (D-San Fernando Valley)
Mark DeSaulnier (D-Concord)
Jared Huffman (D-San Rafael)
Barbara Lee (D-Oakland)
Ted Lieu (D-Torrance)
Alan Lowenthal (D-Long Beach)
Not Voting (1)
Duncan Hunter (R-Alpine)
Benefits for Economy
Due to California's position as a global leader in international trade, the priorities of the USMCA are important to CalChamber members and the overall economic health of the state.
CalChamber support for the USMCA, like its longstanding support for the North American Free Trade Agreement (NAFTA), is based on an assessment that the agreement serves the employment, trading and environmental interests of California, the United States, Mexico and Canada, and is beneficial to the business community and the California and national economies.
Mexico and Canada are California's largest and second largest export markets. Trade with Mexico and Canada supports nearly 14 million U.S. jobs. In addition, Canada and Mexico buy more than one-third of U.S. merchandise exports. CalChamber has advocated adoption of USMCA because it is critical to the economic health of California and the United States.
Since 1993, trade among the three NAFTA countries has nearly quadrupled.
Mexico was the first country to ratify the new USMCA deal in June 2019. However, since updates were made to the USMCA, Mexico re-approved the deal. Mexico's Congress promptly took up the updated agreement, and again passed the USMCA on December 12.
Meanwhile in Canada, the original bill was introduced in Canadian parliament in May; however, Canada has stated that it will move forward with the ratification process in tandem with the United States. The USMCA implementing bill will officially repeal NAFTA, while it will only "suspend" the U.S.-Canada Free Trade Agreement in case the USMCA is terminated as part of a sunset review that begins six years after the agreement takes effect.
USMCA Coalition
Earlier this year. the CalChamber joined more than 200 companies and associations in launching the USMCA Coalition, which advocates congressional approval of the USMCA.
The coalition includes a diverse group of businesses, farmers and ranchers, manufacturers, service providers, and technology companies.
More information about the agreement and the coalition is available at www.USMCAcoalition.org.