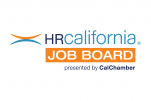 A new service available from the California Chamber of Commerce helps members save on one of the most expensive steps in the hiring process—the cost of recruiting applicants.
The new HRCalifornia Job Board, presented by CalChamber, allows anyone to view job postings, but only CalChamber preferred or higher level members can post jobs for free.
There is no limit to how many listings members can post or how often they can post job openings.
In 2018, more than 27% of employees left their jobs voluntarily, according to a Work Institute report. If the trend continues, by 2023, the voluntary turnover rate will reach 35%.
A corresponding decline in unemployment has left employers in a fierce competition for workers. Employers typically pay an average of $300 per posting to post a job opening for 30 days.
Easy to Use
Qualifying CalChamber members can use the HRCalifornia Job Board to:
• Post job openings;
• Receive posting reports;
• Direct applicants to the member's website; and
• Receive resumes via email.
More than 140,000 users visit CalChamber websites each month, with nearly 700,000 page views.
To post a job, visit hrcalifornia.com and click on the link in the navigation bar.