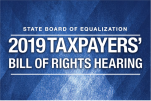 An annual hearing to allow taxpayers to present their ideas and concerns on property taxes or the alcoholic beverage tax is set for August 27.
The annual Taxpayers' Bill of Rights hearing before the state Board of Equalization (BOE) will begin at about 10 a.m. in the Board Room at 450 N Street, 1st Floor, Sacramento.
The hearing will provide taxpayers, assessors and other local agencies the opportunity to comment on items in the BOE's most recent annual report.
The annual report notes, among other things, that this year the Taxpayers' Rights Advocate Office began providing local taxpayers with educational materials written in simple, nontechnical terms about property tax savings that may be available from exemptions and exclusions. The first two information sheets deal with exclusions from reassessment for transfers of property between parents and children, and from grandparents to grandchildren.
In addition, individuals may comment on:
• items being worked on by the Taxpayers' Rights Advocate Office;
• present ideas and recommendations about legislation related to the alcoholic beverage tax that may improve voluntary compliance and the relationship between taxpayers and government;
• concerns about the quality of agency services; and
• other issues related to the BOE administration of its tax programs, including state and county property taxes, the alcoholic beverage tax, and tax on insurers.
For more information on the hearing or a copy of the annual report, visit www.boe.ca.gov/tra or contact the Taxpayers' Rights Advocate Office at (916) 327-2217.