Following are remarks presented by Grace Evans Cherashore, 2019 chair of the California Chamber of Commerce Board of Directors, at the 94th Annual Sacramento Host Breakfast. Cherashore is executive chairwoman of Evans Hotels, San Diego.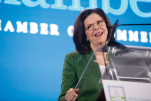 Good morning, everyone! I am truly honored and humbled to have this opportunity to speak this morning representing CalChamber at this, the 94th Annual Sacramento Host Breakfast. Thank you to the Host Committee, especially Stan Van Vleck, who also is also a member of the Board of Directors of CalChamber.
I'd also like to take this opportunity to thank everyone here at the Sacramento Convention Center for the beautiful meal that they have prepared and served to us. I think they've demonstrated themselves to be perfect Sacramento hosts, as well.
But most especially, thank you to all our Armed Forces here today, both active duty and veterans. Everyone in this room owes you a tremendous debt of gratitude for keeping our country safe.
The California Chamber is proud to have supported this event for over 50 years. It is part of CalChamber's commitment to California, to help make it a better place to live and work for the diverse group of residents here. CalChamber advocates business concerns to government.
Sometimes officials and their staffs can benefit from hearing about unintended consequences of the various proposals, which might happen to our workplaces and our workers. And CalChamber has an amazing group of advocates, led by Jennifer Barrera.
Additionally, CalChamber provides a wide range of products and services in the area of employment law compliance and training. And, as I mentioned in the film, those are meant to help employers educate themselves and their staff members so that we can stay in compliance with the complicated rules and regulations that we have here in California.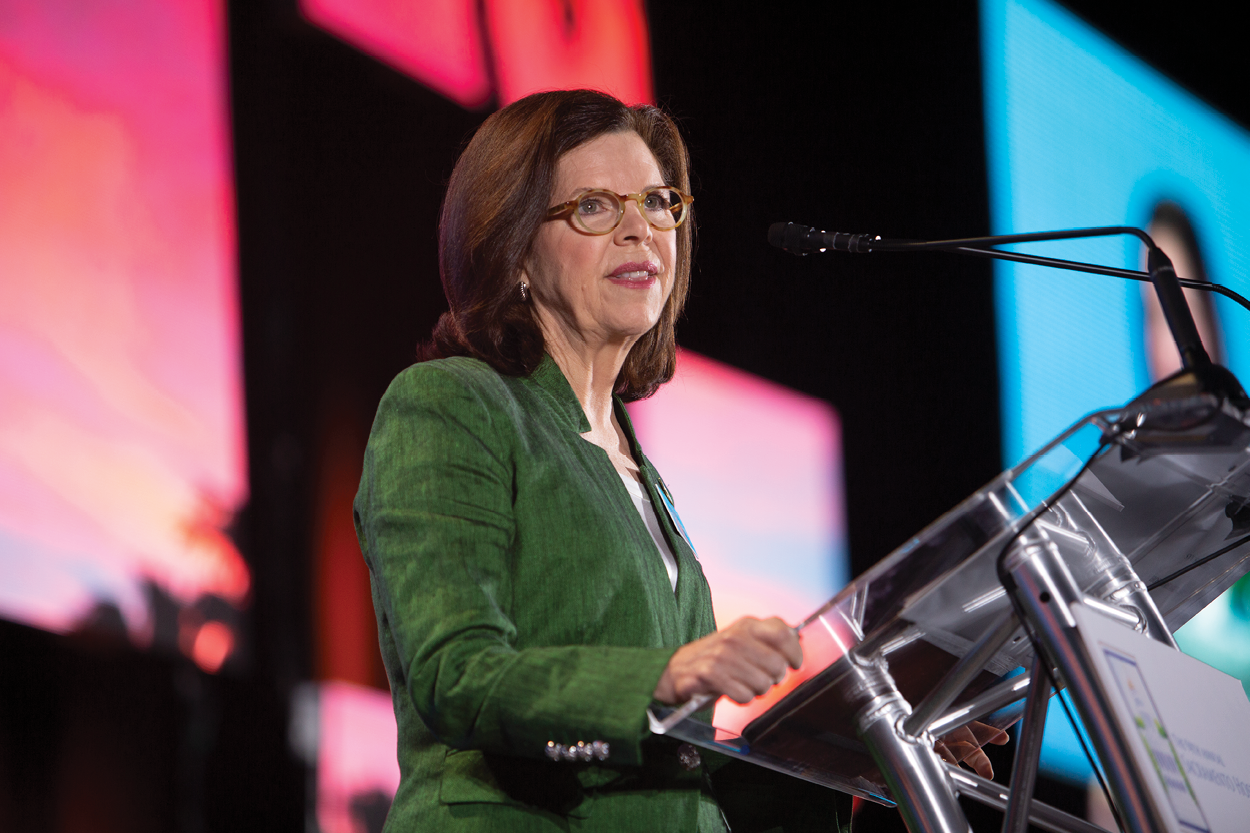 #RespectWorks
I am particularly proud of the new Respect Works campaign. It is true—Harassment Has NO PLACE in OUR WORKPLACE! And for over 20 years we have had a training program like this at Evans Hotels, and we have found it's worth it.
I deeply believe that a workplace that is built on an environment of respect makes you better able to attract and retain the most productive workers. It keeps the qualified people who can move elsewhere deciding that this is a place that they can be their most productive selves each and every day. So, as a salesperson, I gotta tell you: Please visit our website, that is: respectworks.calchamber.com and consider joining our campaign.
San Diego Roots
CalChamber, as Allan Zaremberg mentioned, represents all kinds of employers, big and small—14,000 employers located all across the state in all different types of industries.
Our company, Evans Hotels, is hoping to be as big as mid-size, but we're a small to mid-size family business that was founded in San Diego in 1953. And I'm a very proud third generation San Diegan, so today my remarks are going to focus on this southernmost part of our state: San Diego, which is California's International Frontier.
San Diego started really as a group of small Native American settlements, but it has been built by waves of immigrants, beginning with the Spanish.
Cali-Baja Mega Region
Today, San Diego is the second largest city in California with 1.7 million inhabitants. But our region really encompasses both sides of the border. Now, 15 years after the passage of NAFTA, this "Cali-Baja Mega Region"—as we prefer to call ourselves—includes 7 million people.
The national press might have you characterize San Diego very erroneously as "Murder and mayhem along a militarized fortress wall." This is not correct. In actuality, San Diego is the safest large city in the United States and our current crime level is hovering near the 40-year low.
Mexico is our largest trading partner in San Diego, just as it is in California. And 90% of California's exports go through San Diego's land port of entry. Last year over 73 million northbound border entries occurred. But the border is not a one-way street. Cross-border production is much more complex than generally understood. Medical devices are one of our largest goods co-produced. But that medical device is likely to make multiple border crossings before its final sale.
In fact, of goods that are imported from Mexico, 40% of them are American-made. The Cali-Baja Mega Region's co-production manufacturing supply chain represents $2.5 billion in trade and directly employs over 400,000 workers.
It isn't just cars and televisions and medical devices, though; over 50% is in the services sector, and that's increasingly high-value services, including computer systems design, data hosting, scientific research. But in San Diego, this is not a new phenomenon. The border has been a bidirectional moving thing for many years.
Close Ties
Residents of San Diego and Tijuana have lived and worked and played together and maintained very close ties for generations. Before there was the Del Mar Racetrack, there was the Caliente Racetrack. And the Caesar salad was invented in Tijuana! That's a big fact in my business, you know. We get a lot of good things — not just microbrew and fish tacos — from our neighbors to the south.
And San Diegans still spend weekends wine tasting in Valle de Guadalupe, and surfing in Las Gaviotas. On the other hand, Mexican shoppers represent a major market for San Diego retail establishments, from Costco to Nordstrom. Currently, we estimate that between 12,000 and 15,000 Americans reside in Rosarito Beach alone and commute every day to work in the United States
San Diego has historically been a multilingual city, beginning with Spanish, and later, due to our port, the Italians and Portuguese came to found our tuna industry. But today over 100 languages are widely spoken in San Diego.
At Evans Hotels, our company, our most honored colleague is a Sudanese refugee. Earlier in his life, he was kidnapped and forced to fight as a child soldier. But today, thanks to Catholic relief charities, Kuwa Harin has come to San Diego, built a family, won about every award at our company, and has studied and learned both English and Spanish!
'Smart City'
I'm very proud of the fact that National Geographic recently named San Diego one of the "World's Smart Cities"—the only one in the U.S., I will add. I'm a third generation; I can't help myself. Why is this? It's our people. It is a group of very diverse, creative folks. And how did they find their way to our little corner of the universe? Well, three things: our universities, the military and tourism.
San Diego is home to six universities and the largest concentration of independent research facilities—including Salk Institute, that you've possibly heard of, and the Scripps Institute of Oceanography—the largest cluster of research institutions in the United States. We're constantly at the top in terms of National Institutes of Health research grants. That has contributed some very interesting, intelligent, productive people.
But the military has also. I think you all know that San Diego is the largest military base in the United States, which we're very proud of. And we're particularly proud of the fact that many of our military people decide to stay in San Diego following their discharge, and we have found in our company that the training that they have received in the military—most especially in leadership—translates very well to the civilian workplaces. Military technology has also been an entrepreneurial font in San Diego. You probably know that most drones are designed and made in San Diego—the Global Hawk and the Predator. And now they're also used in weather and in firefighting.
Tourism has brought a lot of people also to San Diego, who look around, decide they like it and decide to make San Diego their permanent home. San Diego has a very welcoming culture, and people feel that.
Tourism
Little segue—since I'm in the tourism business, I must do a little shout out to remind everyone that tourism generated almost $12 billion in taxes for state and local jurisdictions last year.
To make that easier—it is enough money to fund the state's share of the University of California. If we didn't have tourism in the State of California—I can't even think about that—but without tourism, each household in California would need to pay an additional $890 in taxes every year. Ouch! That's a lot of money.
Tourism is the state's largest export. International visitors spent $28 billion last year. No disrespect to agriculture, but that is more than the total value of the state's agricultural exports. As the state reaches full employment, both tourism and the ag business face challenges to grow our workforces. These export industries cannot expand without more workers.
Retirement Benefits
How can San Diego, and California as a whole, maintain our positive lifestyle? There are now 40 million Californians! How can we keep the promises we have already made to our teachers, police officers, firefighters and librarians? They are the people that assure our safety, and educate our current and future citizens.
Their vested retirement benefits far exceed any rainy day fund. Some estimates put their vested retirement benefits at 10 times the rainy day fund. But we can't solve this problem by cost cutting alone. The magnitude of it just makes that economically unfeasible and impossible. We must grow the economy, if we wish to grow GDP. And we must grow GDP if we want to increase tax revenues.
How to Grow Economy
So back to the diverse economy and how to grow it. To grow GDP can only come from two inputs—that's economics: You grow your workforce and/or you increase productivity. And to do that, California has to keep the best and most productive workers. That's how we got where we are today.
But to keep these great people, we must solve certain key challenges, including transit, housing and education funding. Do smart, ambitious people want to stay in a community with weak school districts? No! Do smart, ambitious, hard-working people want to waste two hours commuting for affordable housing? No! Do they want to stay in Granny's guest room indefinitely? They do not.
Housing Crisis
Governor Newsom has correctly identified that housing availability is a crisis right now. We need to build a lot more units. Government subsidies cannot possibly fund enough to make a dent in our housing shortage. Private investment capital must also be attracted so that we can fund more projects.
Unfortunately, construction projects of all types take more time here than in other states. Frivolous lawsuits have been used to slow down both housing and infrastructure projects, even those that comply with existing community land use plans.
If we are to relieve our housing shortage, many constituencies are going to need to come together and collaborate, and put aside long-held beliefs. We need to work together on this. A few sacred cows are going to have to go by the wayside.
When a productive worker wastes two hours stuck in a traffic jam, California has thrown away a very positive resource, and it's one you can never get back!
Collaboration
Californians can collaborate to solve regional challenges. One example in my region was the San Diego airport. The San Diego airport is limited to one runway because it's located smack dab in the middle of downtown. But private and public entities collaborated and built the Cross Border Xpress, a bridge that connects Tijuana's airport with a terminal on the U.S. side.
This binational strategy has expanded international direct air service for San Diegans and Mexicans alike, and this included flights not just headed south, but now notably, we have nonstop service to China.
This is an example of how our cross- border economic relationship can play a positive role in our state, as it has directly in the Cali-Baja Mega Region. It can expand economic opportunities and enhance the lives of residents on both sides of the border, in both Mexico and the U.S. I invite you all to come down and see!
Governor Newsom, the CalChamber and the business community stand ready to work with you to help address some of the long-term challenges we have here in the State of California.
Thank you all.