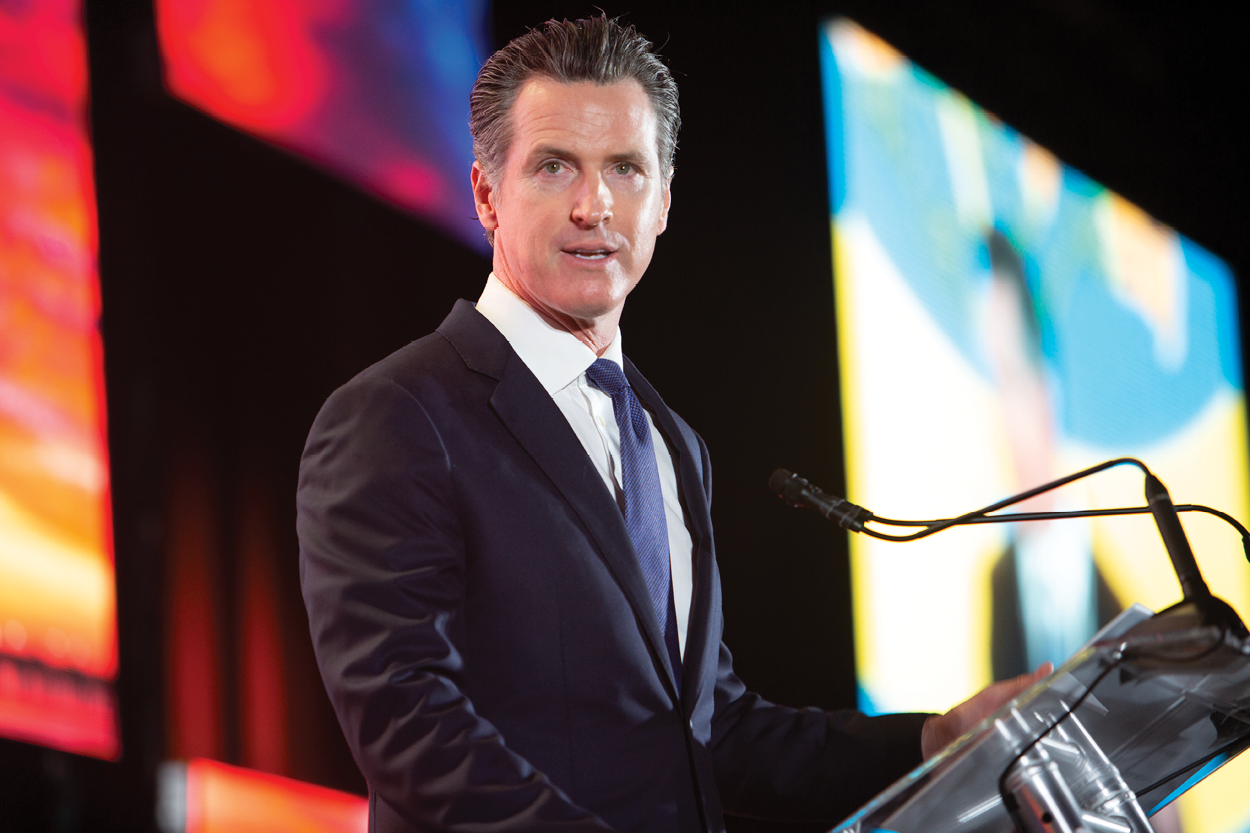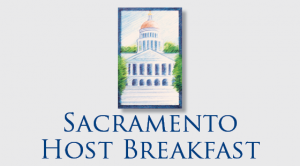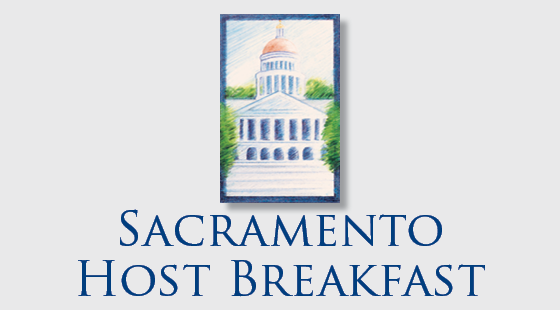 The housing challenge facing California was one focus of remarks by Governor Gavin Newsom and California Chamber of Commerce Chair Grace Evans Cherashore at the 94th Annual Sacramento Host Breakfast last week.
"Housing is our great challenge," the Governor told the 1,300 attendees at the May 23 breakfast. "It was a trend line in 1991; it is a glaring headline today."
Given the decades the housing crisis has taken to develop, the Governor said, "none of us are naive that SB XYZ is somehow gonna magically solve all this. This is going to be a stubborn challenge to address. But our commitment, our resolve, has never been stronger."
Urging listeners not to be "misled by the nattering nabobs of negativism," the Governor said he knows the housing issue can be solved—"it's a question of political will."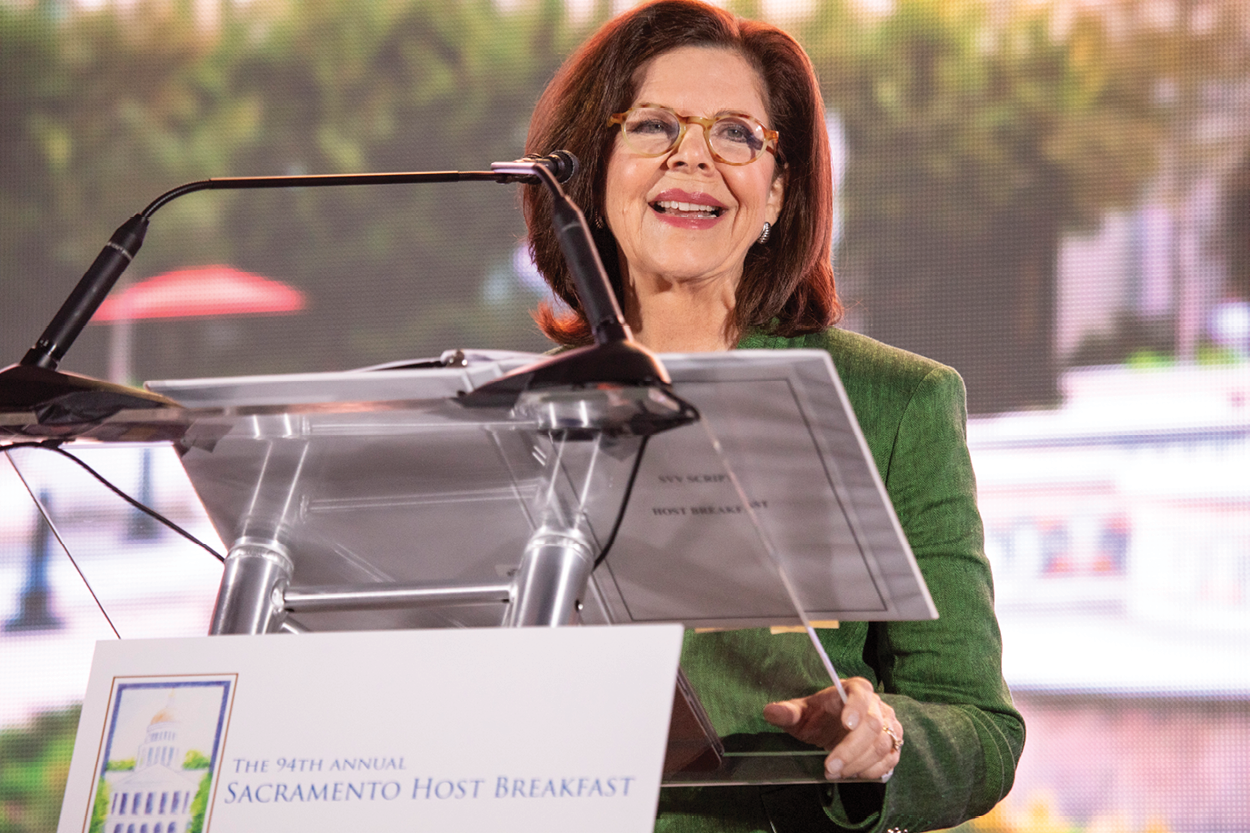 Cherashore, executive chairwoman of Evans Hotels, cited the housing crisis as one of the areas in which collaboration would be helpful.
"We need to build a lot more units," Cherashore said. "Government subsidies cannot fund enough to make a dent in our housing shortage. Private investment capital must also be attracted so we can fund more projects."
Cherashore pointed out that the time to complete construction projects of all types in California is longer than in other states due to frivolous lawsuits being used to slow housing and infrastructure projects, even when they comply with existing community land use plans.
"If we are to relieve our housing shortage, many constituencies are going to need to come together and collaborate and put aside long-held beliefs," she said. "We need to work together on this. A few sacred cows are going to have to go by the wayside."
Interdependence
Governor Newsom cited the search for housing solutions as an issue that shows the interdependence of different segments of society.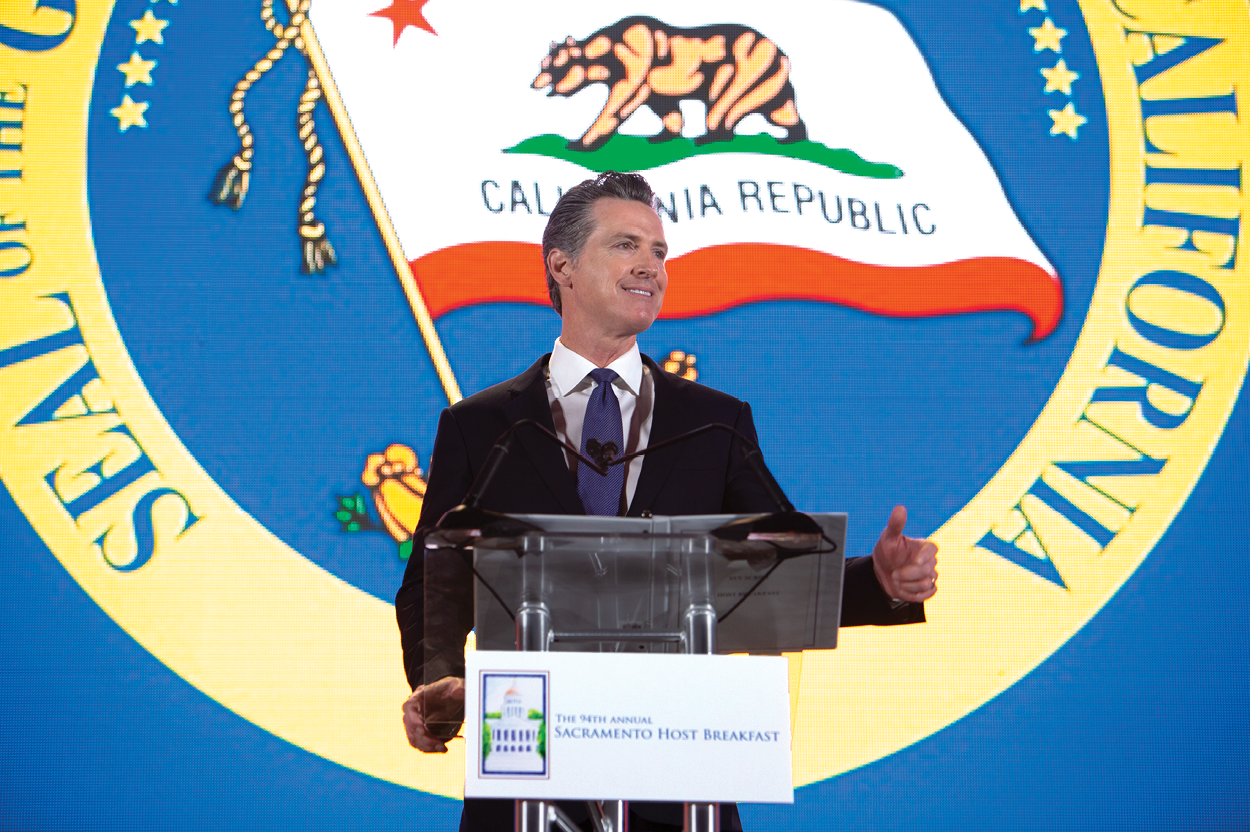 "We can't be a state that focuses on growth unless we focus equally on inclusion," the Governor said. "Businesses can't thrive in a world that's failing…We rise and fall together."
He also pointed to interdependence as he called the attention of the audience to three areas that "broadly will define our politics here in Sacramento": debt and demographics; energy and climate change; and information technology (IT) and globalization.
The aging and graying population, what some call the "silver tsunami," is a major factor, not only in unfunded pension liabilities, but also unfunded health care liabilities, the Governor commented.
The recent destructive fire seasons—16,600 wildfires in the last two years—the Governor said, are signs that "something big is happening in the plumbing of the world."
California has some of the most progressive and aggressive environmental goals of any state, including its use of renewable energy, reducing carbon dioxide emissions and increasing the number of electric vehicles, the Governor said.
The next iteration, he continued "is going to be a challenge: low-carbon, green growth."

Pension Liabilities
Collaboration also plays a role in public pensions, a concern for California as a whole, Cherashore said.
"How can we keep the promises we have already made to our teachers, police officers, firefighters and librarians?" she asked. "Their vested retirement benefits far exceed any rainy day fund."
Some estimates put the vested retirement benefits at 10 times the rainy day fund.
"We can't solve this problem by cost cutting alone," Cherashore said. "The magnitude of it just makes that economically unfeasible and impossible. We must grow the economy, if we wish to grow GDP. And we must grow GDP in order to increase tax revenues."
Regional Cooperation
"Californians can collaborate to solve regional challenges," Cherashore said. As an example, she pointed to how runway limitations at San Diego International Airport were resolved as "private and public entities collaborated to build the Cross Border Xpress, a bridge that connects the Tijuana Airport with a terminal on the U.S. side."
The binational strategy has expanded international direct air options for San Diegans and Mexicans, not just for heading south, but also nonstop service to China.
Cherashore gave other examples of cross-border collaboration in the "Cali-Baja Mega Region," including manufacturing—in which production of a medical device may entail multiple border crossings for components before the final sale of the device. Co-production also involves the services sector, in increasingly high-value services, including computer systems design, data hosting and scientific research.
The cross-border economic relationship "can play a positive role in our state, as it has directly in the Cali-Baja Mega Region," Cherashore said. "It can expand economic opportunities and enhance the lives of residents on both sides of the border, in both Mexico and the U.S. I invite you all to come down and see!"
In closing, Cherashore said: "Governor Newsom, the CalChamber and the business community stand ready to work with you to address some of the long-term challenges we have here in the State of California."
California Dream
The Governor concluded his remarks with the comment that California is the one state attached to a dream. The California dream, he said, is "predicated on social mobility…your capacity to see yourself somewhere in the future with faith and optimism."
He said he hoped he and listeners will "put aside our differences as we work through these vexing issues" over the next few months and years, including committing to closing the gap between the haves and have nots.
If the resourcefulness of all can be focused on common goals, Governor Newsom said, "nothing's gonna stop California. In the next decade, we will dominate the national discourse, and the best is yet to come."