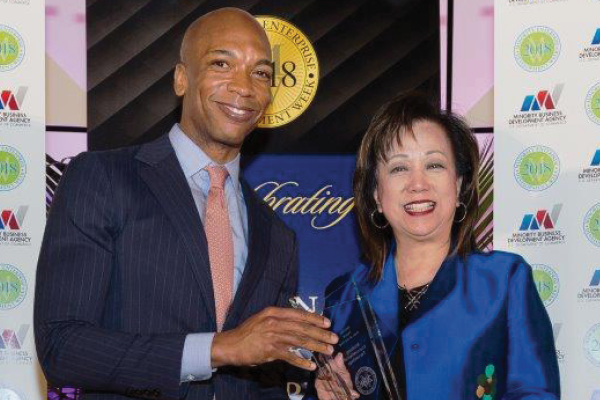 California Chamber of Commerce Board member Margaret Wong, president and CEO of McWong International, has received the minority export firm of the year award from the U.S. Department of Commerce Minority Business Development Agency (MBDA).
Wong received the award at the National Minority Business Awards Ceremony on October 16 in Austin, Texas during National Minority Enterprise Development Week.
The National Minority Business Award is the highest level of national recognition that a U.S. minority-owned firm can receive from the Department of Commerce. These prestigious awards, presented during National Minority Enterprise Development (MED) Week, October 14–20, celebrate the outstanding achievements of minority entrepreneurs, as well as the individuals and organizations that have demonstrated their commitment to advancing minority business enterprises.
Since its inception, McWong Environmental Technology has been a U.S. export champion, completing numerous projects in China and the United States, while investing more than $600 million in global and local communities on labor, goods and services.
MBDA, www.mbda.gov, is the only federal agency dedicated to the growth and global competitiveness of U.S. minority-owned businesses through mobilizing and advancing public and private sector programs, policy, and research. MBDA services provide greater access to capital, contracts and markets, and better equip minority-owned firms to create jobs, build scale and capacity, increase revenues and expand regionally, nationally and internationally.
Since 1983, every U.S. president has issued a Presidential Proclamation designating National MED Week to recognize the contributions of the minority business community to the U.S. economy. MBDA has hosted the National MED Week celebration since its inception. This year, the National Minority Business Awards ceremony was supported by corporate partners: Facebook, IBM, and Raytheon.