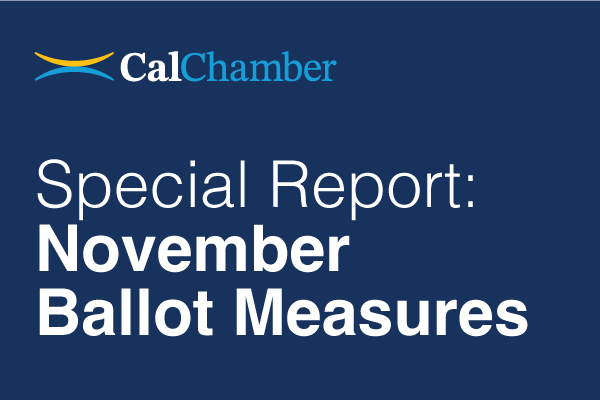 This edition of Alert includes a special report on the November ballot measures, including brief summaries of the reasons for the California Chamber of Commerce position on eight of the 12 ballot measures.
On propositions where the CalChamber has no position, the special report summarizes arguments for and against the measures as presented in the 96-page official voter information guide prepared by the California Secretary of State.
Below is a recap of CalChamber positions on November ballot measures:
Support
Proposition 1: Veterans Housing Bond
Proposition 2: Housing Program for Individuals with Mental Illness
Proposition 3: Water Supply Bond
Proposition 4: Children's Hospitals Construction Bond
Proposition 5: Property Tax Base Transfer
Oppose
Proposition 6: Transportation Funding Repeal
Proposition 8: Kidney Dialysis Clinic Charges
Proposition 10: Rent Control Expansion
For more information, see the special report.