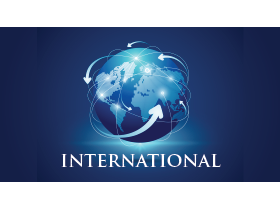 The U.S. Department of Commerce now has 2017 trade statistics available through the International Trade Administration's (ITA) "Trade Stats Express."
In 2017, California exported $171.9 billion to 229 foreign economies. California's top export markets are Mexico, Canada, China, Japan and Hong Kong.
California is one of the 10 largest economies in the world with a gross state product of more than $2 trillion. International trade and investment are major parts of the state's economic engine that broadly benefit businesses, communities, consumers and state government. California's economy is diverse, and the state's prosperity is tied to exports and imports of both goods and services by California-based companies, to exports and imports through California's transportation gateways, and to movement of human and capital resources.
U.S. Trade Facts
In 2017, combined goods and services imports hit nearly $2.9 trillion and services by itself $538.1 billion: food, feeds, and beverages ($137.8 billion); capital goods ($640.6 billion); automotive vehicles, parts, and engines ($359 billion); and consumer goods ($602.2 billion). The U.S. also had record imports from 47 countries, led by China ($505.6 billion), Mexico ($314 billion) and Italy ($50 billion).
In 2017, combined goods and services exports were the second highest on record at $2.3 trillion. They also increased 5.6% from 2016. Exports of services alone hit a record $777.9 billion. The United States also had record exports to 29 countries, led by Mexico ($243 billion), China ($130.4 billion), and the United Kingdom ($56.3 billion).
The largest export markets for U.S. goods in 2017 were Canada ($282.47 billion, a 5.55% increase), Mexico ($242.99 billion, a 5.78% increase), China ($130.37 billion, a 12.77% increase), and Japan ($67.69 billion, a 7.05% increase).
California Trade Facts
The U.S. Department of Commerce reported that, in 2017, California exports amounted to $171.9 billion. This is an increase from the 2016 total of $163.5 billion. California maintained its perennial position as a top exporting state.
Exports from California accounted for 11% of total U.S. exports in 2017. California trade and exports translate into high-paying jobs for more than 1 million Californians.
In 2016, new foreign direct investment into California totaled $64.705 billion, according to the Bureau of Economic Analysis.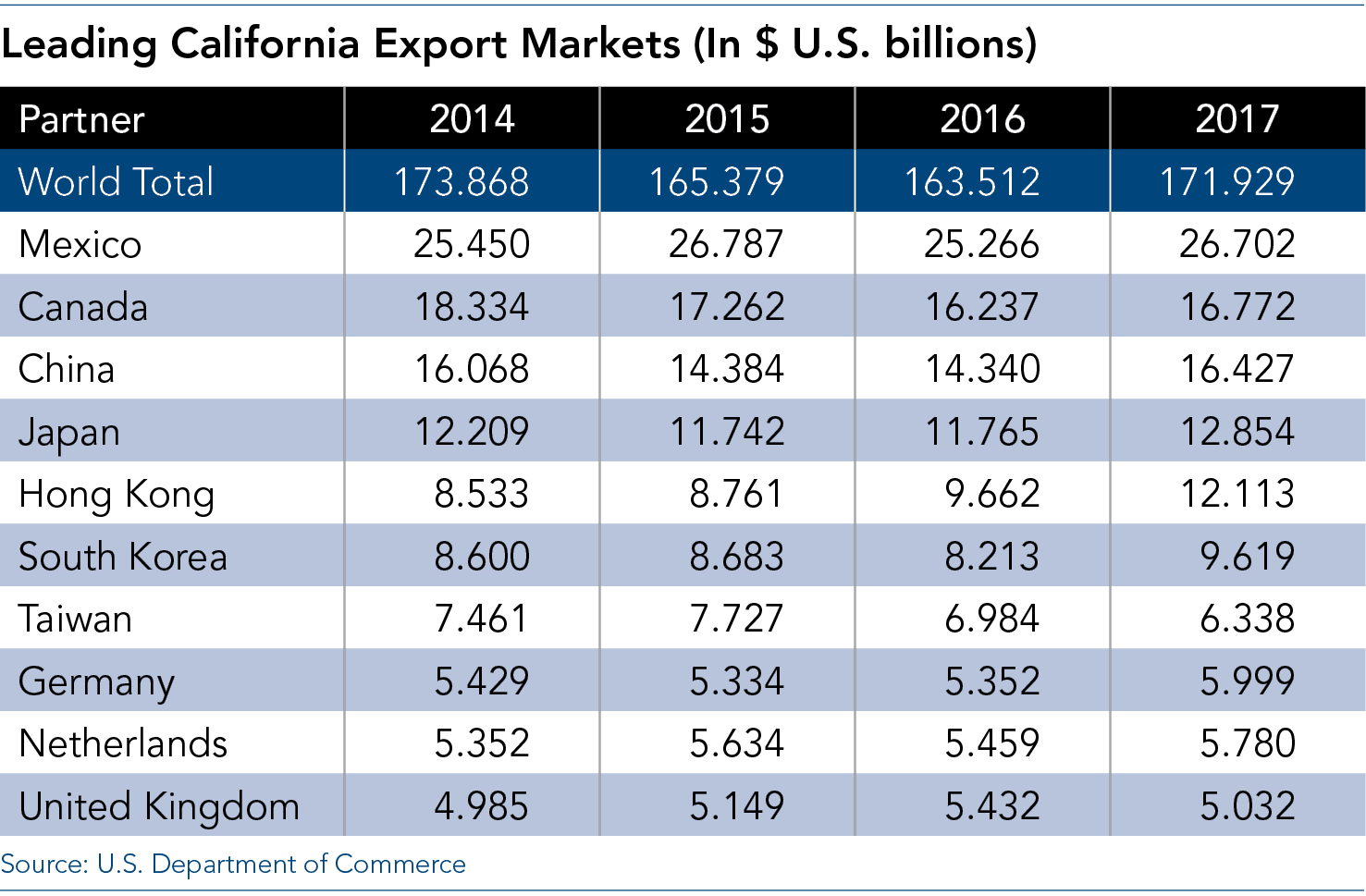 Mexico
Mexico continues to be California's No. 1 export market. California exports to Mexico increased to $26.7 billion in 2017, up from $25.26 billion in 2016. Mexico purchases 15.5% of all California exports.
California's exports to Mexico are driven by computers and electronic products, which account for 22% of all California exports to Mexico. Other top categories included transportation equipment, machinery, except electrical, and chemicals.
Canada
Canada is California's second largest export market, purchasing 9.7% of all California exports. In 2017, California exported more than $16.7 billion to Canada.
Computers and electronic products remained California's largest exports, accounting for 33.5% of all California exports to Canada.
Asia-Pacific
California is the largest exporting state to Asia. In 2017, California exported $118.393 billion in goods to the region.
Greater China
California exports to Mainland China totaled $16.4 billion in 2017. Computers and electronic products accounted for 26.6% of exports to China.
Exports to Hong Kong were $12.1 billion in 2017, maintaining Hong Kong's spot as California's No. 5 export destination, just above South Korea.
Japan
California exports to Japan totaled $12.854 billion in 2017. Computers and electronic products accounted for 20.3% of total exports.
European Union
California exports to the European Union (28) totaled $31.296 billion in 2017. California is the top exporting state to Europe. Computers, electronic products, chemicals, transportation equipment, and miscellaneous manufactured commodities are California's leading export sectors to the region. European Union countries purchase 18.2% of all California exports.