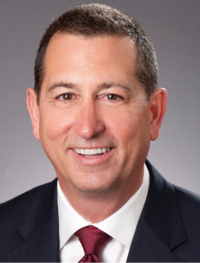 Joseph M. Otting, 2015 chair of the California Chamber of Commerce Board of Directors, was sworn in this week as the U.S. Comptroller of the Currency.
Before his federal appointment, Otting had more than two decades of experience in the banking industry, most recently as president and CEO of OneWest Bank, N.A., the post he held while chair of the CalChamber Board.
The Office of the Comptroller of the Currency (OCC) charters, regulates, and supervises all national banks and federal savings associations as well as federal branches and agencies of foreign banks. The OCC is an independent bureau of the U.S. Department of the Treasury.
In a statement issued upon becoming the 31st Comptroller, Otting praised the 4,000 staff members who work in the OCC, adding, "Over the next five years, I will be proud to lead the dedicated personnel of the OCC and will work with fellow regulators to ensure our country has the most effective and respected banking system in the world….
"In my experience, bankers support regulation, but effective regulation evolves with the changing needs of the nation and should be reviewed and modified as those needs change."
Otting was confirmed by the U.S. Senate on November 16 by a vote of 53-43. He replaces Keith Noreika, who had been acting comptroller since May 2017.
Otting became president, CEO and a member of the board of OneWest Bank, FSB, in October 2010.
Before joining OneWest Bank, Otting served as vice chairman of U.S. Bancorp, where he managed the Commercial Bank Group and served on the Bancorp's managing committee. He also served as a member of the board of directors for U.S. Bank's main subsidiary bank.
From 1994 to 2001, Otting was with Union Bank of California, where he was executive vice president and group head of commercial banking.
Before joining Union Bank, he was with Bank of America, where he held positions in branch management, private banking and commercial lending.
Otting holds a bachelor of arts degree from the University of Northern Iowa.