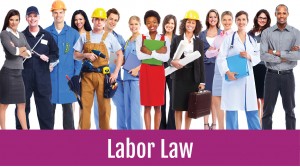 Employers with 25 or more employees now must provide new employees with a written notice about the rights of victims of domestic violence, sexual assault and stalking to take protected time off for medical treatment or legal proceedings.
The new notice requirement went into effect July 1 as a result of legislation passed last year, AB 2337.
The notice also contains information on victims' rights to accommodation and protections against discrimination.
The Labor Commissioner developed the notice, which can be found in both English and Spanish.
For the convenience of members and customers, the California Chamber of Commerce has made the English and Spanish versions of the notice available at no charge in the forms section of HRCalifornia.
Employers must provide this information to new workers when hired and current workers upon request.
California Protections
Under California law, all employers must provide victims of domestic violence, sexual assault and stalking with the right to take time off from work to appear in legal proceedings, such as obtaining a restraining order or other court order.
All employers must provide reasonable accommodations for victims of domestic violence, sexual assault or stalking who request an accommodation for their safety while working.
Companies with 25 or more workers also must provide these victims with the right to take time off to seek medical treatment for injuries, services from domestic violence shelters, programs or crisis centers, psychological counseling or safety planning.
Furthermore, California's mandatory paid sick leave law allows employees to use their accrued paid sick leave when they need time off to appear in legal proceedings or for medical treatment.
More Information
More information about how paid sick leave can be used is available in the CalChamber white paper The Who, What, When and How of Mandatory Paid Sick Leave in California. The white paper is available to CalChamber members on HRCalifornia.
CalChamber members can learn more about Domestic Violence, Sexual Assault and Stalking Victims' Leave in the HR Library on HRCalifornia.