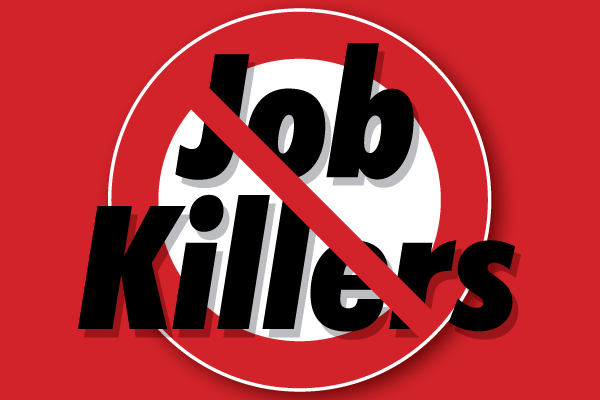 A costly job killer proposal to establish a government-run, single-payer health care system in California has been put on hold in the California Assembly at the direction of the Assembly Speaker.
In a June 23 statement, Assembly Speaker Anthony Rendon (D-Lakewood) said SB 562 (Lara; D-Bell Gardens/Atkins; D-San Diego) was "woefully incomplete" as sent to the Assembly and he had decided the bill "will remain in the Assembly Rules Committee until further notice."
The California Chamber of Commerce put SB 562 on the job killer list because it will cost employers and taxpayers billions of dollars and result in significant loss of jobs in the state.
The financing mechanism for SB 562 remained unspecified even when it passed the Senate on June 1, but was certain to penalize responsible employers and individuals and result in significant new taxes on all Californians and California businesses.
As Rendon pointed out in his statement, "Even senators who voted for SB 562 noted there are potentially fatal flaws in the bill, including the fact it does not address many serious issues, such as financing, delivery of care, cost controls, or the realities of needed action by the Trump Administration and voters to make SB 562 a genuine piece of legislation."
SB 562 Not Dead
Rendon, who described himself as a longtime supporter of single payer, said he was "encouraged by the conversation begun" by SB 562 and that because 2017 is the first year of a two-year session, keeping SB 562 in Assembly Rules does not mean the bill is dead.
The delay "leaves open the exact deep discussion and debate the senators who voted for SB 562 repeatedly said is needed," Rendon said. "The Senate can use that time to fill the holes in SB 562 and pass and send to the Assembly workable legislation that addresses financing, delivery of care, and cost control."
Unsustainable Costs
The Senate Appropriations Committee has estimated the government-run health care system established by SB 562 would cost approximately $400 billion with an additional 15% payroll tax to fund it.
An "unofficial" funding plan for single-payer health care in California proposed by SB 562 supporters the day before the Senate vote estimated the cost at $330 billion.
The funding plan suggested a 2.3% gross receipts tax on businesses (tax on total gross revenues on amounts over $2 million) and a 2.3% sales tax increase (with a credit of 2% for individuals on Medicaid) or a 6.6% combined payroll tax, instead of the gross receipts tax. SB 562 would increase what is already the highest state sales tax rate and the highest state marginal income tax rate in the entire country.
More Information
For more discussion on the problems with a government-run, single-payer health care system, see:
• The June 16 Alert guest commentary by Loren Kaye, president of the California Foundation for Commerce and Education;
• The CalChamber Capitol Summit video update on SB 562.