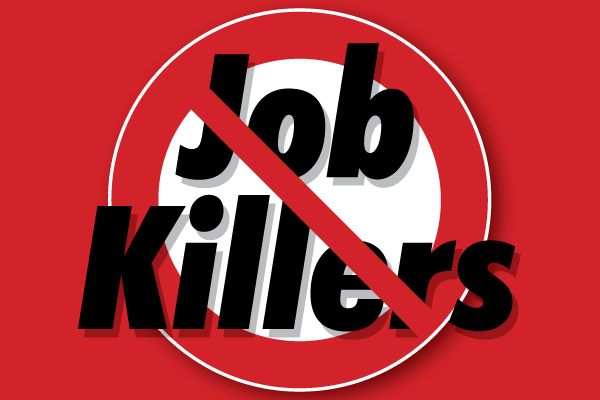 A job killer bill mandating a new protected leave of absence passed the Assembly Judiciary Committee this week, less than a week after winning approval at its first Assembly policy committee hearing.
SB 63 (Jackson; D-Santa Barbara) unduly burdens and increases costs of small employers with as few as 20 employees by requiring 12 weeks of protected employee leave for child bonding. It also exposes employers to the threat of costly litigation.
The California Chamber of Commerce has identified SB 63 as a job killer because the legislation targets and could significantly harm small employers in California with as few as 20 employees by adding to the existing burden under which they already struggle. Governor Edmund G. Brown Jr. vetoed a similar, but narrower, proposal just last year.
SB 63 prohibits an employer from refusing to allow an employee to take up to 12 weeks of parental leave to bond with a new child within one year of the child's birth, adoption, or foster care placement if the employee has more than 12 months of service with the employer; has at least 1,250 hours of service with the employer during the previous 12-month period; and works at a worksite in which the employer employs at least 20 employees within 75 miles.
SB 63 also prohibits an employer from refusing to maintain and pay for coverage under a group health plan for an employee who takes this leave.
Coalition Opposition
The CalChamber and coalition of employer groups and chambers of commerce opposing SB 63 have been pointing out that SB 63:
• Creates a combined 7-month protected leave of absence on employers. California employers with 5 or more employees already are required to provide up to 4 months of protected leave for an employee who suffers a medical disability due to pregnancy. SB 63 will add another 12 weeks of leave for the same employee.
• Could affect worksites that have substantially fewer than 20 employees. SB 63 is applicable to any employer that has 20 or more employees within a 75-mile radius. Employees at multiple worksites are aggregated together to reach the employee threshold. Accordingly, a worksite that has only 5 employees will be required to accommodate this mandatory leave if there are other worksites in a 75-mile radius that have enough employees to reach the 20 employee threshold.
• Imposes a mandatory leave with no discretion to the employer. The leave under SB 63 must be given at the employee's request, regardless of whether the employer has other employees out on other California-required leaves.
• Imposes additional costs on small employers that are struggling with the increased minimum wage. Although the SB 63 leave is not "paid" by the employer, while the employee is on leave, the employer will have to maintain medical benefits, pay for a temporary employee to cover for the employee on leave (usually at a higher premium) or pay overtime to other employees to cover the work of the employee on leave.
• Exposes small employers to costly litigation. Labeling an employer's failure to provide the SB 63 leave as an "unlawful employment practice" exposes an employer to costly litigation under the Fair Employment and Housing Act (FEHA).
An employee who believes the employer did not provide the 12 weeks of protected leave, failed to return the employee to the same or comparable position, failed to maintain benefits while the employee was out on the 12 weeks of leave, or took any adverse employment action against the employee for taking the leave, could pursue a claim against the employer seeking: compensatory damages, injunctive relief, declaratory relief, punitive damages, and attorney's fees
The cost for a small- to mid-size employer to defend and settle a single plaintiff discrimination claim is approximately $125,000, according to a 2015 study by insurance provider Hiscox.
Key Vote
SB 63 passed the Assembly Judiciary Committee, 9-1, on June 27:
Ayes: Chau (D-Monterey Park), Chiu (D-San Francisco), C. Garcia (D-Bell Gardens), Holden (D-Pasadena), Kalra (D-San Jose), Maienschein (R-San Diego), Reyes (D-Grand Terrace), M. Stone (D-Scotts Valley), Ting (D-San Francisco).
Noes: Kiley (R-Granite Bay).
Not voting: Cunningham (R-Templeton).
Action Needed
SB 63 will be considered next by the Assembly Appropriations Committee. The CalChamber is urging members to contact their Assembly representatives and committee members to ask them to oppose SB 63 as a job killer.