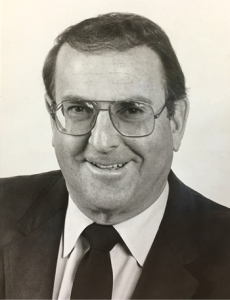 Howard P. Marguleas, 82, 1988 chair of the California Chamber of Commerce and founder of Sun World International, Inc. passed away on June 1 in Rancho Mirage, California, following complications from cancer.
He served on the CalChamber Board for more than two decades, from January 1974 to December 1996, leading a business delegation to Australia for the World Expo '88, with trade and investment meetings in Brisbane and Sydney.
During his time on the CalChamber Board, he was growing Sun World, formed in 1976, into one of the most innovative and largest privately held produce companies in the United States.
He enjoyed bringing many new fruits and vegetables to U.S. consumers, starting in the 1960s with the first Hawaiian pineapples sold on the mainland, then branded fruit and nuts under the Sun Giant® brand, and Red Flame Seedless grapes, vine-ripened tomatoes, colored sweet peppers, seedless watermelon, and assorted new grapes and plums under the Sun World® brand, as well as California desert-grown Keitt mangoes.
For his leadership and innovation, various agricultural groups honored him with a number of "man of the year" and other industry awards.
Marguleas was a 1957 graduate of the University of California, Berkeley, with a degree in agricultural economics. Upon graduating, he joined Heggblade-Marguleas Company, a San Francisco agricultural business founded by his father, Joseph Marguleas, and Frank Heggblade in 1935.
Following the sales of the company to Tenneco, Inc., in 1970, Howard Marguleas served as the merged company's president for five years.
He was part of the group that purchased The Irvine Company in July 1977.
He was a member of the California State Board of Agriculture from 1964–1968, serving under California Governors Edmund G. (Pat) Brown Sr. and Ronald Reagan.
In addition, Marguleas was a longtime philanthropist and champion for education, health care, and community organizations, serving as trustee or board member for institutions including the Claremont McKenna College, American Friends of the Hebrew University of Jerusalem, University of California, Davis Graduate School of Management, University of California Agricultural Issues Center Advisory Board and the University of California, Riverside; the Eisenhower Medical Center, the American Cancer Society Foundation for the U.S. (founding chairman); the Coachella Valley Boys and Girls Club (founding member) and the Boys and Girls Clubs of America.
He is survived by his wife, Ardith (59 years), children David (Robin) of Palm Desert, Dianna (Youval) of Berkeley, Anthony (Sue) of Pacific Palisades, and Brian (Lisa) of Honolulu; nine grandchildren; and sisters Thelma Colvin of San Mateo, Betty Newman of San Francisco, and sister-in-law and brother-in-law Arlene and Jack Garfinkle of Piedmont.